Following an emotional day in which delegates debated issues related to homosexuality, Chicago Area Bishop Hee-Soo Jung told The United Methodist Church's legislative assembly that people on each side of the controversy are living out Christian values.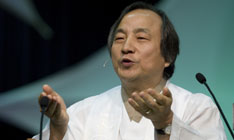 He said both those who want the church to be more flexible, more open, and those who want the church to be clear about boundaries, more pure, embody biblical values, "and both are right."
Speaking at a May 1 worship service of the legislative arm of the 11.5 million-member denomination, Jung invited United Methodists "to live in the tension that is created by holding both values — holiness and hospitality — together at the same time."
The bishop recalled how a criminal dying with Jesus pleaded, "Remember me."
"When Jesus remembers us, we are put back together again," he said. When people remember those who have died, they are brought back together in the living body of Christ through the act of remembering, he said.
"This is why whenever we share the bread and the cup we join not only with those physically present, but with the whole church of Christ, including the communion of saints. The body is re-membered," Jung said.
A witness for inclusion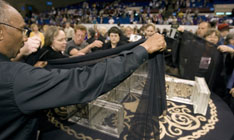 General Conference allowed more than 200 people calling for the inclusion of all persons regardless of sexual orientation to walk through the aisles of the legislative gathering. Participants wore black as a sign of mourning for conference actions that bar gays and lesbians from serving as clergy and legislation that continues a statement stating the practice of homosexuality is "incompatible with Christian teaching." The group covered the Communion table with a black shroud and formed a two-line cross around the table.
During the 15-minute witness, Bishop Melvin Talbert recalled how the 1939 Methodist Conference established a separate jurisdiction for African Americans. He called that historic action "a sin against God," and in making the decision April 30, the General Conference "has taken an action that is wrong," he said. He called for reconsideration of the issue.
After they silently entered the arena, the group sang, "Were You There When They Crucified My Lord?" Many delegates and bishops stood and sang in support of the action.
As witnesses filed out of the arena, visitors and delegates joined in singing, "Jesus, Remember Me When You Come into Your Kingdom," the theme of the morning sermon by Bishop Jung.
Pension and health benefits
The United Methodist Board of Pension and Health Benefits, which cares for more than 74,000 participants and manages $16 billion in assets, celebrated 100 years of accomplishments.
The centennial celebration came the same week that the conference asked the Evanston, Ill.,-based agency to establish denomination-wide wellness guidelines for clergy and lay employees. The agency will also form a task force with the Board of Higher Education to examine employment systems and culture and to provide guidelines for sustaining a healthy work/life balance during ministry. Systems to be examined include itinerancy, appointment-making, supervision and processes for entering and exiting ministry.
In other health-related concerns, the conference required: 1) annual conferences to share health-care data with the board; 2) group health insurance plans for bishops, full-time clergy and full-time lay employees of annual conferences and general agencies; 3) access for retired bishops, annual conference clergy and lay employees to Medicare supplemental plans and prescription drug plans.
Gates thanks United Methodists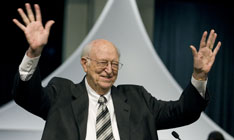 United Methodists have decided to wipe out malaria because "brothers and sisters don't sit back and let each other die," said William H. Gates Sr., co-chair of the Bill and Melinda Gates Foundation, during a May 1 session of the conference.
"I am here today to thank you," he said. "We are proud to be your partner in this campaign to end the world's worst killer of children. We believe the campaign cannot succeed without you."
The United Methodist Church is one of the founding partners of the Nothing But Nets anti-malaria campaign, which fights the disease by purchasing and distributing insecticide-treated sleeping nets in Africa. More than $20 million has been raised since the campaign began in 2006. A donation of $10 covers the cost of delivering one net and teaching a family how to protect itself from malaria-carrying mosquitoes.
Zimbabwe Bishop Eben Nhiwatiwa thanked Gates for his support of the Nothing But Nets campaign. The bishop told how he had distributed nets in a Zimbabwe village. "That village is very far away, but your helping hand has reached there," he said.
Support for people of Tibet, Sudan, Taiwan
The assembly affirmed support for the people of Tibet and their struggle for independence and autonomy. The action came May 1 as the petition on Tibet was among the consent calendar items approved that day.
Protests led by Buddhist monks have occurred in recent weeks in Tibet, sparked by grievances against Chinese rule and a desire for independence. A worldwide tour of the Olympic Torch, which returned to China on April 30, was disrupted by pro-Tibet advocates. China is hosting the Olympics this summer.
A new resolution on Sudan called "Sudan: A Call to Compassion and Caring," was part of the consent calendar approved April 29. It advocates for justice for all Sudanese, calls upon United Methodists "in every country" to encourage their governments to aid development of a more just economic system in the Sudan and asks church members to "examine all methods of protest and solidarity before undertaking them" to ensure that none of their actions causes violence.
Also approved by consent was a petition reaffirming the denomination's support of the democratic aspirations and achievements of the people of Taiwan. Church members are encouraged to become educated about contemporary issues related to Taiwan and the "One China" policy, and to promote the rights of Taiwanese "for stability, security and self-determination of its own status in the family of nations."
Constitutional amendments
All constitutional amendments approved by a two-thirds vote of General Conference must be ratified by a two-thirds affirmative vote of the aggregate number of voting annual members.
The assembly passed 23 constitutional amendments proposed by the Task Force on the Global Nature of the Church. The amendments will allow for the creation of a regional conference for the United States and change the words "central conference" to "regional conference." The legislation does not create a U.S. regional conference but makes it possible for General Conference to do so at a later time. The assembly created a task force to examine possibilities.
Delegates passed a constitutional amendment that reduces from two to one the number of years a person must be a professing member of a local church before he or she can be a member of an annual conference.
Annual conferences will also be voting on proposals that provide for newly created conferences to be represented at General, jurisdiction or regional conferences on a non-proportional basis. The issue arose after the Côte d'Ivoire Conference was assigned two delegates for the 2008 General Conference.
If annual conferences approve the constitutional amendment, deacons, associate members and provisional members may join ordained ministerial members in full connection in voting for delegates to General and jurisdictional conferences. To be eligible to vote, local pastors must have completed the Course of Study or master of divinity degree and have served under appointment for served two consecutive years immediately preceding an election. Only ordained members in full connection with an annual conference may serve as delegates.
If annual conferences ratify the amendment, then local churches, jurisdictional and General Conference, "organizations, groups, committees, councils, boards and agencies" will have to adopt ethics and conflict-of-interest policies. These policies will apply to both members and employees to help them "embody and live out our Christian values."
Judicial Council officers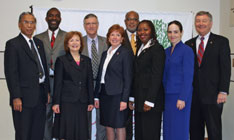 The Rev. Susan Henry-Crowe, dean of Cannon Chapel and religious life at Emory University in Atlanta, was elected president of the Judicial Council May 1. The first woman to hold that office, she was elected in 1992 to her first eight-year term on the council and was elected to a second term in 2004.
Jon R. Gray, a Kansas City attorney, will serve as vice president, and the Rev. Belton Joyner, an interim district superintendent in the North Carolina Conference, will be secretary.
Northeastern Jurisdiction
General Conference established a new formula that will cause four of the five jurisdictions to lose a bishop at the 2012 jurisdictional conferences.
The Northeastern Jurisdiction is required to lose a bishop under the current formula. The Inter-jurisdictional Boundaries Committee recommended the reduction take place no later than Sept. 1, 2012; that recommendation was approved by General Conference.
Troy, Wyoming, North Central New York and Western New York conferences are proposing to create a new conference out of all or part of these conferences. Conversations are under way to merge Pennsylvania churches of the Wyoming Conference into the Central Pennsylvania Conference, and discussions are being carried out with the New England Conference to include all or some of the Vermont churches that are now in the Troy Conference.
Proposals call for the new conference to be formed by 2010. The proposal will be reviewed by the Northeastern Jurisdiction Boundaries Committee prior to action by Northeastern Jurisdictional Conference. No additional reductions in the number of bishops will be required in the jurisdiction by the new formula.
Other items
On the 100th anniversary of the Social Creed, delegates decided April 30 that a proposed new creed would serve the church better as a "companion litany." The Rev. Neal Christie, staff member of the United Methodist Board of Church and Society and a member of the task force that prepared the creed, said it is "a gift to the church and reinforces and reframes the creed."
Delegates asked the General Council on Finance and Administration and the Connectional Table to provide $50,000 for a research and learning center at the Sand Creek Massacre National Historic Site. The site, 180 miles southeast of Denver, is a memorial to more than 160 Native Americans.
Zimbabwe Bishop Eben Nhiwatiwa and Washington (D.C.) Area Bishop John R. Schol signed a new covenant to work together. Last summer, the Baltimore-Washington Conference sent a 13-member team of clergy and laity to Zimbabwe to teach about 300 pastors church leadership and community development strategies and skills. The team also distributed more than 7,000 bed nets, as part of the Nothing But Nets campaign.
*Currently attending his 11th General Conference, Peck is a four-time editor of the Daily Christian Advocate now serving as an editor for United Methodist News Service during General Conference.
News media contact: Tim Tanton e-mail: [email protected].
Phone calls can be made to the General Conference Newsroom in Fort Worth, Texas, at (817) 698-4405 until May 3. Afterward, call United Methodist News Service in Nashville, Tenn., at (615) 742-5470.
Video
J.J. Whitney: "It felt like a positive note at the end of the day."
Related Articles
Resources
---
Like what you're reading? Support the ministry of UM News! Your support ensures the latest denominational news, dynamic stories and informative articles will continue to connect our global community. Make a tax-deductible donation at ResourceUMC.org/GiveUMCom.