In 1987, Congress designated the month of March that year as "Women's History Month." The annual observance continues to this day. United Methodist News Service invited several women, both lay and clergy, in The United Methodist Church to share their stories. Here is the response from laywoman Meeli Tankler, president of Baltic Methodist Seminary in Tallinn, Estonia.
3:00 P.M. ET March 7, 2013 | TALLINN, Estonia
Q. Tell us a little about yourself.
A. I was born in Tallinn, Estonia, and grew up there during the Soviet time. My parents attended church every Sunday and always took me with them, so my memories about being in church and learning about Christian faith go back to my childhood as long as I remember. The worship service was the only thing that the Soviet authorities allowed, and they closely watched it.
No other gatherings for fellowship or age-group meetings were permitted. As Sunday school was not allowed, children were gathered half-secretly on different occasions - birthday celebrations and Christmas and Easter parties in our homes - to give us some Christian education. My childhood and youth memories are predominantly about hiding our faith and using different "covers" to gather and be in fellowship with other Christians. It all began to change in the mid-'80s when I was already a grown woman with children.
I studied first librarianship and bibliography, then psychology at the university (still in Soviet time). After Estonia became an independent state again, I did my master's degree in educational sciences. Now I am finishing my Doctor of Ministry studies in Asbury Theological Seminary (in the international leadership track).
Certainly, the highlight in my professional life was becoming the president of our theological seminary in 2009. I had been teaching practical theology there since 1999, and my heart was very much with the seminary, but becoming a leader of this institution and being challenged to develop it both academically and spiritually has been a difficult but also rewarding task that has enriched me in many ways.
Q. In what church did you grow up and with what local church are you currently affiliated?
A. I grew up in the Baptist church. After marrying a United Methodist pastor almost 33 years ago, I became a Methodist, first "officially," and after a while, with all my heart and mind. I have been active in Agape United Methodist Church in Parnu, Estonia, since 1983.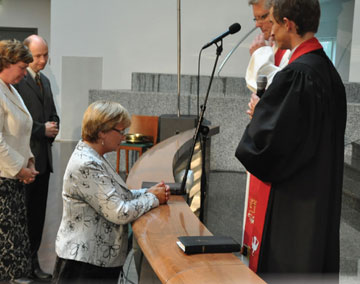 Meeli Tankler is installed as president of Baltic Methodist Theological Seminary, Tallinn, Estonia. A web-only photo by llas Tankler.
Q. What are your gifts and how do you share them with the church?
A. God has given me many gifts, so I have been serving my local church in various capacities - in music, children's and women's ministries and as a local preacher, small-group leader and translator.
On the national church level, since 2009, my main task is to serve as president of the Baltic Methodist Theological Seminary in Tallinn, Estonia, which serves the three Baltic countries (Estonia, Latvia and Lithuania). I also teach practical theology at the seminary.
I have served on the Estonian United Methodist Church administrative board since 1999. Between 1999 and 2009, I led the United Methodist working group in Estonia that developed Sunday school materials for children, as well as seminars for Sunday school teachers who work with children. For many years, I led the United Methodist Women organization in Estonia.
On the international level, between 1996 and 2004, I was the regional UMW leader in Europe. I was elected to the executive committees of the Northern Europe Central Conference (2012) and the European Methodist Council (2010). Between 2005 and 2012, I was the central conferences representative from Europe on the United Methodist Commission on the Status and Role of Women.
Q. How do you nurture others, especially girls and women, through the church and in other aspects of your life?
A. In Estonia, being involved in different United Methodist ministry areas as a laywoman is not difficult, and women are quite active in most local churches here. The general attitude is a bit different concerning female clergy.
As I have some experiences in counseling, I have tried to use my skills and gifts, especially for encouraging women and girls to explore their calling and reach their potential. In the seminary, where we have many female students, our policy is to support every person's spiritual formation and avoid situations where gender issues would become hindrances for reaching one's potential.
As a mother of three and grandmother of four, I see with great joy how my daughter is balancing her role as a devoted mother and wife and a professional, who is aiming to self-realization, growing and maturing continuously. I try to be a supporting and loving mother-in-law to both of my daughters-in-law.
Q. Why is Women's History Month important to you?
A. I believe Women's History Month is something that is celebrated in the United States, and thus, in my country, we don't know much about it. But I certainly believe that highlighting positive examples and telling inspiring stories about women who serve wholeheartedly in the church and community would encourage other women and help them to reach their potential.
This interview was conducted by Barbara Dunlap-Berg, internal content editor for United Methodist Communications, Nashville, Tenn. Contact Dunlap-Berg at (615) 742-5470 or [email protected].
---
Like what you're reading? Support the ministry of UM News! Your support ensures the latest denominational news, dynamic stories and informative articles will continue to connect our global community. Make a tax-deductible donation at ResourceUMC.org/GiveUMCom.