In 1987, Congress designated the month of March that year as "Women's History Month." The annual observance continues to this day. United Methodist News Service invited several women, both lay and clergy, in The United Methodist Church to share their stories. Here is the response from laywoman Lessie Vonner, 20, a jazz trumpeter and active church musician.
7:00 A.M. ET March 22, 2013 | GRAND PRAIRIE, Texas
Q. Tell us a little about yourself.
A. I was born in Dallas in 1993. I lived in Grand Prairie, Texas, and attended elementary through middle school there. My love for music began at a young age, but I didn't pick up the trumpet until I joined my middle school's sixth-grade band. My passion for music, along with the support of those in my community, encouraged me to pursue a music education at the nationally renowned Booker T. Washington High School for the Performing and Visual Arts.
Upon high school graduation, I continued my education at the New School for Jazz and Contemporary Music in New York City.
I consider it such a blessing to have been around so many amazing musicians of all ages - many of whom were women. Though my musical focus is primarily jazz, my earliest memories of music are of being in church. Some of my most memorable childhood experiences are of performing in my church's musical programs - choir, liturgical dance, bell choir and trumpet solos.
Q. In what church did you grow up and with what local church are you now affiliated?
A. I was baptized at Trinity United Methodist in Grand Prairie. Later, my family and I joined Jubilee United Methodist Church in Duncanville, Texas. As I prepared for middle school, my mom, my brother and I began attending First United Methodist Church, Grand Prairie. That is where I was confirmed and expanded my musical abilities. I'm still a member there. Additionally, I often attend my father's church, Highland Hills United Methodist, Dallas, where he is a bass player.
Q. What are your gifts and how do you share them with the church?
A.The most natural gift I share with the church is music. I am a trumpet player. While I play mostly jazz, I also play other genres, including gospel, rhythm and blues, and funk. From the very beginning of my musical career, the church community, from the local to the national levels, has supported and nurtured my love of music. Performing in various congregations and conference gatherings and being a part of the music ministry of my local churches has enabled me to share the gift God gave me as an instrumentalist.
I also have shared my gift of leadership with the church. This gift was not readily claimed until I was launched into the role of a commission member with the United Methodist Commission on the Status and Role of Women. It was a wonderful place to land as a 16-year-old and to have my voice received as equal and as valuable as the seasoned members. I enjoyed the opportunity to serve the church in this way, to be mentored and to mentor others.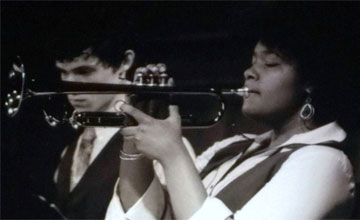 Trumpeter Lessie Vonner, 20, says performing enables her "to share the gift God gave me as an instrumentalist."
Photo by Al Clark.
Q. How do you nurture others, especially girls and women, through the church and in other aspects of your life?
A. I am still growing into this role. I hope to empower girls and women by being successful in my goal of pursuing a particularly male-dominated job as a trumpet player. After attending a SOULfeast event at Lake Junaluska, N.C., one summer, the youth leader encouraged me to submit a devotion to the youth magazine, Devo. My devotion about jazz was published, and I trust it encouraged other young people.
I am lucky to have grown up around so many amazing women. Through First United Methodist Church, Grand Prairie, I was fortunate to meet Verna Edwards, one of the first women trumpet players in the Salvation Army Band and a soloist nonetheless. I always enjoyed listening to her testimonies of what it was like for a woman to play trumpet in the early to mid-20th century. She told me I was blessed that God gave me this ability to play and share the gift of music and to have the opportunity to study music at the level being afforded me at such a young age. Mrs. Verna always took such interest in my experiences and encouraged me to keep following my dreams. I don't know if she knew just how much she empowered me. She died in January. I will hold our friendship in my heart forever.
I know that as a woman, I will continue to face many hardships to keep pursuing my goal as a jazz trumpeter. So many amazing women before me have paid the dues to break down barriers so I can do what I do.
I was able to be a part of "Limitless: Redefine Tomorrow," the United Methodist Women's event for young women last summer. I was a part of an all-women band that provided music throughout the event. It was great getting to perform with such talented and highly gifted female musicians. I observed how the young women reacted to our presence and feel we might have empowered some of them to embrace sharing their musical gifts with the church as well as seeing themselves being instrumentalists and vocalists. I want to nurture other women and girls to live their dreams, understanding that if they put in the effort and have faith, they can do anything they want to do and be anything they want to be, even in male-dominated environments.
Q. Why is Women's History Month important to you?
A. Women's History Month is an opportunity to remember, to celebrate and to appreciate women. It's important for young women to know how much the women before them have done for the world.
I come from a long legacy of strong women - my mother, Sally Vonner, an executive with the United Methodist Women national office; my grandmother, Dorothy Lee, a civil and women's rights activist; my aunts, Della Clark, the CEO of a Philadelphia-based nonprofit, and Carolyn Douglas, the caregiver of our great-aunt, Inez Walker, and many more. I want to continue the heritage of doing great things to better the community.
While women do not always receive credit for their contributions to religion, music, politics, sports, science and medicine, if you look deep enough, you will find women leading the efforts and making a difference. Most are ordinary, faithful women like you and I, but we feel their impact in extraordinary ways.
This interview was conducted by Barbara Dunlap-Berg, internal content editor for United Methodist Communications, Nashville, Tenn. Contact Dunlap-Berg at (615) 742-5470 or [email protected].
---
Like what you're reading? Support the ministry of UM News! Your support ensures the latest denominational news, dynamic stories and informative articles will continue to connect our global community. Make a tax-deductible donation at ResourceUMC.org/GiveUMCom.