In 1987, Congress designated the month of March that year as "Women's History Month." The annual observance continues to this day. United Methodist News Service invited several women, both lay and clergy, in The United Methodist Church to share their stories. Here is the response from laywoman Jalisa Ross, 21, a Native American from Tulsa, Okla.
7:00 A.M. ET March 12, 2013 | TULSA, Okla.
Q. Tell us a little about yourself.
A. I am 21. I was born and raised in Oklahoma. As a young mother, my mom - Sunrise Ross - looked for a church to raise us in and ended up returning to our home church, Haikey Chapel United Methodist Church, Jenks, Okla.
Haikey Chapel is an old Native American church in the Oklahoma Indian Missionary Conference that dates back before statehood. I grew up there. When I was a child, we were there almost every day. God truly resides on those church grounds. In our local church and conference youth program, I learned to lead. My youth coordinator at the time, Cordelia McHenry, helped mold me into the leader I am today. She had a way about her that made you want to listen and not let her down.
It wasn't until we began going on mission trips that I began to understand my calling. We loaded vans full of Native kids and made long trips to help our Native people. We were a sight to see. You would think we would complain and whine because it was hot and we could be anywhere else. But that's not what happened. We painted, cooked and even moved an entire shed from one side of the yard to the other.
Once I left for college, I had to learn to live on my own and to balance my spiritual life and my schoolwork. Attending Oklahoma City University has taught me so much. I've learned that I can accomplish things on my own. I've also learned how to rely on other people and put my faith to work in order to accomplish the undoable. There have been times when I've laid in bed crying because all I wanted to do was hear my family's voice. But I always tell them and myself that I am where I need to be.
I have gotten so many opportunities during my time at college. My major life accomplishment so far happened last summer. I was an intern under Cathleen Stone, the chaplain for the Church Center for the United Nations in New York. I attended the Permanent Forum on Indigenous Issues. It was my first day on the job, and Cathleen told me I would be giving a speech at the United Nations on behalf of The United Methodist Church. My mother taught me never to say "no" when the church asks you to do something. So I beat the nervous butterflies down and agreed to do that.
I waited four days, and without any warning, this little Native girl, who had barely begun to see the world, was addressing the U.N. I can't begin to express the emotion - to hear my words being translated so people all over the world could listen and to represent my Native people, to be their voice. It's a blessing for which I continue to thank God every day.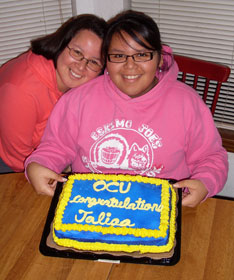 Sunrise Ross (left) celebrates her daughter's acceptance into Oklahoma City University. Photo by Nikki Ross.  
Q. In what church did you grow up and with what local church are you currently affiliated? Are you lay or clergy?
A. I grew up in Haikey Chapel United Methodist Church, which I still attend. I am a layperson.
Q. What are your gifts and how do you share them with the church?
A. I hadn't realized until recently how many people watch me. Leading by example is key to influencing our women, young and old. I was blessed to speak at a United Methodist Women's Young Women's Conference at Duke University. I remember telling the women that they can never listen to the older generations telling them "no."
A lot of women and men in my conference and jurisdiction are set in their ways, but I've never allowed them to deter me from accomplishing what God has put in my heart. God has a funny way of using me because God knows I won't stop until it's done, and because I still have audacity. That's what I try to get our women to understand. We have lost our audacity. We worry too much about what people are going to think, which committee the issue belongs to or what Robert's Rules of Order says about the matter that we lose sight of ourselves. Have audacity, women! Never be scared to do what God has called you to do!
Q. How do you nurture others, especially girls and women, through the church and in other aspects of your life?
A. This spring, I will run for OCU Powwow Princess and will make violence against women my platform during my campaign. It's time our women become educated and begin fighting for themselves because we can't wait for Congress to do it for us. I hope to reach my beautiful Native women through this platform and begin to put audacity back within our people.
Q. Why is Women's History Month important to you?
A. I am the product of the women who came before me. I think back to my upbringing. When I am at Haikey, I always sit in the exact same spot, the second row on the right in the very first seat. When I was a child, a woman we called "Mother Mary" sat in the first row on the right in the first seat. By continuing to sit behind her legacy and continuing to learn what she saw in our little Creek church has taught me why I should fight for our people.
Women's History Month is about the women who sang our old tribal hymns while they came over on the Trail of Tears. It's about the old woman who takes care of her four grandchildren by herself and still finds time to pray in the morning. Most importantly, Women's History Month reminds us of the women who are not yet here. Will we leave them a mess, or will we leave them a future worth fighting for?
This interview was conducted by Barbara Dunlap-Berg, internal content editor for United Methodist Communications, Nashville, Tenn. Contact Dunlap-Berg at (615) 742-5470 or[email protected].
---
Like what you're reading? Support the ministry of UM News! Your support ensures the latest denominational news, dynamic stories and informative articles will continue to connect our global community. Make a tax-deductible donation at ResourceUMC.org/GiveUMCom.