In 1987, Congress designated the month of March that year as "Women's History Month." The annual observance continues to this day. United Methodist News Service invited several women, both lay and clergy, in The United Methodist Church to share their stories. The responses from the Rev. Eunice Musa Iliya, director/coordinator of evangelism, stewardship and education in the Nigeria Episcopal Area, were developed from a March 2013 interview with her in Nashville, Tenn.
3:00 P.M. ET March 28, 2013 | JALINGO, Nigeria
Q: Tell us a little about yourself.
A: I'm from the northern part of Nigeria. That's where The United Methodist Church is dominant and where the church headquarters is. I'm a clergywoman, ordained in 1999. I was born in Zing District and brought up in The United Methodist Church, and I think I will die a United Methodist because I love The United Methodist Church so much. My dad was a United Methodist, who accepted Christ when the missionaries came. He worked with the missionaries as an interpreter first, and then he stayed with them. They taught him how to be an assistant in a medical clinic. He worked with them until he passed away.
My dad's involvement with the church really had an impact on us. We went to church and Sunday school every week. That was how I was nurtured in my spiritual growth. In our area of Nigeria especially, we could not be baptized until we passed a baptismal class. We had to read a long baptismal booklet and really understand most of the questions by heart. All the clergy kept throwing questions, and before we finished answering, the next person would ask another question. Because of the great performance that we did - my younger brother and I, both of us in the same baptismal class - that gave us a plus because the clergy were very intrigued by the way we memorized our catechism.
As I grew up singing in the choir, I was fascinated by the prayers and the reading of the Bible because at some point, I would be allowed to read the Bible during worship. It never crossed my mind that I would be a clergywoman in The United Methodist Church. Women were not allowed to lead, so I knew I had a responsibility in terms of being a participant in worship. My mom was a part of the United Methodist Women. I felt drawn to United Methodist Women because of their activities and their ministry within the community.
After attending local schools in Nigeria, I visited Claremont School of Theology in California in 2003. Phil Emerson was the president of the school. We had lunch together. They took me around the school, and I was fascinated. I said, "Oh, my God, I really want to be a student here." I applied and was accepted. I earned my master's degree in New Testament and a doctorate degree in pastoral care and counseling at Claremont.
I have a daughter, 27, and three sons - ages 18, 21 and 24. They're all in college.
Q: In what local church did you grow up and with what local church are you now affiliated?
A: I grew up in the United Methodist church in Zing. Ilesa is a district in The United Methodist Church in Nigeria, in the Southern Conference. I'm still attached to that church, even though I go around as a leader to different churches. I love it very much. They have me in their schedule from time to time to offer sacraments, officiate at weddings, do baptisms and preach. So I'm involved in my home church.
Q: What are your gifts and how do you share them with the church?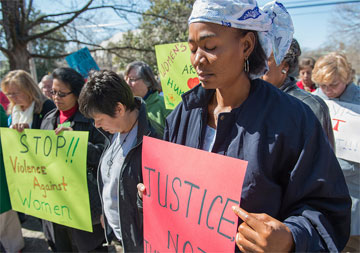 The Rev. Eunice Musa Iliya (right) participates in an International Women's Day vigil, sponsored by United Methodist Women. Photo by Kristina Krug, courtesy of United Methodist Women.
A: I have the gift of preaching. I have preached in many churches in Nigeria. I have the gift of giving. What I have I love to share. If I see somebody in need, I am always there to be of help. They say, "Thank you because I was in need." And "I found myself in trouble, and you were right there." That gives me so much fulfillment in my heart to know that what I have given has truly changed somebody's life.
Q: How do you nurture others, especially girls and women, through the church and in other aspects of your life?
A: Nurturing girls has been a great passion in my heart because I grew up in a patriarchal, male-dominated society. Girls are seen as property. A woman is dependent on how society defines her. So as I was growing up, I didn't know who I was as a woman. I only listened to what people told me. They told me, "You are a mother, a wife of someone. And you have been bought, like property. And the man is the boss. Whatever he tells you to do, you do.'"
My mother used to tell me that the best thing for a woman is to get married because a man will take care of you so you don't need to worry about getting educated or having a job. I listened to that. I ended up taking care of myself and taking care of the man I married. And I said, "God, if I become a leader, my target group with be younger women so I will be able to help them see themselves as equally created in the image and likeness of God and to understand that whatever the society says sometimes is not true." If you believe in God, have a focus and are bold enough to face your challenge, you can be anything in life.
That really helped me to groom some girls because I was fortunate to be one of the first Nigerian women to be ordained in the clergy. So we were able to break down that wall in our conference for women to be pastors. I still appreciate Bishop Done Peter Dabale because he was so much into the issue of getting women involved in most of the leadership of the church. It was during his time that The United Methodist Church became the first denomination in Nigeria to ordain women. That was the great opportunity for us.
I have committed my whole life to the struggle to be bold, not to feel inferior. Women find it difficult to stand up and speak up for some issues because they are treated like outcasts if they make too much noise. I know I affected many lives when I became the principal of the Women's Leadership Training Center in Zing. The center was established to give women voice, to equip them for leadership in ministry and to help them become self-reliant by teaching them a skill and helping them to read and write, as most of them were illiterate. My involvement in that, reaching them with Christ through skill training, has given me the opportunity to interact with our students, most of whom are young girls.
I tell them, "You know what? This is what the Scripture says, 'God created you in his image,' and that does not make you less than a human being. You can speak for yourself. The more you keep quiet, the more you keep getting intimidated. But speak up for yourself, stand boldly and be the person you want to be. All you need to do is to believe in yourself and allow God to use you to the glory of his name." I have had girls come up to me and say, "We never believed that a woman in our conference could stand up in the whole congregation or during the conference, to speak or to preach."
Some pastors from other denominations went to our bishop because I preached in so many gatherings. They invited me to come, and then they said, "We were wrong to say that women don't have the capacity and the talents to be ministers. We have seen you. We are thankful that at least now we can have dialogue and rethink about allowing women to be in the ministry." That is very rewarding and fulfilling.
Q: Why is Women's History Month important to you?
A: I met Garlinda Burton, the former general secretary of the United Methodist Commission on the Status and Role of Women, in 2007 or 2008. I didn't know much about the commission. But we talked, and I learned that it's about advocating for women's leadership in the church. I learned that they are involved in the area of sexual ethics and discrimination against women. I come from a country that has many issues that have to do with discrimination against women. When I became a GCSRW board member, it gave me so much joy because I knew that I had been given more voice, more authority, to stand up, advocate, strengthen and give voice to our young women and men to be able to speak up, to be heard and to fight for themselves.
The 2012 General Conference was challenging for GCSRW. Most of the bishops and delegates from the central conferences were wondering if the commission had any impact in the wider church. What are some of the areas that GCSRW can be involved in? One is sexual ethics. We don't talk about it. Rape is prevalent. It's everywhere. Sexual misconduct - you see it everywhere within the church and within the community. Incest is everywhere. And there are no legal implications. The number of victims increases daily. If GCSRW addresses those issues, the commission will have a lot of impact in the central conferences.
I am proud to be a United Methodist because The United Methodist Church has affected so many lives and has lot of life-giving programs and projects around the globe.
This interview was conducted by Barbara Dunlap-Berg, internal content editor for United Methodist Communications, Nashville, Tenn. Contact Dunlap-Berg at (615) 742-5470 or [email protected].
---
Like what you're reading? Support the ministry of UM News! Your support ensures the latest denominational news, dynamic stories and informative articles will continue to connect our global community. Make a tax-deductible donation at ResourceUMC.org/GiveUMCom.