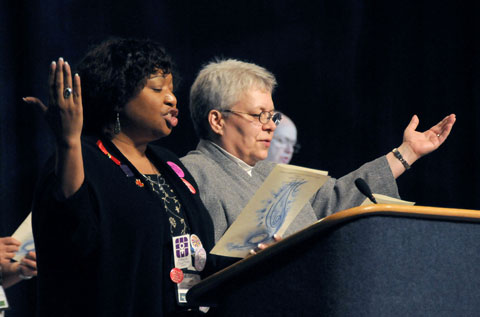 Garlinda Burton (left) and Kim Coffing lead a worship service at the 2008 United Methodist General Conference in Fort Worth, Texas. A UMNS photo by John C. Goodwin.
Women have made major inroads in The United Methodist Church, but many of the issues the first Commission on the Status and Role of Women tackled in the 1970s remain on the radar today.
"It is very easy to take for granted that women are pastors and that women of all colors are bishops, district superintendents and top agency executives," said Garlinda Burton, an African-American laywoman who heads the United Methodist Commission on the Status and Role of Women. "But it was less than 40 years ago that we had no women bishops."
And few students in seminaries.
"When I first went to seminary at Vanderbilt in 1955, there were only four women in the student body. When I transferred to Claremont in 1960, there were four women students, no women faculty or administrators," said the Rev. Nancy Grissom Self, one of the first two commission executives. "Now both seminaries have student bodies that are 50 percent-plus women."
Virginia Bishop Charlene P. Kammerer was ordained an elder in 1977.
"The period reflected intensely the reality of the first wave of clergywomen in the United States, women who were graduating from seminaries, completing candidacy and entering annual (regional) conferences for appointments and the journey toward full ordination," she said.
Not every woman made it. "It was a time of heavy casualties of women getting into conferences but many not staying," Kammerer added, "or entering extension ministries because of the discrimination.
"It was absolutely a time for all clergywomen to bond together-for survival, support, affirmation and empowerment-and for strategizing how to offer our best gifts to the church we loved (which) at the same time . . . was rejecting us."
Those were the early years of the Commission on the Status and Role of Women, which began as a study commission in 1968 and became a full-fledged agency eight years later.
A nurturing family
Dr. Trudie Kibbe Reed was one of the commission's first executives.
"The greatest gift I received from COSROW was living within an organization that transmitted education for social change through the lens of transformative leadership," said Reed, now president of Bethune-Cookman University.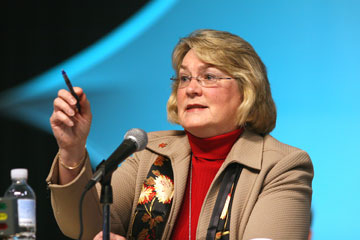 Bishop Charlene Kammerer presides at the 2008 General Conference. A UMNS photo by Maile Bradfield.
Serving on the commission in the early l980s was Kammerer, who was elected to the episcopacy in 1996. She, too, credits the commission with nurturing her.
"The very connectional nature of our United Methodist Church has made a big difference in supporting and encouraging me along the way," she said. "The commitment to inclusiveness . . . has been a strong thread of passion for me."
Barbara Ricks Thompson, who served as the commission's first president, agrees.
"I know that who I am today in large measure is due to my life in The United Methodist Church and its predecessor bodies. From childhood, most of my developmental experiences stemmed from some facet of the church," she said. "As an African-American, the church was the primary avenue for the wide range of experiences and contacts not readily available in the general society."
A bumpy road
The road has not been without potholes, Burton said.
"I'm very clear that my position as an agency exec was made possible by the risk-taking advocacy of groups like COSROW, Black Methodists for Church Renewal, the Commission on Religion and Race and United Methodist Women.
"Those groups spoke truth about the destructive, counter-Christian impact of gender and racial discrimination on the cause of Christ in our church, and opened the doors for creative, committed women and people of color to take our rightful place at the leadership tables around the world," she added.
"Justice for women in church leadership is still a relatively new concept in our denomination."
In the early days, Kiyoko Kasai Fujiu said, "we worked a great deal on individual advocacy related to sexual and gender discrimination." It was usually on a case-by-case basis, the former commission executive said. Now, she noted, the commission is training leaders and groups in advocacy related to sexual harassment and other hot-button issues.
Main issues remain
Much has changed, but much remains the same, women leaders said.
"The issues have shifted. But even though we have high-profile women, there is still discrimination in the local churches," Self said. "As the (membership) declines, women often receive less consideration for appointment because churches still seem to feel that men-especially young men with families-are preferred."
Women also still experience sexual harassment, Reed said.
"The church needs to identify and cultivate younger women into leadership," she said. "We are locked into old paradigms without seeing the needs of a new generation. Some young women at my institution are brainwashed by lyrics and fashion. What is the church doing to help them become critical thinkers? Today, many young women are abused and exploited, but unaware."
In the broad scheme of things, however four decades is a relatively short time.
Retired Pastor Lana Thompson Sutton, Naperville, Ill., likened the church to a ship.
"The church was-and still is-like a huge ocean liner," she said, "whose captain and navigator are trying to turn the ship to follow a new path on a new map, but it takes a long time to change direction."
*Dunlap-Berg is internal content editor for United Methodist Communications.
News media contact: Barbara Dunlap-Berg, Nashville, Tenn., (615) 742-5489 or [email protected]
This story was first published March 16, 2010.
Related Articles
Paving the way: A reflection on International Women's Day
Resources
General Commission on the Status and Role of Women
National Women's History Project
---
Like what you're reading? Support the ministry of UM News! Your support ensures the latest denominational news, dynamic stories and informative articles will continue to connect our global community. Make a tax-deductible donation at ResourceUMC.org/GiveUMCom.