To say that the women attending the Commission on the Status of Women at the United Nations understand the crises occurring around the world would be an understatement.
Since the commission meeting began March 4, topics addressed during official sessions and related workshops and panel discussions have mirrored global trends and events.
For example:
As an inter-governmental body that helps form policies and global standards, the Commission on the Status of Women has annual sessions to prepare reports and recommendations on topics related to women's rights.
But much of the woman-to-woman contact during those sessions occurs through the participation of representatives of nongovernmental organizations, such as United Methodist Women, the United Methodists boards of Global Ministries and Church and Society and other denominations involved with Ecumenical Women at the United Nations.
This year, the UMW delegation included several women from the United States and eight international representatives. Both UMW and the Board of Church and Society co-sponsored a series of related events at the Church Center for the United Nations during the week of March 4.
Tatiana Dwyer, the UMW staff executive who organized the delegation, said the point is to allow women personally to tell their stories. The CSW-57 participants, she noted, are not victims, but intelligent, determined women who need help to get organized and "to push for their rights and their place at the table."
Sharing experiences
The Rev. Betty Kazadi Musau, a UMW delegate from the Democratic Republic of Congo, spoke during a March 5 panel on violence, economics and war about how women's bodies in her country "have become a battleground for the rebel groups."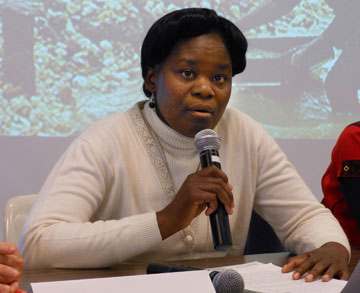 The Rev. Betty Kazadi Musau, United Methodist clergy from the Democratic Republic of Congo, speaks during a March 5 panel discussion on violence, economics and war at the Church Center for the United Nations. A UMNS photo by Leigh Rogers.
But as painful as it was to share some of the grim details about the ordeal of women in eastern Congo, Musau later said her experience at CSW-57 had been "a call to action" to raise awareness about issues of women's rights at the grassroots level.
"When you educate church members, automatically it will have an impact on the community," she added.
Renee Campbell, a UMW delegate and top executive of Wesley House Community Services in Louisville, shared her experiences, both personally and professionally, in a March 5 panel on "Faith's Response to Domestic Violence."
Campbell also is a founder of the Louisville Clothesline Project, which uses shirt-decorating sessions as therapy and a way to give women a voice about the abuse they have experienced. After receiving information from another UMW delegate, Suzuyo Takazato of Japan, who works with survivors of sexual violence and sex workers connected with U.S. servicemen in Okinawa, Campbell has decided on a new project.
"I'm going to coordinate an effort to get together and decorate a shirt in honor of each of the women (in Okinawa)," she explained. "I want to give them a voice." Later, she added, she would send Takazato photographs of the decorated shirts hanging on a clothesline.
In Japan, Christian women have worked on issues of prostitution and trafficking for years through organizations like Kyofukai. Junko Miyamoto, a longtime staff member, now focuses her attention on child pornography and trafficking, making presentations at both the First and Second World Congress against the Commercial Sexual Exploitation of Children.
Unfortunately, she reported during a March 8 panel on "Overcoming the Pain of Abuse and Violence against Women and Girls," child pornography is not yet banned, and even the celebrated art of Japanese anime and manga "are being misused" to sexualize children.
"Our struggle is continuing, but we still have hope to overcome all these problems with your cooperation and love," Miyamoto told the audience.
As the Rev. Amee Paparella, staff with the Board of Church and Society, pointed out during the same discussion, persons of faith are involved at every level of intervention and advocacy for those trying to overcome the pain of abuse and violence.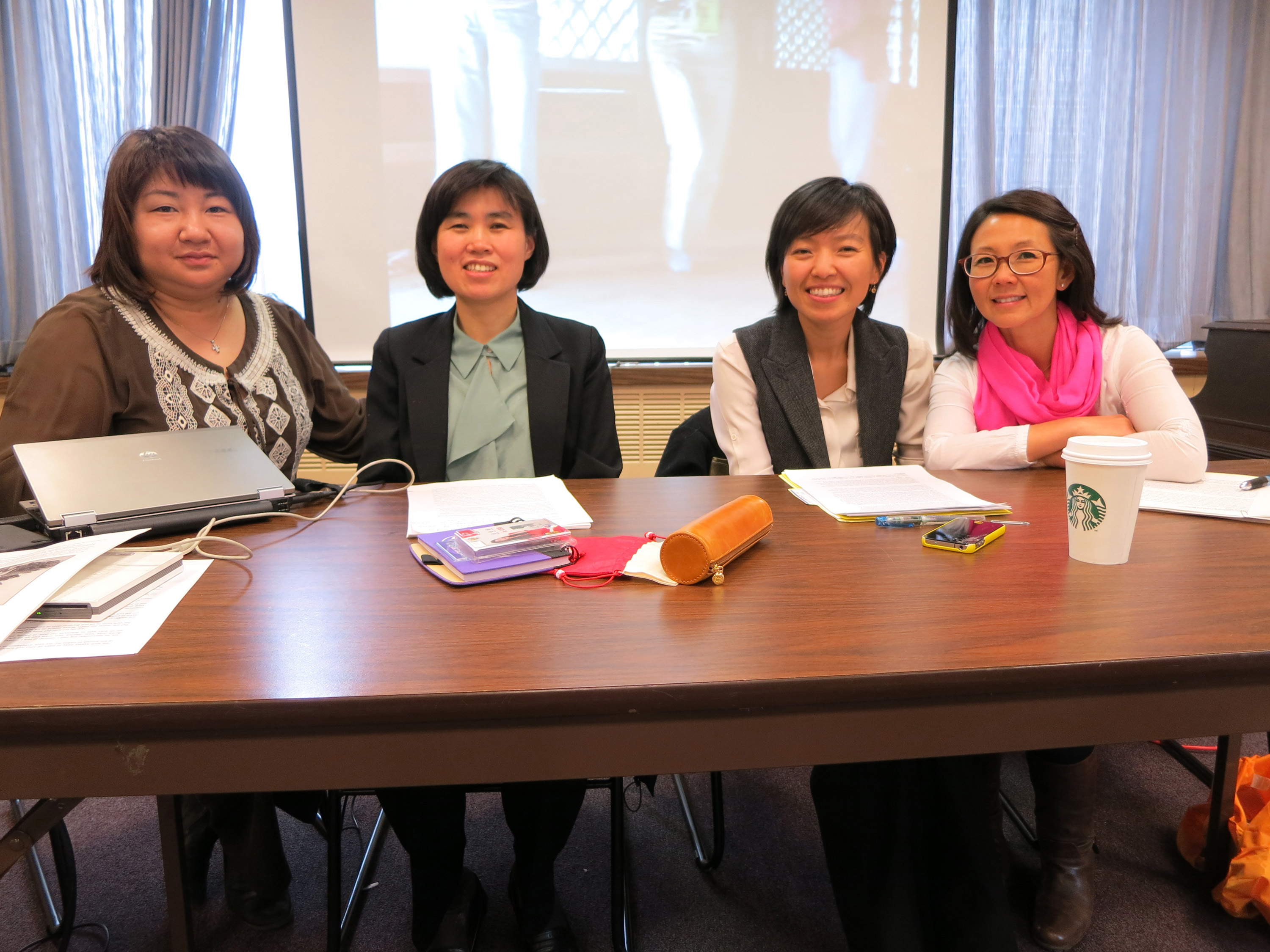 A March 6 panel discussion on Women's Leadership to End the Korean War, co-sponsored by United Methodist Women, included, from left, June Kim, Gyung Lan Jung, Hosu Kim and Christine Ahn. A UMNS photo by Linda Bloom.
"To say that we worship a God who cares for the vulnerable and suffering and not advocate for the vulnerable and suffering makes no sense," she said.
Hope amid threats
Rusudan Kalichava, a UMW delegate from the Republic of Georgia who has seen her share of war-related violence against women, found it energizing to be part of the march.
"I love the spirit of these women," she said. "I feel we are together and can say 'no' to violence."
*Bloom is a United Methodist News Service multimedia reporter based in New York. Follow her at http://twitter.com/umcscribe.
News media contact: Linda Bloom, New York, (646) 369-3759 or [email protected].
---
Like what you're reading? Support the ministry of UM News! Your support ensures the latest denominational news, dynamic stories and informative articles will continue to connect our global community. Make a tax-deductible donation at ResourceUMC.org/GiveUMCom.