My mother was right, but please don't let her know.
Years ago, I was poised to attend a state university when Mom suggested we visit a small, United Methodist-related school in southern Michigan. I supposed that it wouldn't hurt to look at one more place, so we spent a few hours touring Adrian College. The next week, I couldn't stop imagining myself there. So very late in the game, I adjusted my plans and went to Adrian.
After seminary, a doctoral degree and several years as a parish pastor, I returned to Adrian College. This time I became the chaplain and a part-time professor.
The same thing attracted me the second time around. At the end of high school, I wanted something substantive, and the church-related environment seemed expansive enough to be generous but particular enough to incubate purpose. I found my intellectual home. When I returned as chaplain, I hoped to enhance the culture of purpose for others.
Let's be candid. Over the years, some church-related colleges and universities have proclaimed a unique identity while offering nothing special. We should not assume that church relatedness bestows magical particularity. Those of us on campus need to work at making it real.
On the other hand, The United Methodist Church has not always been clear about identity. Expecting a college or university to reflect some ill-defined church purpose won't cut it. So what makes United Methodist-related higher education so important?
Each has a story to tell
The best United Methodist-related colleges and universities do not try to fit their mission around some generic idea of what it means to be "church related." They dig deeply into their own histories as institutions related to the church and bring that wisdom forward.
We love our United Methodist heritage, but many are drawn to our environment because we were founded as an abolitionist college of the church. Even those who are still getting to know United Methodism can appreciate studying and working at a place started by veterans of the Underground Railroad.
That's our narrative in Adrian. Others have their own stories. The profound schools mine their heritage and make it live.
A matter of calling
"The best United Methodist-related colleges ... dig deeply into their own histories as institutions related to the church and bring that wisdom forward."- The Rev. Chris Momany
We have a growing pre-seminary program, and our college also is known as a leader in the fight against human trafficking or modern-day slavery. These two emphases are not the same, but they are related.
The first addresses issues of call and God's direction for young adults. The second addresses issues of institutional call. Once an abolitionist college, always an abolitionist college - at least until people are no longer bought and sold like property.
We don't emphasize ethics and social responsibility because someone told us that this is a hip thing to do. We're just being who we are.
The gift of particularity
I've always been puzzled by the way contemporary culture chases fads. A few years ago, a large chain of coffee shops started to customize its individual restaurants. Marketing research told the company that people wanted neighborhood identity, uniqueness - not a one-size-fits-all strategy. It made sense to me, but having a multinational beverage giant attempt such particularizing seemed disingenuous.
The same holds true for United Methodist higher education. We do not need to chase fads - even when the fad emphasizes uniqueness. We have that already, and we simply need to develop it on a case-by-case basis.
Some might assume that church-related higher education lacks breadth, but this is not true. As the chaplain at a United Methodist-related school, I can't set up a niche ministry that will only care for a small percentage of people who share my spiritual opinions. I have to love everyone. Period. And that is the way it should be. Our uniqueness is about love for all.
Continuing the legacy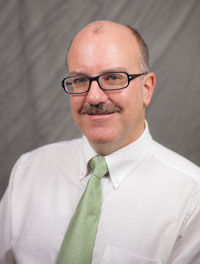 The Rev. Chris Momany
Immediately before the U.S. Civil War, a young man of African descent came from Canada to Adrian College. His name was Henry Fitzbutler, and his mother and father had escaped bondage through the Underground Railroad.
Henry studied the sciences for several years at our college and served as an officer of the campus literary society. Later, it took him less than a year to graduate from one of America's premier medical schools. Today that huge state university medical school and hospital system brags about Dr. Fitzbutler, but it doesn't tell you about his formative time at Adrian College.
It is no surprise that Fitzbutler went on to found his own medical school in Louisville, Ky., while also editing a newspaper. He pioneered treatment for burn victims and offered widely respected literary leadership.
That combination of brilliance and humanitarianism develops at places like Adrian and other United Methodist-related colleges and universities. Let's treasure the unique witness these schools offer.
*Momany is chaplain and part-time professor of philosophy/religion at United Methodist-affiliated Adrian (Mich.) College and an ordained United Methodist elder who served as pastor of several churches in New Jersey and western Michigan. He is the author of Doing Good: A Grace-Filled Approach to Holiness (Abingdon Press).
News media contact: Tim Tanton, Nashville, Tenn., (615)742-5470 or [email protected].
---
Like what you're reading? Support the ministry of UM News! Your support ensures the latest denominational news, dynamic stories and informative articles will continue to connect our global community. Make a tax-deductible donation at ResourceUMC.org/GiveUMCom.