"Coming to college is kind of like entering a whole new culture," said Lisa Brennan, English instructor and coordinator of the First-Generation Student Success program at McKendree University in Lebanon, Ill. "It's a new atmosphere. There's a new language."
To help freshmen translate that new language and make a smooth transition from high school to college, administrators and students from United Methodist-related colleges and universities are offering advice for those hitting campus for the first time.
Don't be afraid to ask for help
Lauren Cook, a sophomore at McKendree, said she would tell freshmen not to be intimidated. The Chicago native admits to being frustrated during the daunting process of applying for financial aid.
"I'm a first-generation student and an only child, and even though my mother was encouraging and really wanted to help me, neither of us really knew what to do," Cook said. "I had to learn how to utilize the people at McKendree. I wish I had known that earlier on to eliminate stress from the beginning. Hang in there, and ask questions because there are people that want to help you. You just have to ask."
Brennan said that's an especially important reminder for the increased number of students, like Lauren, who are the first in their families to attend college.
Nationally, first-generation students are four times more likely to drop out of college than other students.
"The reason they quit or fail is because they don't know how to navigate the system or they feel like imposters," said Brennan. "They feel like they don't belong here."
That's why most colleges already have resources in place designed to assist with everything from tutoring to counseling.
"The glitch is that students don't even know that they own a toolbox or perhaps they're thinking of those tools in terms of high school," explained Brennan. "An example is that sometimes when students hear the word 'tutoring,' they think that means it's for students who are behind or are not bright. At the college-level, virtually every student is tutored - especially in a liberal arts education where you're expected to study different disciplines. One or more of those areas might need more attention. For me, it was math. I'm bright, but math was difficult for me."
Familiarize yourself with your 'toolbox'
United Methodist-related schools, colleges and universities are committed to creating support systems to care for a students' spiritual and mental well-being in addition to academic success.
At Andrew College in Cuthbert, Ga., administrators hold InSpire Days during the summer. These sessions allow students to meet advisers, tour the campus and get priority registration for classes.
"Leaders at our United Methodist-related institutions make great efforts to give students and parents the tools they need for a successful college experience, " said Gerald D. Lord, associate general secretary of the division of higher education of the United Methodist Board of Higher Education and Ministry. "In addition to the programs and events sponsored by United Methodist-related colleges and universities, the division of higher education supports 520 collegiate ministries that facilitate students' spiritual and social development."
You are not alone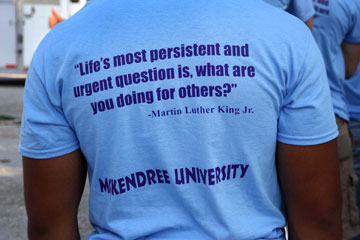 This McKendree University T-shirt raises awareness of service by quoting a question raised by Martin Luther King Jr.
Find comfort in knowing there are others who feel the same way you do. During the transition, feelings of loneliness are common.
To beat the new-student blues, get involved. Creating community not only combats loneliness, it also can put you on the path to success.
"Research shows us that students who become engaged on campus are most likely to have a better support system and to complete their programs," said Sherri Taylor, dean of students at Andrew College. "I encourage students to read their college newspapers, bulletin boards and social media to keep up with events on campus. Attending chapel and local church services is another way to meet community students and make friends to establish a support system."
Consider getting involved in campus ministry for opportunities to meet friends and to grow spiritually through deep discussions, Bible study, community service and yes, even, parties. Do a quick search at www.gbhem.org/findyourplace to find a campus ministry or Wesley Foundation at your school.
If there is no campus ministry in your area, check out programs at nearby churches. Go to Find-A-Church.org to locate a church near campus.
Beat stress before it strikes
According to the U.S. Department of Education, for every one hour in class, students should study for two hours outside of class. This guideline and other time-management skills can help you alleviate stress from the beginning.
Many schools, including Andrew and McKendree, offer counseling or courses in time management.
"Stay organized," advised Taylor. "Determine a schedule and stick to it. Allow yourself more time than what may be needed in the event you run into assignments that take time. Have fun. Make time to have a full college experience. Just keep the fun in balance with the work that you have to do."
During the stressful, high-stakes seasons of mid-terms and finals, participate in any stress-busting activities that your college might have planned. For example, at McKendree, students can enjoy visits with therapy dogs during study breaks.
Another way to fight stress is with exercise. Hit the gym or join a pick-up game of your favorite sport. While the 'freshman 15' is a concern for many, Taylor advises that some weight gain or loss is normal as you adjust to a new environment.
Drink plenty of water and get your daily dose of fruits and veggies. If you have the opportunity, consider participating in a program like the Wonders of Wellness food co-op at McKendree. Through this program, participants can order fresh produce and receive the healthy delivery right on campus.
Work hard; be nice
Lauren offers fellow students one final piece of advice: Never underestimate the power of hard work and treating others with respect.
"Professional relationships can help you make connections," she said. "If you're nice to professors, they might remember you when a scholarship or job opportunity comes along. Put yourself out there. Don't wait for someone else to do it. Hard work pays off. I'm from a single-parent household and I didn't have money to go to college, but I made it through my first year. Good things happen when you put in the hard work."
Learn more about ways The United Methodist Church supports students and schools. 
Editor's Note: This article was originally published Aug. 22, 2013.
*Bannon is a public relations specialist at United Methodist Communications in Nashville, Tenn.
News media contact: Joey Butler, Nashville, Tenn., (615) 742-5470 or [email protected].
---
Like what you're reading? Support the ministry of UM News! Your support ensures the latest denominational news, dynamic stories and informative articles will continue to connect our global community. Make a tax-deductible donation at ResourceUMC.org/GiveUMCom.