A reflection from the Wesley Pilgrimage in England sponsored by Discipleship Ministries, the General Commission on Archives and History, and the General Board of Higher Education and Ministry, all of The United Methodist Church.
United Methodists don't attend the Wesleyan Pilgrimage to study history for curiosity's sake. We come to commune with the Holy Spirit who moved in John and Charles Wesley and the rest of the early Methodists. We come to get in touch with their love for God and people, a love that empowered them to change the world. We come to renew our call to do the same.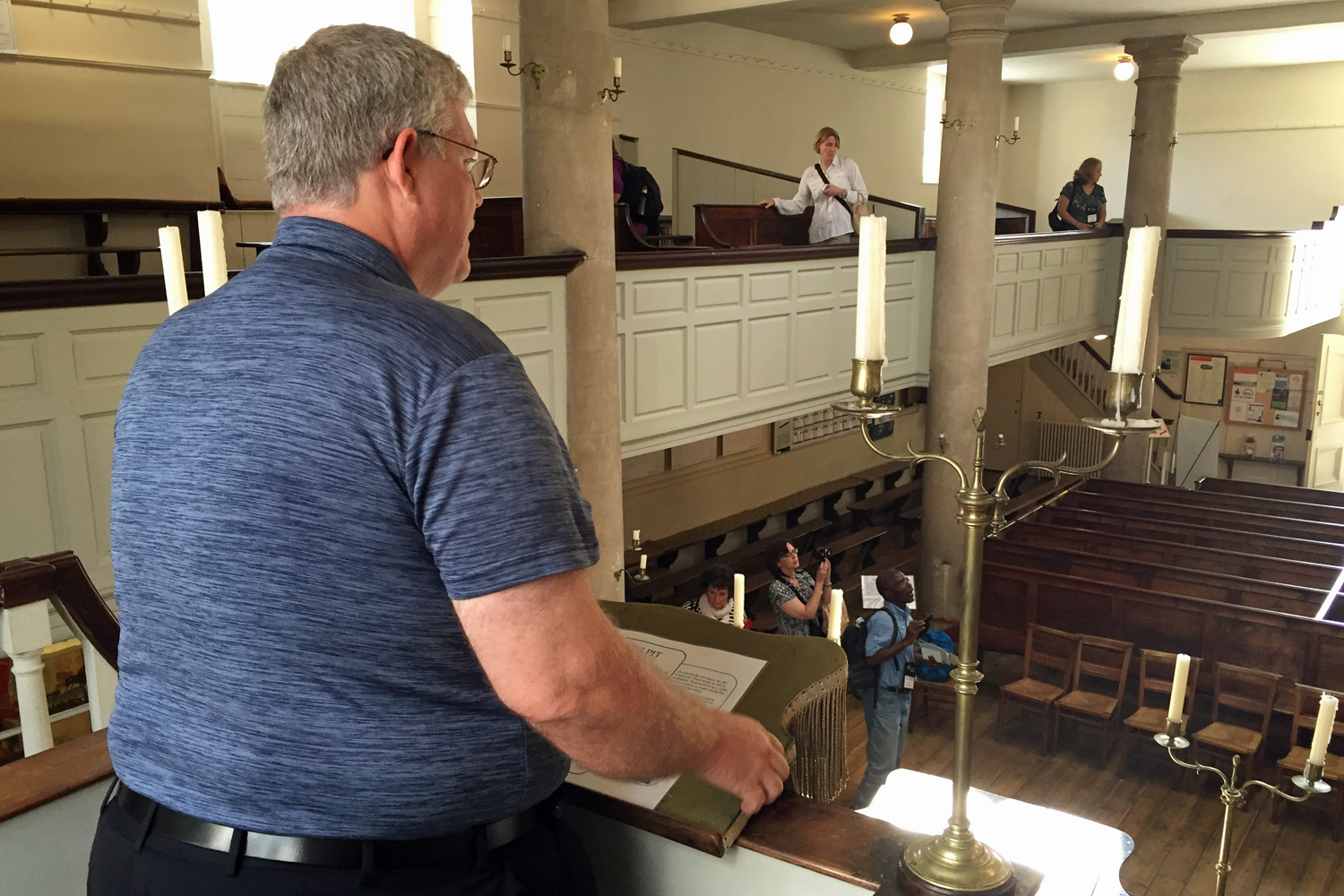 Today I stood in "The Cradle of the Methodist Movement"—The New Room in Bristol. It was in this town in 1739 where Wesley committed himself to share the gospel with all people, and not just those who came to a proper church. In his words, "I submitted to be more vile," which meant he would begin preaching in the open air, as he was asked to do by a then-famous Methodist preacher named George Whitefield.
Though uncomfortable with the idea at first, Wesley's preaching was powerful. Crowds came to hear him preach regularly. Within months, the Methodists of Bristol needed a place to meet and organize.
Wesley would write, "We took possession of a piece of ground near St. James churchyard, in the Horsefair, where it was designed to build a room, large enough to house both the societies" that had begun meeting in Bristol.
They hastily, and shoddily, built a room that didn't last long. When it was no longer safe, they built The New Room, which is where the Wesley Pilgrimage in England visited today, July 18, 2016.
I stood in the main room where John Wesley preached, where poorer children were taught, and where people gathered to reach out to the community. It was in that building where Charles Wesley first taught the people called Methodist some of his hymns, and where Francis Asbury volunteered to go to America. There in an upstairs room, Methodist preachers came for rest, study, and refreshment.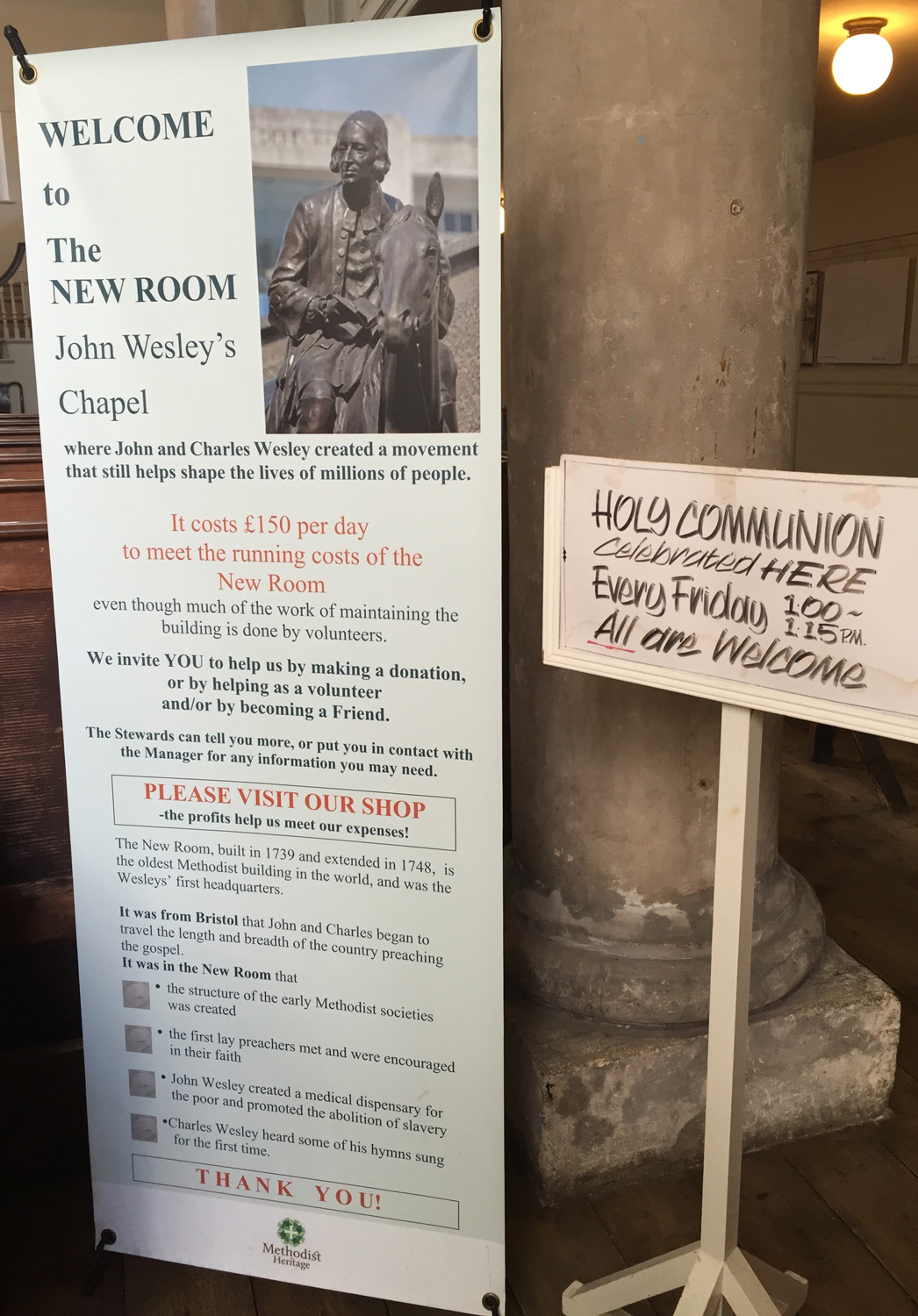 I could go on giving facts about this wonderful place and all the artifacts there—and someday I will. But there is so much more to this special place.
I lingered for long periods in the building. During our free time, I returned to linger longer. There was something special about this place.
Don't mishear me. This is not about fandom. It was not akin to standing in Mark Twain's home in Hartford, Connecticut, which I thought was cool when I got to do that.
This was instead about dwelling in the Spirit of God. It was about touching a movement led by courageous and committed men and women who always put Christ first in their lives. It was about sensing the power of God at work in a place with no first floor windows, so the people inside could not be singled out for attack by those who didn't like that Methodists spoke out against slavery and other ills.
I was impressed to find that The New Room is not a museum. Instead, they continue the work started more than 250 years ago by serving as a mission station to the people of Bristol.
Fields no longer surround this historic building. An upscale shopping center has built up around it, and the leaders serve the hundreds of thousands of people who travel there every year. They offer communion every Friday, host music groups, and welcome people from the street. They are also constructing a new building on the property that will continue to support education and other heritage programs.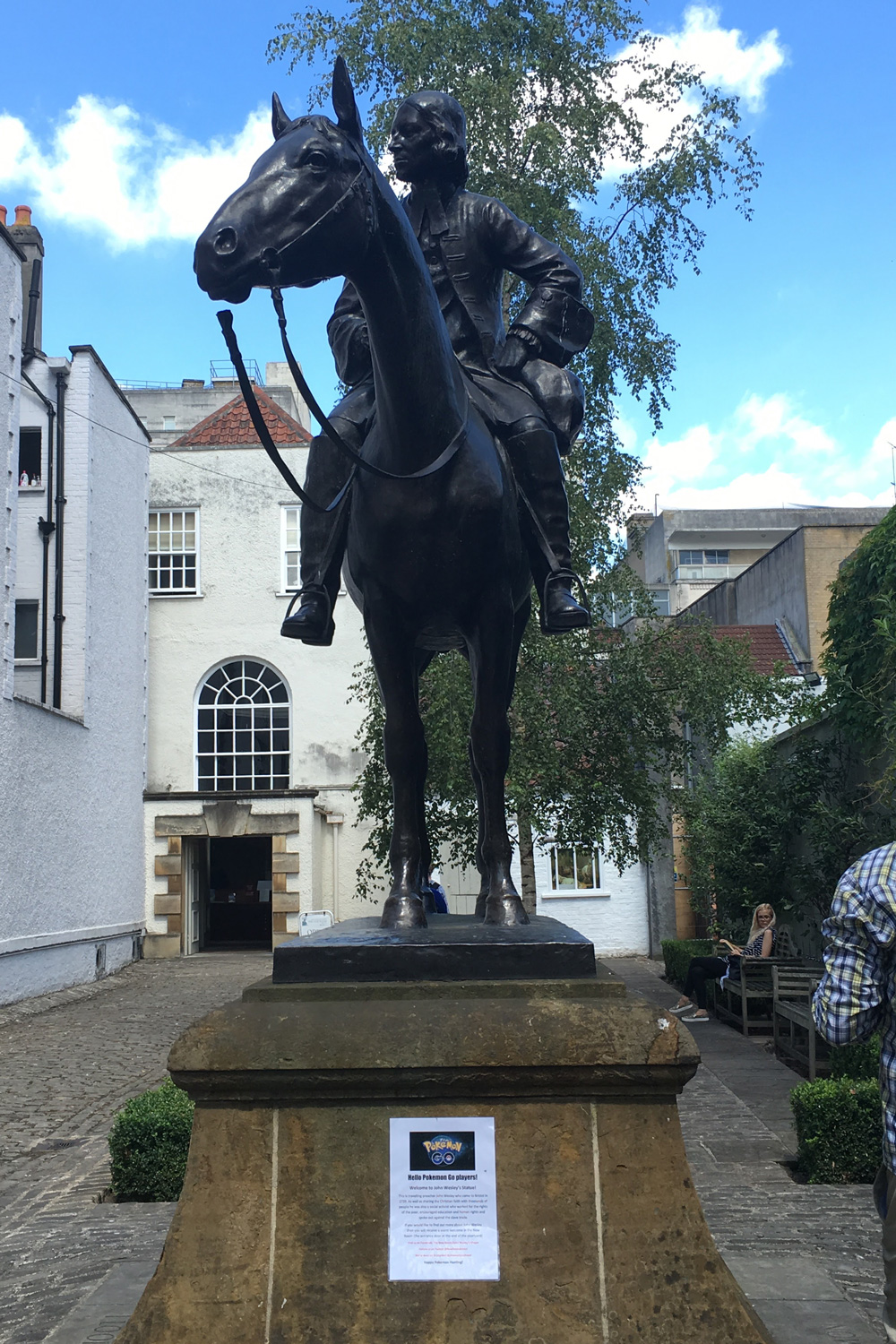 While there today, we also noticed a sign at the foot of the statue of John Wesley welcoming Pokémon Go players to this PokéStop. It reads, "This is travelling preacher John Wesley... As well as sharing the Christian faith with thousands of people, he was also a social activist who worked for the rights of the poor, encouraged education and human rights and spoke out against the slave trade. If you would like to find out more about John Wesley then you will receive a warm welcome in the New Room... Happy Pokémon Hunting!" I think John and Charles would be proud.
In the 18th century, the Methodist movement was led by people who loved God and who God loves (everyone) so completely, so "perfectly," that they changed the world.
We can do the same today. We can speak to love again. We can be courageous and stand up for people and against societal ills. We can love Pokémon Go players, and love children. We can stand against slavery and every other ill that treats fellow human beings in ways that are less than the love God has for us all. We can reach out to shoppers and every member of our communities with nourishment for body and soul.
With love, we United Methodists—we Christians—can again change the world with the power of the gospel of Jesus Christ.
*Joe Iovino works for UMC.org at United Methodist Communications. Contact him by email or at 615-312-3733.