Dindi Mission is grappling with an acute water shortage as the lone borehole fails to cope with demand from the United Methodist center and the neighboring community.
In March, Facebook users were shocked to see photos of school children burrowing the dry riverbed in search of water to drink. One picture showed a girl half inside a hole as she searched for water to fill a bottle.
"I was shocked by the children digging in the river bed and decided to take the photos to show my colleagues, one of whom posted on Facebook," said Pastor Luckymore Mudzengerere, Dindi station chairperson.
"I was concerned when I saw how they were endangering their lives in the quest for water and also risking their health by drinking dirty water from the riverbed," Mudzengerere said.
The Dindi United Methodist Mission Centre was established in 1934. The center, which has a clinic and primary and secondary schools, has always faced water shortages, since it is located in a naturally dry region of Zimbabwe. The current clinic was built in 2005 by the Community United Methodist Church of Crofton, Maryland. The church is also spearheading efforts to drill two new boreholes at the mission, one at the clinic and another at the school.
HOW YOU CAN HELP
Donations for the boreholes needed at the Dindi United Methodist Mission can be made through Community United Methodist Church. Make your check payable to CUMC and put Dindi Water Project in the memo line. Donations can be mailed to Community United Methodist Church, 1690 Riedel Road, Crofton, Md., 21114. For more information, e-mail Charlie Moore at [email protected].
Mudzengerere said the borehole failed to produce enough water for the mission center in March, and people resorted to digging the riverbed.
William Katsa, 78, said a dam was built across the Nyamakamba River in 1948. "The wall collapsed after three years and was rebuilt in 1952. That dam was later filled with sand and completely buried," he said. "There are plans to build another dam about one kilometer away, but we are not sure when that will happen."
The water crisis reaches its peak during school terms as almost 800 pupils and staff from the two schools, clinic, patients and members of the neighboring community all rely on the single borehole for safe drinking water. The government's District Development Fund provided the borehole.
"Access to safe drinking water is a major challenge," said Innocent Mutanga, Dindi High School headmaster. "Sometimes we have to wake up at 2 o'clock in the morning in order to beat the queue and get one bucket of borehole water," he said.
He said after 5 o'clock, the number of people at the borehole swells as businesspeople from Dindi business center, especially those in the catering industry, join the quest for safe water.
"I always carry a 20-liter container to fetch water whenever I travel to Mutawatawa for meetings," said Mutanga. Mutawatawa is the administrative center for Uzumba Maramba Pfungwe Zvataida Rural District Council, and is located 45 kilometers (28 miles) away. A dirt road links Dindi Mission to Mutawatawa.
Mutanga said he sometimes drank water from the riverbed. "The river water tastes better than the borehole water, which is salty. However, if you drink it after getting used to water from the borehole, it will upset your tummy."
An uphill battle
Diarrhea and suspected dysentery cases top the list of diseases attended by clinic staff, said Henry Zanze, who has worked at the Community United Methodist Church Dindi Health Centre clinic for 16 years.
"Getting water to use at the clinic is literally an uphill battle, as the clinic is located on a hill about one kilometer away from the borehole," Zanze said.
He said there was an outbreak of upset stomachs in March this year and the clinic treated 17 people suffering from suspected dysentery.
Councillor Wilford Katsande and Musangi Kabaira, secretary of Councillor Bigboy Matsimhu, said this year is the worst water shortage in living memory. The two government representatives believe a lot of cattle will die this year.
"From my experience, many cattle are bound to die between August and December this year, because we received very little rain and we have no grass for their pasture," said Katsande.
"We have appealed to the government to drill more boreholes but have been informed there are no funds at the moment. We have also mobilized the community to dig deep wells but these have to be between 15-20 meters in depth because the water table is very low," Kabaira said.
Tarisai Mutiwekuziva was born in Dindi and runs a retail shop at the business center. "We depend on the borehole for drinking water, and have resorted to digging the riverbed for water for cooking and washing. During the school term, you will be fortunate if you manage to fill a 20-liter bucket at the borehole," she said.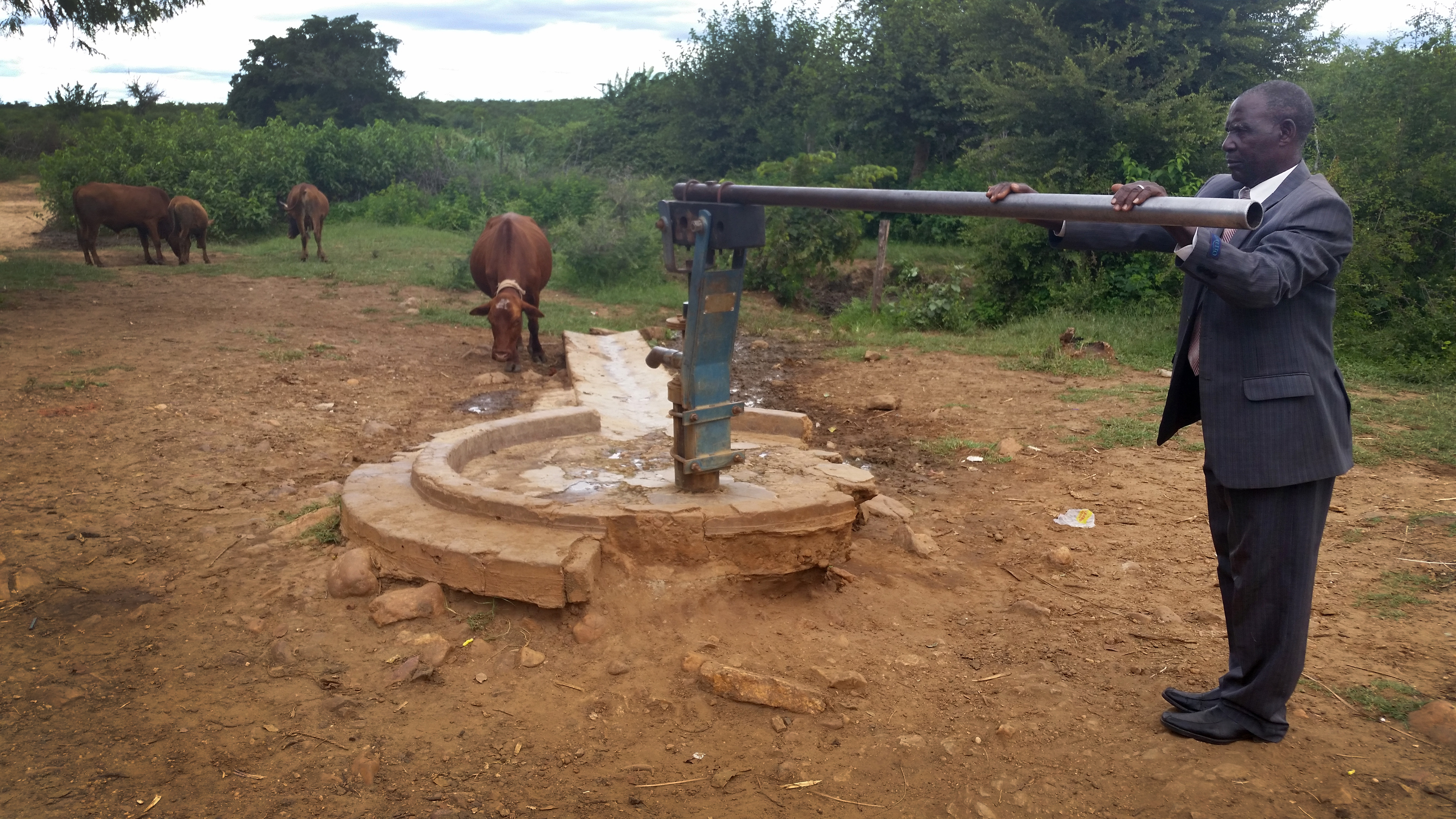 'A sense of urgency'
The situation in Dindi has been compounded by the lack of rainfall this year. "It only started raining in mid-March, so we face a severe food shortage since the majority of villagers rely on the rain for farming. As a result we have resorted to gold panning in areas from Dindi to the Mazowe River, which is 15 kilometers (9 miles) away," said Manyika.
"Every able-bodied person is panning for alluvial gold found in the soil here. Other people risk their lives by searching for gold in abandoned mines, which may collapse and bury them alive," he said.
Sarah Tayero, a nurse aide, said the Dindi Clinic treats 300 to 400 patients per month. "We serve an area with over 7,000 households located in 21 villages," she said.
The clinic requires a lot of water, especially for the maternity section, which handles 15 deliveries a month. "We have resorted to asking relatives who accompany patients here to bring water for use at the clinic or fetch from the borehole. The staff is not able to fetch enough water for the clinic and for their personal consumption so we ask the community to assist," said Tayero.
The Rev. Henry Chareka, Murewa district superintendent, said the church will soon drill a borehole at the clinic, with assistance from Community United Methodist Church and independent volunteers in mission Jim Gourley and Sue McCann.
Charlie Moore, leader of the Community United Methodist Church ZIM-VIM team, said in order to provide adequate water, the mission center needs two boreholes — one at the clinic and one downhill at the school. He said they have already begun fundraising and have a total of $16,000 in hand. The ZIM-VIM Team has already contributed $8,000 and another $8,000 has been contributed by Gourley and McCann. 
"We contemplate that the total funding requirements for the two boreholes including all tanks, power, security, will exceed this amount. Therefore we are continuing our efforts to raise additional funds," Moore said.
"We truly feel a sense of urgency to address this life-threatening situation in Dindi. Our hearts are filled the Holy Spirit calling us to respond," he added. "I am totally confident that we will be successful in these efforts and the people of Dindi will have access to ample supplies of clean water in the very near future."
Chikwanah is a communicator of the Zimbabwe East Annual Conference.
News media contact: Vicki Brown, news editor, [email protected] or 615-742-5470.
---
Like what you're reading? Support the ministry of UM News! Your support ensures the latest denominational news, dynamic stories and informative articles will continue to connect our global community. Make a tax-deductible donation at ResourceUMC.org/GiveUMCom.