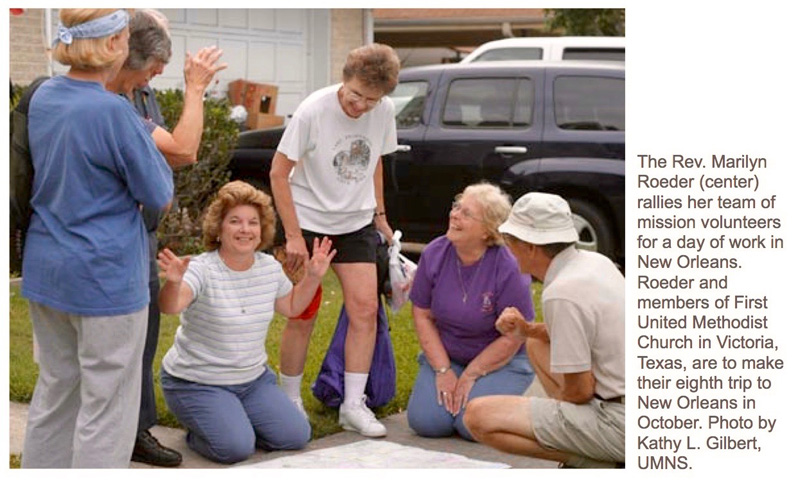 The Rev. Marilyn Roeder and members of First United Methodist Church in Victoria, Texas, are scheduled to make their eighth mission trip to New Orleans in October to hammer away at the destruction left behind by Hurricane Katrina.
Equally dedicated to the recovery are youth from Jesse Lee Memorial United Methodist Church in Ridgefield, Conn., who have spent most of their school holidays for almost two years working on churches and houses in Slidell, La.
To mark the second anniversary of Katrina, volunteers like these will be honored Sept. 6-7 in New Orleans during a United Methodist appreciation celebration sponsored by the Louisiana, Mississippi and Alabama West-Florida annual (regional) conferences.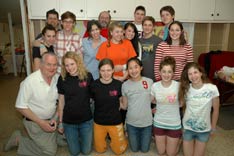 New lifelong friends
Roeder has been to New Orleans at least once a month since the hurricane hit Aug. 29, 2005. She has found a new family in Elvina and Vince DiBartolo and their granddaughter, Gabby, who were evacuated to the small Texas town.
"An entourage of about 11 of us, dogs and all, ended up in Victoria, Texas," Elvina said. "We had no clue where Victoria was."
A lifelong Catholic, Elvina said she was shocked by Roeder "this lady in a pair of shorts who introduced herself as a pastor" upon their arrival at the Red Cross shelter in Victoria.
Since that first meeting, Roeder and a group of about eight senior adults of First United Methodist Church have called the DiBartolo house in New Orleans home whenever they come to the city on mission trips.
In addition to the DiBartolos, the group has bonded with homeowners Joyce Mohr and retired United Methodist pastor Helena Wright-Butler, whom they have helped on each of their trips.
Roeder has even taken Mohr to Victoria to introduce her to the members of First United Methodist Church.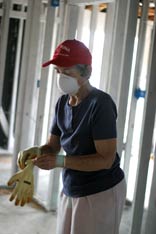 "They can't do enough for me," said Mohr. "Sometimes I think I depend on them too much, but it has really been a wonderful friendship. I really appreciate everything they have done for me."
During the group's latest trip in June, Wright-Butler was close to leaving behind the tiny white FEMA trailer in her front yard for the comforts of her own home. She is a retired pastor from John Wesley United Methodist Church, one of five churches that the Louisiana Annual (regional) office has decided not to reopen following the storms.
While it "hurt my heart" to see her former church close, Wright-Butler is gratified by the dedication of Christians like those from Texas.
"It has been difficult but it has increased my faith," she said. "It helps to see people here. They could have turned their backs and said, 'Hey it didn't happen to me!' but they were willing to give of themselves, give of their finances and love. It makes it all worthwhile."
Friends and food
A group of youth from Connecticut has forged a connection in Slidell, where they have gone on numerous mission trips and, in the process, come to love its people and its food.
"All they want to do is cook and love you and talk to you and tell you their story, and do things for you and make you happy," said 16-year-old Chelsea Ullman.
"I think that you don't really understand how big a disaster it was until you come. I mean, it was miles and miles of coastline and everything was totaled and damaged. So there's going to be years and years of work here. That's why people need to keep coming back."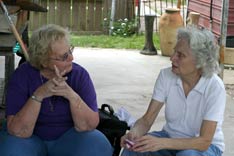 Davey Rowe, 17, finds it satisfying to see the progress with each trip to Slidell.
"We can see what we've done, and we're actually sleeping in the room that we made last year that we put up the drywall in and we finished. It's really rewarding."
The youth have returned to Slidell on every school holiday since Christmas of 2005.
"We're more than willing to come down here," said Rowe. "There's nothing better than spending our breaks here with these people and doing this work."
The Rev. Pattye Hewitt, associate pastor of the Slidell church, said she has been amazed at the youths' dedication and concern. "They are an amazing group of young people," she said.
"A hurricane brought us here," says Neal Bowes, director of youth ministries. "But the people we work with and encounter have brought us back three more times. And we plan to come back again."
Christian fellowship
The volunteers agree that people must witness the damage themselves in order to understand the scope of the need.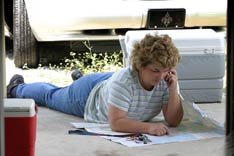 "I had seen pictures of the devastation in New Orleans but had never been inside a house before it was gutted," said Nancy Farris, 72, and a member of Victoria (Texas) First United Methodist Church.
"It just broke my heart. I couldn't believe what these people had gone through. This gave us a chance to show our Christian fellowship with our neighbors and I just keep coming back because I still have this same feeling of being able to help them get back on their feet."
*Gilbert is a United Methodist News Service news writer based in Nashville, Tenn.
News media contact: Kathy L. Gilbert, Nashville, Tenn., (615) 742-5470 or [email protected].
Audio Interviews
Chris Kunkle: "God blessed me with helping hands."
Joyce Mohr: "They can't do enough for me."
Resources
---
Like what you're reading? Support the ministry of UM News! Your support ensures the latest denominational news, dynamic stories and informative articles will continue to connect our global community. Make a tax-deductible donation at ResourceUMC.org/GiveUMCom.