A need to bring technology to underserved communities sparked a new initiative among United Methodist Communications, United Methodist volunteers and a nonprofit organization with the power to make the connections.
Inveneo, a nonprofit social enterprise with the expertise and mission to connect rural and underserved communities with information and technology, led a training event Sept. 11-13 for United Methodists across the United States who have projects coming up in Haiti to build computer community centers.
"The United Methodist Church has a connection at the grassroots level that is nearly unparalleled by other types of organizations. When you take that connection and put it together with the kind of experience that Inveneo has, a global knowledge base develops," said the Rev. Larry Hollon, chief executive of United Methodist Communications. "The possibilities are remarkable."
Connecting Haiti
Immediately after the earthquake in Haiti in 2010, Inveneo received an urgent call to reestablish Internet connectivity to many of the largest humanitarian agencies responding to the disaster. Inveneo was able to reestablish connectivity for 18 non-governmental organizations responsible for basic needs such as food, water, sanitation, health, shelter, security, workforce development and education services.
Both Inveneo and The United Methodist Church have strong ties to Haiti and are working on getting the country connected and self-sufficient. United Methodist mission teams go to the area weekly.
One long-time volunteer, Pam Carter, was in the Methodist Guest House when the earthquake hit. Carter, the wife of Bishop Ken Carter, Florida Annual (regional) Conference, was at the meeting convened by United Methodist Communications.
"Computer centers in Haiti could be a tremendous thing," said Carter. "We underestimate people's awareness of things outside their countries. People in Haiti know about computers, and they know they don't have them."
Sybille Fleischmann, director of education solutions at Inveneo, said a partnership with the denomination would be ideal.
The United Methodist Church already has the resources - trust of the community, people with expertise and knowledge of the needs - to set up computer centers in the country that could bring education to schools and job skills to adults, she said.
"You already know what the schools look like, what kinds of assets they have, how many rooms - those are huge benefits," she said.
Building a future
Among the first group of training participants was Clif Guy from Church of the Resurrection in Leawood, Kan., which has been working in Haiti since immediately after the earthquake. "What's really important to us is not to do just one thing, but to think about sustainable economic development - to do things that could make a big impact over the course of decades, and not just relief of acute earthquake situation," said Guy.
Warren McGuffin, another participant and director of the Thomás Food Project of the California-Nevada Annual Conference, said his goal is to create a self-sustainable path for his friends in Haiti.
"We have a stake in the ground, a small, seven-room school in Haiti," he said. The conference has plans to build computer centers in four more schools in the near future, and, in the long-term, they want to build 100 computer centers.
McGuffin said he went to Haiti to learn about disaster preparedness for his conference and his church, San Ramon Valley United Methodist Church. The team went to the village of Thomás and saw children eating mud pies.
"It tore us apart," he said. "I decided to feed them, and on the way home, I realized those kids were not going to have anything to eat the next day. I started raising money to feed those kids, and I have done that every day since. I decided I couldn't do that the rest of my life because when I died, no one else would raise that money."
The conference is working to build a sustainable program for feeding children based on the use of microenterprises. Computer centers would benefit not just the schools but also the entire communities and generate income to cover the operating costs, McGuffin said.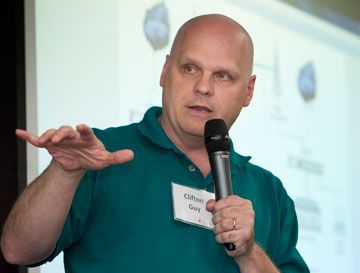 Steve Elliott, team leader for California-Nevada's Haiti Initiative, said the training was critical for the team because it helped them to start thinking through the issues they will face. "The things that are new ideas for me are the technology choices. The choices are a little more extensive and require more analysis than I expected," said Elliott. "It's not like you can just plug into a network and it's all sitting there ready for you."
One focus of the training was teaching participants how to design computer centers that will work in an emerging economic area. Built into this plan is local ownership and sustainability.
Tailoring the services to the needs of the community is key, Carter said.
"People don't want you to pay for their children's lunch fee; they want to pay for their own child's lunch fee," she said. "Any way you can help them have dignity and purpose and a sense of self-sufficiency is win-win-win."
Carter said a commitment to mission starts with compassion and wanting to do something to make a difference. Staying connected makes you want to do things that are more transformative.
"It is not a bad thing to contribute to a hot lunch program; it is a wonderful thing to feed a child. But it is also a wonderful thing to give a mother a microcredit loan and she is able to grow her business and eventually buy her own child's lunch. Both things are good."
*Gilbert is a multimedia reporter for the young adult content team at United Methodist Communications, Nashville, Tenn.
News media contact: Kathy L. Gilbert, Nashville, Tenn., (615) 742-5470 or [email protected]
---
Like what you're reading? Support the ministry of UM News! Your support ensures the latest denominational news, dynamic stories and informative articles will continue to connect our global community. Make a tax-deductible donation at ResourceUMC.org/GiveUMCom.