The kitchen at Clendenin (W. Va.) United Methodist Church was ruined by flooding in June 2016 (left side image). The partially rebuilt kitchen is used by volunteer teams hosted by the church in July 2017 (right side image). Toggle bar back and forth to reveal either photo.
Story by Joey Butler, photos by Mike DuBose
September 21, 2017 | RICHWOOD, W.Va. (UMNS)
 
Tropical storms and hurricanes have names. They're easy to remember. Unless it's a birthday or wedding anniversary, it's unlikely June 23 has any significance to you. But to anyone in West Virginia that date means deadly flash floods.
On June 23, 2016, 8 to 10 inches of rain fell in a 12-hour period. In the region's mountainous topography, the water had only one way to go: downhill, and fast. The resulting flash flood led to 23 deaths and destroyed 5,000 homes.
Just over a year later, the flood has long faded from the headlines, but The United Methodist Church is still helping those trying to rebuild homes and lives.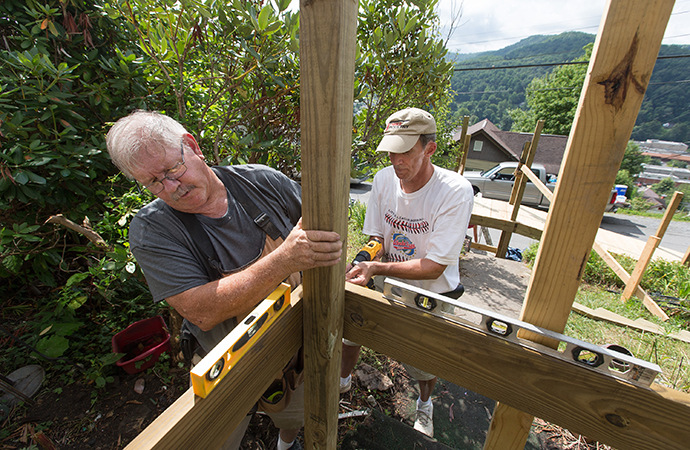 The Rev. J.F. Lacaria, executive director of recovery for the West Virginia Conference, said his team now has 80 cases open and has closed 35.
"But the capacity for our two case managers is 30 open cases apiece, so we're a little oversubscribed now," Lacaria said.
Miranda Neighbors, one of the conference's case managers, said that can be tough.
"People have low resources and you have to get creative about how to help them," she said.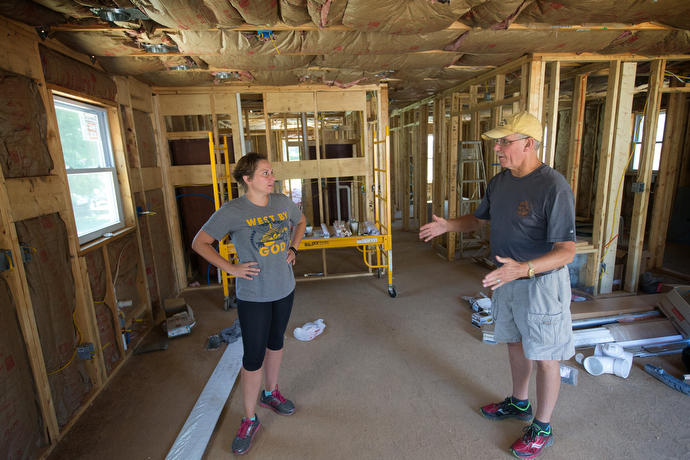 Creative ways to build homes
One of the creative ways the conference has found to help is putting displaced residents into tiny homes built by high-school vocational students. The 15 fully furnished homes are about 500 square feet. Some are mobile, but others are built to be set on a permanent foundation.
Lacaria said most of their cases are people denied by FEMA, "people that no one else will help."
Cases are rated on a scale of 1 to 4 based on severity of damage. Sixty percent of cases are Tier 3 and 4. They must evaluate how much of the walls need to be replaced and whether the floor needs replacement, then they get workers to come in.
Buck Edwards, the conference's construction coordinator, estimates there have been 400 to 500 volunteers in the area this summer.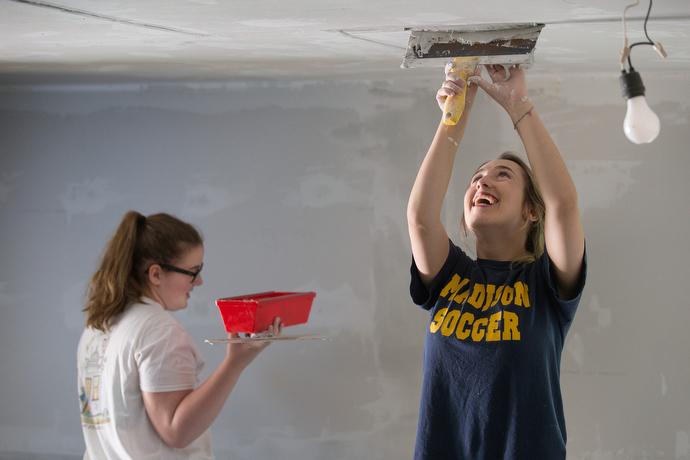 Edwards works with the case managers to evaluate each project and come up with a financial plan to restore the home to where it was or better before the flood. Once funding is secured, he can bring in work teams.
"Not only are we making the homes better, but the volunteers will gain a sense of accomplishment. That's my goal," Edwards said. "It's the most rewarding thing I've ever done in my life. I love working with these people and helping the flood survivors get back on their feet again."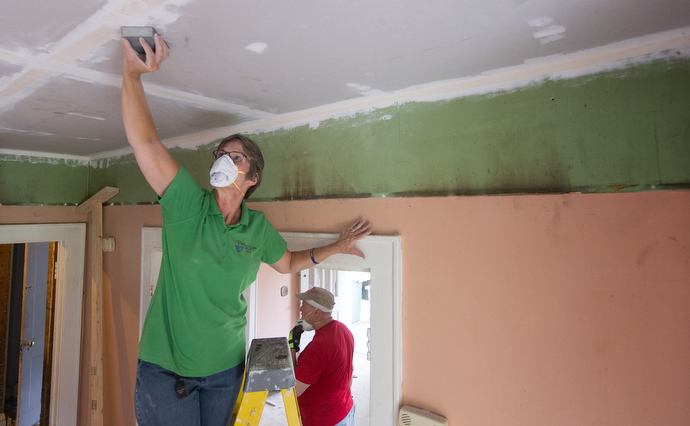 Help from far and near
Donna Davis and her husband, Wayne, are members of Byrd Chapel United Methodist in Kents Store, Virginia. They came with a work crew to Richwood to help build an entrance ramp to a damaged hillside home.
Davis said they go on as many work trips as they can.
View photos
View more photos from United Methodist News Service's trip to West Virgina on our Flickr feed.
See before-and-after "sliders" of several churches' recovery and renovation efforts. 
"I think we're asked by God to be the hands and feet here on Earth, to do something active," she said. "He gives people different gifts and we all have to use our different gifts to make it work. It's the benefit of helping people get back into their homes safely."
Some flood survivors are joining work teams.
Water destroyed the entire basement floor of Janet Osborne's home in Clay, knocking out all her utilities in the process. She said her house is about 80 percent complete now, and her grandson Shawn, who lives with her, felt compelled to help give back what they have received. He's now joined work teams to tear out houses and clean out.
"We have been so blessed with the outpouring of love from churches," Osborne said.
The work teams that travel from all over the United States join area church members and their pastors who have been on the front lines since day one. In the Rev. Judy Pysell's case, even before day one.
Pysell was a week away from starting her appointment at Fenwick United Methodist when the flood hit, but she immediately stepped in to help her new congregation.
"When I got here, it looked like a war zone," she said. "People were wearing hip boots and masks, carrying all their possessions out of their houses, dripping in mud and water. It broke my heart."
The church backs up to the Cherry River and, when it rose, the basement hosting the fellowship hall was completely flooded. Water was so high that it almost reached the sanctuary floor.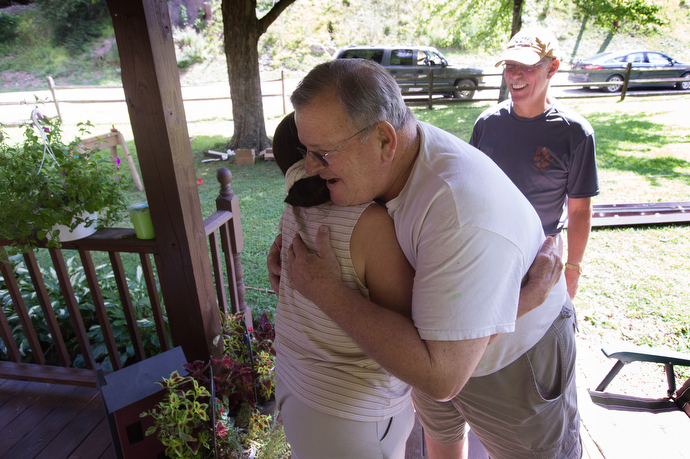 "We never stopped service," Pysell said. "I said even if we can't go inside, we can use the shelter outside."
In Rainelle, the Rev. Jonathan Dierdorff said his congregation immediately devised a role as a distribution center. Within 48 hours of the flood, Rainelle United Methodist opened to community members needing cleaning supplies, clothing, toiletries and food.
Dierdorff said at the time, his pastoral role took a backseat.
"I saw it as an emergency. We need to help people with material needs, and if people needed to pray, they could just ask."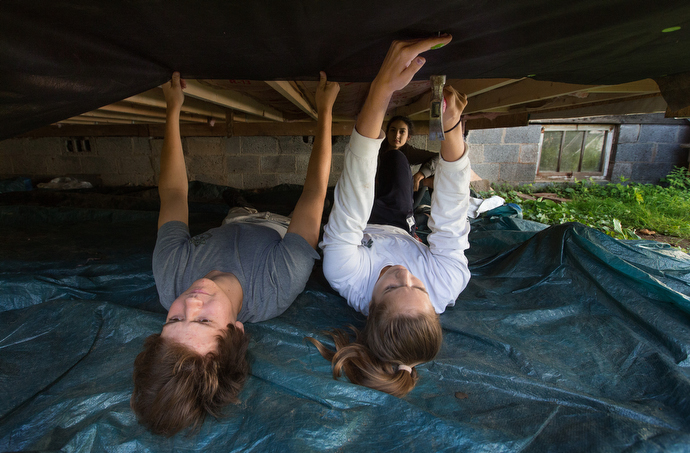 As often happens in a disaster, it's brought people closer together.
"Before I was in the pulpit for the first time, I was here building relationships with them. We bonded as a family before I even had an opportunity to give them a sermon," Pysell said. "This has drawn me closer to my congregation and their needs."
Dierdorff has a practice around Easter of knocking on doors and inviting folks to church. He said that method hadn't been terribly successful in the past, but since the flood, people have been more willing to have conversations. Some even started coming to church as a result.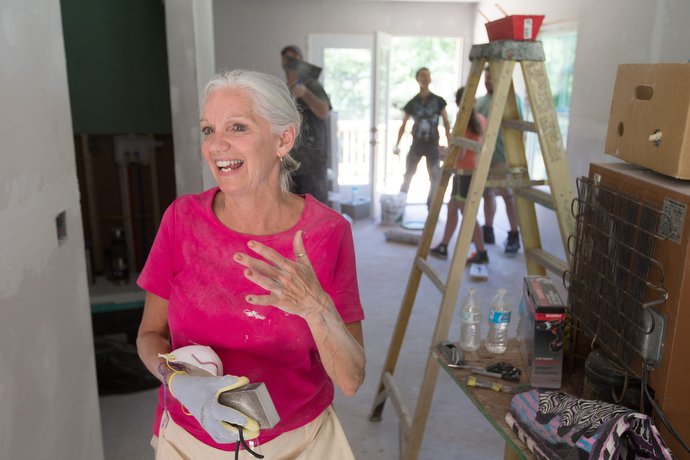 "As a matter of fact, I'm baptizing one of those people next week," he added. "God's grace has prompted some people to consider what a life of gratitude looks like from here on out."
The Rev. Scott Ferguson, pastor of Clendenin United Methodist, recalled one work team of United Methodists from North Carolina whose members had been through Hurricane Floyd.
"They said, 'We got through it and our role is to help you and let you know that you can get through this, too.' My hope is down the road we can help others in these situations," Ferguson said.
Butler is a multimedia producer/editor for United Methodist Communications and DuBose is staff photographer for United News Service. News media contact: Vicki Brown, Nashville, Tennessee, 615-742-5470 or [email protected]. 
To read more United Methodist news, subscribe to the free Daily or Weekly Digests. 
---
Like what you're reading? Support the ministry of UM News! Your support ensures the latest denominational news, dynamic stories and informative articles will continue to connect our global community. Make a tax-deductible donation at ResourceUMC.org/GiveUMCom.