A United Methodist couple from Michigan drove 600 miles to celebrate their daughter's short life and share the story of her murder as part of a summit on gun violence.
Chris Schwind and her husband, the Rev. Tim Woycik, attended the joint summit on gun violence sponsored by the Brady Campaign to End Gun Violence and Americans for Responsible Solutions, an advocacy group created in 2013 by former U.S. Representative Gabby Giffords after the Sandy Hook shooting in December 2012. Giffords herself survived a mass shooting in 2011.
While they were in Washington, Schwind and Woycik, pastor of Trinity United Methodist Church in Chesaning, Michigan, met with staff of their U.S. senators and congressman.
"I've never done anything like this," Schwind said during the bus ride from their hotel to Capitol Hill. "I'm not a polished speaker; I don't like speaking in public. I'm an RN, but I'm a mom and I'm on a mission."
In meetings with staffers for Democratic Sens. Debbie Stabenow and Gary Peters, as well as Republican Rep. John Moolenaar, Schwind told her story. Stabenow is herself a United Methodist.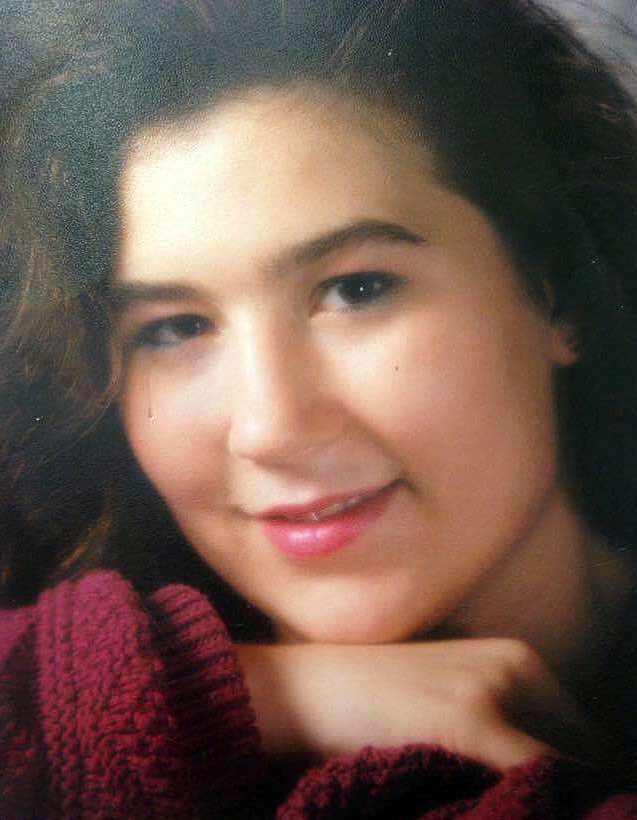 "I'm here to honor my daughter, Holly," Schwind said. "I'm here to be a voice for her."
Holly Schwind was murdered by John Smith, her ex-boyfriend, on Labor Day weekend 2004. After killing Holly, Smith committed suicide.
Schwind spoke of how Holly graduated from high school in 1992 and earned a master's degree in business in college. She also spoke about how Holly was a homecoming queen in both high school and college. "She wasn't the type of girl to be murdered," Schwind said.
But Holly had met Smith and they dated for about a year. On the day before she was murdered, Holly told her mom that he had a temper.
"And I thought, 'Oh, good for you; you saw it; you broke up with him,'" Schwind said.
A friend of Smith bought a gun in Texas and gave it to him there. Smith then drove to Michigan. The murder was committed in Au Gres, a small community on the shores of Lake Huron, where there hadn't been a murder for more than 30 years. The police didn't know how to handle it, her mother noted.
"I'm part of a club that nobody wants to belong to," Schwind said. "But I don't want to live in the tragedy of her death. I want to celebrate her life. I owe this to her."
Woycik also shared his experience of serving in United Methodist churches in Michigan for more than 30 years. Many of his members, he said, are responsible gun owners and hunters.
"Some of those people in the church I now serve have been able to say, 'We understand about background checks. We support that; we want to see that happen,' " Woycik said. "They feel that every time something happens, that they're going to be singled out. They're responsible gun owners, so they support these things that we bring up today."
Woycik added that coming to Washington to support his wife also stirred up some advocacy juices within him.
THE CHURCH'S POSITION
The United Methodist Church's Book of Resolutions includes a lengthy statement on gun violence that calls for background checks and waiting periods for gun purchases. It also calls on the church to advocate for the eventual reduction of the availability of guns. 
"Like my wife, Chris, I'm really tired of hearing about the number of victims that there are due to gun violence that just doesn't need to be," he said after the visits. "There's far too many people who have guns who shouldn't have them. It's time for me to stand up in ways I haven't before."
Woycik believes the issue isn't something that God would want anyone to ignore. Though he's never preached about gun violence, he has written letters to the editor and articles in church newsletters.
"But to preach on it, in specifics, no; I haven't," he said. "That's probably going to change."
The man who murdered her daughter, Schwind said, would have passed a background check in Michigan. He had no criminal record, she said, but he did suffer from mental illness. "The message, for me, is that we need more strict laws regarding background checks for mentally ill people."
Some people immediately assume that discussions about gun violence mean that others want to take away their guns. Schwind pointed out. "That's not what we're talking about here," she said,
But she expressed concern about attempts to roll back requirements on background checks, particularly for those already been declared mentally incompetent. "I didn't really know about that before coming here, so now I really want to pursue that."
Schwind created a scholarship foundation in her daughter's memory soon after she was murdered. To date, that foundation has paid more than $58,000 for young women to attend school.
"That's on a very small scale compared to what I see here (at the summit)," she said. "Now, I'm going to get involved in the Michigan group and go to Lansing to speak at our state capital."
"I know that my story is not unique," Schwind said, "but it is unique to me and it's personal to me. So it's not like I'm just here saying, 'yeah, yeah, yeah, we need strong laws.' It's personal to me! My daughter was murdered."
Alsgaard is managing editor in the Ministry of Communications for the Baltimore-Washington Conference. To get more United Methodist news, subscribe to the free Daily or Weekly Digests.
News contact: Vicki Brown, 615-742-5472 or [email protected].
---
Like what you're reading? Support the ministry of UM News! Your support ensures the latest denominational news, dynamic stories and informative articles will continue to connect our global community. Make a tax-deductible donation at ResourceUMC.org/GiveUMCom.