Constant attacks by Fulani herders and the Boko Haram terrorist group in Nigeria resulted in 3,000 deaths and displacement of 82,000 people during the first nine months of 2018.
The most recent assault by a suspected Boko Haram militia occurred in Gong, Nzomasa and Gamadiyo villages of Adamawa State and left more than 70 dead and over 700 displaced.
Two midwives who worked with the International Red Cross have been killed by Boko Haram, according to the BBC. The Nigerian Islamist militant group aims to make northern Nigeria an Islamic state.
"Bad governance, corruption, persistent economic hardship and rising inequality have fostered the growth of radical extremist groups," said Rev. Abel Lamido, the pastor in charge of Magami United Methodist Church in Jalingo.
Living in camps for internally displaced people or dilapidated public-school buildings, the people who fled their homes – mostly women and children – desperately seek food, clothing and medication. More than 30 percent of the survivors of the attacks are United Methodists, according to the Rev. Alison Karim, superintendent of Adamawa District, which is the most affected area.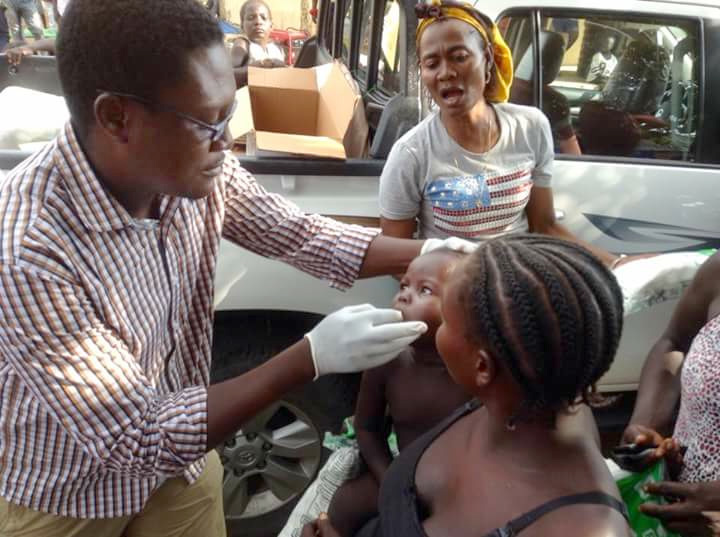 Dr. Godfrey Ogbu provides medical care for patients who were displaced by fighting at a camp for displaced people in Numan. Photo by the Rev. Ande I. Emmanuel.
The United Methodist Committee on Relief awarded a $59,400 grant for food, clothes, household goods and health kits for displaced people in the Taraba, Adamawa, Nasarawa and Benue States of Northern Nigeria. About 500 households have benefited from the relief distributions.
Mohammed Adama, a Muslim was moved by receiving relief from Christians.
"This gesture has taught me so much about love, as a Muslim I have to understand that true Christians are not enemies of Muslims. Let Allah bless people of the United Methodist Church, thank you all," Adama said. He said his house in the village of Didango was burned down and he and his nine children lost everything and have been living at the school for three months.
At the Numan camp, which was visited by staff of the United Methodist hospital in Jalingo, more than 3,500 survivors await an unknown future. The camp is highly congested. Cases of malaria, diarrhea and pneumonia are reported in several camps for displaced people. The hospital responds with medications, anti-worm vaccinations, vitamin A and treated mosquito nets, along with advice on staying healthy and avoiding contagious diseases, said Dr. Godfrey Ogbu, the hospital's medical officer.
Other survivors struggle with unwanted pregnancies. Joyce Madanga, a community health worker from the Jalingo hospital, said people are taking advantage of vulnerable teenage girls and single women in the camps.
"My heart bleeds for the increasing numbers of pregnant women and children living here without much help for medication, food and clothing," she added. "When I heard the distress call for help, I left whatever I was doing to respond to their needs. Upon reaching here, we saw a woman giving birth. We gave medication and injections to over 250 people. The need is still huge, and we are calling on other organizations to come in with support where possible."
Piodiya Shi recalled the attack on her community, the Gong village of Numan in the Adamawa state.
"My husband has been missing for over two weeks, and we have not heard a word from him. We don't know whether he is alive or dead. I was left with three children. Life has been very challenging for my family because my children have been sick with malaria. I am happy now that all my children have received malaria treatment. I thank the United Methodist hospital."
Conflicts between farmers and herders have existed for many years but have taken a different dimension recently, according to Human Rights Watch. Climate change is harming the land and the encroachment of the Sahara Desert has been escalated by deforestation, bush burning and chemical fishing.
Herders are forced to move frequently in search of greener pastures. They frequently have confrontations with farming communities who also depend on the land. Adamawa, Benue, Gombe, Nasarawa and Taraba states and much of southern Nigeria are heavily affected by this situation.
More than 55 percent of Nigerians live in rural areas and are either farmers or herders. The need for peaceful coexistence is paramount if Nigeria is to thrive economically, politically and socially, Lamido said.
The situation is gradually causing a humanitarian crisis. Increasing numbers of people are living in camps for displaced people instead of their homes. In the camps, incidents of hunger, starvation and other health difficulties require urgent attention.
Humanitarian-aid workers and survivors are calling on the international community to hold the Nigerian government accountable for lives and property.
"We have left our home for over six months now," said Aliyu Danjuma, who lives in the Numan camp. "Nothing is been done for our return home. We need intervention now."
Emmanuel is a communicator for the Nigeria Episcopal Area.
News media contact: Vicki Brown, news editor, [email protected] or 615-742-5469. To read more United Methodist news, subscribe to the free Daily or Weekly Digests.
---
Like what you're reading? Support the ministry of UM News! Your support ensures the latest denominational news, dynamic stories and informative articles will continue to connect our global community. Make a tax-deductible donation at ResourceUMC.org/GiveUMCom.