A more diverse crowd gathered around the Lincoln Memorial on Aug. 24 than those who heard the Rev. Martin Luther King Jr. offer a vision for racial harmony in his "I Have a Dream" speech in 1963.
Among the thousands were United Methodists "saints" such as the Rev. Joseph Lowery. But many young adults and people of many different ethnicities also participated.
"It was not an African-American event; it was a broader experience," said the Rev. Larry Pickens, pastor of Southlawn United Methodist Church in Chicago.
"One of the shortcomings of the early civil rights movement was it didn't have the inclusiveness of what I saw Saturday. ... I didn't get the sense this was the dying of a movement but the passing of the torch," he said.
Pickens predicted that the commemorations and celebrations taking place in Washington this week would have a significant impact on many issues facing the nation, including voting rights, health care, violence and the mass incarcerations of black males.
One speaker said he was incarcerated during the civil rights movement, Pickens added. "He said while civil rights leaders were having comfortable conversations in the parlor, he was locked in the basement. That is a dynamic that I think is going to transform this movement."
Tens of thousands also will march Aug. 28, and President Obama will speak to the nation from the steps of the Lincoln Memorial.
Rights for felons
Laurestein Bass, a member of Greater Bethel AME Church in Miami, went to the event Saturday via a bus chartered by PICO, a national faith-based organization. The bus ride was part of PICO's National Network's Lifelines to Healing campaign to bring light to the issue of mass incarceration.
"It has changed my perspective," said the 74-year-old. "Since that bus ride, I want to work to help felons who have gotten out of prison but are not able to vote or find a decent job."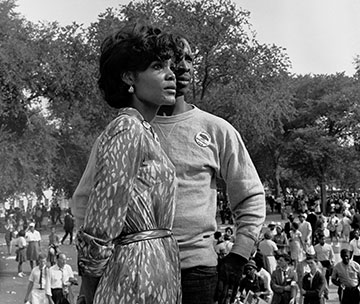 Bass said she was in her third year of teaching on Aug. 28, 1963, and could not attend the march then, but "I wanted to be at this historic moment," she said. "It reminded me of the freedom riders; I became so connected with so many great people (on the bus ride)," she said.
The Rev. Gary Bernard-Williams, a pastor in the United Methodist California-Pacific Annual (regional) Conference, was in Washington at the United Methodist Building for a networking and training event focused on restorative justice and ending mass incarceration.
Many participants of the training also attended the events on Aug. 24.
"I was a little boy in 1963, and I didn't know a lot about it," Bernard-Williams said. "I read about it in history. But just to walk in those same steps of people that fought the good fight, that were part of the struggle for civil rights, to see all the young people that were out there, to see the diversity of colors and orientations and everything was real exciting for me."
Multi-generational
The presence of many generations was observed by many including Jaydee Hanson, co-chair of the board of church and society for the United Methodist Virginia Annual Conference.
"I met an 84-year-old white woman who was there with her son in 1963. I asked her what it was like to hear Martin Luther King Jr. She said, 'Everybody got real quiet so everyone could hear every word. I would have followed that man anywhere.'"
After the Saturday march, Hanson talked about the experience in his adult Sunday school class at Mount Olivet United Methodist Church in Arlington. He recalled Scripture about Jesus who was accused of being an extremist or the wrong kind of person.
"Jesus' answer was you can't have good fruit from a bad tree. I think that was the story of Martin Luther King Jr. - his dream was such good fruit for all of us, and more should have been listening 50 years ago."
Poignant moments
The Rev. Dawn Hand, Foundry United Methodist Church in Washington, also used her experience on Saturday to talk to her congregation about the events surrounding the 50th anniversary.
She said hearing Martin Luther King III speak was "poignant."
"As I listened to Martin Luther King III, I thought, 50 years ago his dad was here," she said. "Part of me was awed, and another part of me wondered who will be here in the next 50 years and will we be on a good path?"
In her sermon, Hand talked about King's historic speech in 1963. King said 100 years after the Emancipation Proclamation, "the life of the Negro is still sadly crippled by the manacles of segregation and the chains of discrimination."
Hand concluded, "The people of God are bent over with the weight of institutional and systematic oppression; we are the people that can move us forward so we can be people who are set free."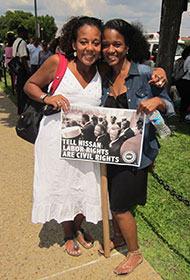 Jobs and freedom
Jim Winkler, executive director of the denomination's social action agency, prayed and spoke at the event Aug. 24. As a young man, he rode a bus with civil-rights and peace activists to participate in the 20th anniversary of the March on Washington.
In 1963, United Methodist saints such as the Rev. Joseph Lowery, the Rev. James Lawson and Dorothy Height were there as well as the staff of the then board of Christian Social Concerns, Hanson said.
Winkler said a delegation of leaders from the United Methodist Board of Church and Society participated in the 20th March on Washington "in the face of heated opposition."
"Fifty years ago, we demanded fair housing, equal accommodations, an end to segregation, good jobs for all, and freedom from racial discrimination. ... Today, our demands are the same: jobs and freedom," Winkler said.
"It was an amazing experience to be at the March," said Kenia Guimaraes, a member of Mount Vernon United Methodist Church, Washington.
"It was a historical moment and an affirmation of how far African Americans have come and a reminder that the journey is not over as we continue to fight for racial equality, women's rights and racial justice in this country."
*Gilbert is a multimedia reporter for the young adult content team at United Methodist Communications, Nashville, Tenn.
News media contact: Kathy L. Gilbert, Nashville, Tenn., (615) 742-5470 or [email protected].
---
Like what you're reading? Support the ministry of UM News! Your support ensures the latest denominational news, dynamic stories and informative articles will continue to connect our global community. Make a tax-deductible donation at ResourceUMC.org/GiveUMCom.