Richard Lugar and the late Daniel Inouye — lifelong United Methodists -have been recognized as the type of public servants who have "strengthened our nation."
The two United Methodists, who both had lengthy careers as U.S. senators, were among the 16 recipients of the Presidential Medal of Freedom lauded by President Barack Obama in a Nov. 20 ceremony at the White House.
Obama noted that this year's presentation marked 50 years since President John F. Kennedy signed the executive order establishing the nation's highest civilian honor.
"I hope we carry away from this a reminder of what JFK understood to be the essence of the American spirit," Obama told the gathering.
Lugar, 81, a member of St. Luke's United Methodist Church in Indianapolis, was first elected to the Senate in 1976. The former Republican legislator has credited his parents with instilling his Methodist faith and the values that he tries to live out through faith and action.
His Senate work in foreign relations, which included sponsorship of the 1991 Nunn-Lugar Act to eliminate stockpiles of nuclear, chemical and biological weapons, was highlighted by the President.
Obama remembered when Lugar took him, then a junior senator from Illinois, "under his wing," but also joked about being exposed to unexploded landmines and mortar shells when traveling with the Hoosier lawmaker to visit Cold War arsenals in the former Soviet Union.
More seriously, he noted, the work that Lugar, a World War II veteran, did to decommission weapons "was absolutely critical" to making the world a safer place, despite the lack of public notice. "His legacy, though, is the thousands of missiles and bombers and submarine warheads that no longer threaten us because of his extraordinary work," Obama said.
Obama also saluted Lugar's commitment to bipartisan problem solving during his decades in Congress, which stands "as a model to what public service ought to be."
Last December, the United Methodist-related University of Indianapolis announced the formation of the Richard G. Lugar Academy, an expansion of the university's existing Lugar Center for Tomorrow's Leaders. Lugar also joined the faculty as a distinguished professor in the university's department of history and political science.
Lifelong public servant
The medal for Inouye, who died on Dec. 17, 2012, at the age of 88, was presented to his widow, Irene Hirano Inouye.
A member of Harris Memorial United Methodist Church in Honolulu, Inouye was Hawaii's first U.S. congress member after it achieved statehood in 1959, its senator upon his election in 1962 and the first Japanese American in Congress.
Throughout his life, he was respected for his integrity, commitment to fairness and advocacy for those underrepresented and marginalized in society.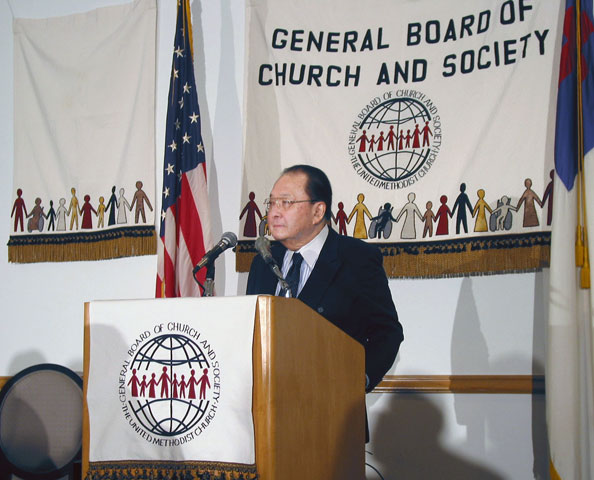 The late Sen. Daniel Inouye, shown here speaking at an event sponsored by the United Methodist Board of Church and Society in 2003, was awarded the 2013 Presidential Medal of Freedom. A UMNS file photo by Linda Bales.
"Danny always honored his family and his country, even when his country didn't always honor him," Obama said, noting that despite being classified as an "enemy alien," he served in a decorated Japanese-American unit, the 442nd Regimental Combat Team, during World War II, for which he received the Medal of Honor.
The second-longest serving senator in American history, Inouye also showed a generation of young people like himself, the president said, "that no matter what you look like or where you come from, this country has a place for everybody who's willing to serve and work hard."
Phoenix Area United Methodist Bishop Robert T. Hoshibata, a Japanese American born and raised in Hawaii, recalled that same influence in his tribute at the time of Inouye's death.
"Sen. Inouye was a large part of what it meant to be a public servant," Hoshibata said then. "Our lives crossed in several places as I was growing up. I looked to him as a model and a person who demonstrated the highest ideals of what it meant to serve the country as well as to serve the public."
Others receiving the Presidential Medal of Freedom were Ernie Banks, Ben Bradlee, Bill Clinton, Daniel Kahneman, Loretta Lynn, Mario Molina, Sally Ride, Bayard Rustin, Arturo Sandoval, Dean Smith, Gloria Steinem, C.T. Vivian, Patricia Wald and Oprah Winfrey.
*Bloom is a United Methodist News Service multimedia reporter based in New York. Follow her at http://twitter.com/umcscribe or contact her at (646) 369-3759 or [email protected].
---
Like what you're reading? Support the ministry of UM News! Your support ensures the latest denominational news, dynamic stories and informative articles will continue to connect our global community. Make a tax-deductible donation at ResourceUMC.org/GiveUMCom.