While we often envision a Christmas tree surrounded by presents in colorful paper with glittery bows, some of the most memorable holiday gifts come wrapped simply in love and kindness.
Here is a look at how some United Methodist congregations and agencies kept Christ in Christmas.
Random acts of kindness
United Methodist Bishop Michael Coyner and 24 staff members of the Indiana Annual (regional) Conference took to the streets Dec. 21 during their Christmas luncheon.
Instead of a fancy holiday party away from the office, staff members used the money allocated for the meal, enjoyed a simple lunch and spent $625 on random acts of kindness. Each employee received $25 cash and printed cards saying, "You have been RACKed with a Random Act of Christmas Kindness."
At 11 a.m., teams of two to four headed into the community. They returned two hours later to share stories of how their rapidly conceived plans played out.
Ed Metzler, secretary to the bishop, and his wife, Erma, a communications specialist, stuffed $1 and $5 bills into the pockets of clothing and purses at a Goodwill store.
"Such acts, small as they are, really do make the season of giving more meaningful," Ed Metzler said. "I hope some children had their day brightened by the unexpected surprise of money in their new jacket or jeans."
Accounting/payroll clerk Anne Hayton and three colleagues purchased and delivered pizza to families in a children's hospital waiting room. One woman was with her little girl. When the volunteers walked in with a wagon full of pizzas, the mother's face lit up.
"I felt so fulfilled to be able to brighten some people's day and share the love of Christ," Hayton said."That is what Christmas and being a Christian is all about."
Co-workers Lisa Timmerman and Carla Johnson went to a local restaurant. Combining their money, they surprised the waiter with a $30 tip and gave $20 to the cashier to pay toward the next person's bill.
Conference employees also bought lunch for McDonald's patrons going through the restaurant's drive-in, donated money to a mission store, gave $10 gas cards to people outside a large retail store, paid for prescriptions for strangers at CVS, placed $50 worth of dollars and quarters by a hospital vending machine and visited a young woman who has epilepsy and contributed to her foundation to help others.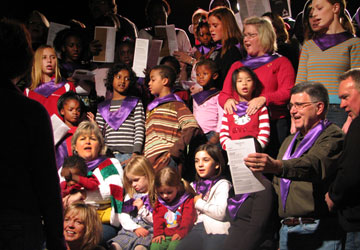 Worship meets people where they are
Regular churchgoers have certain expectations around Christmas Eve worship: how the choir will sound, what the sanctuary will look like and how their favorite pew will feel. Remove all of those expectations and what do you have?
The Rev. Mack Strange of Brentwood United Methodist Church in Tennessee decided to try something different for Christmas Eve 2011. Securing a renovated warehouse, he teamed up with Ingrid McIntyre of Open Table Nashville Inc. to create a sacred space where people from all walks of life could come together to celebrate Christ's birth and experience a different glimpse of God's reign.
By getting away from the church's suburban location, members reached new people where they were.
One person observed that it was as if adults returned to childhood during the impromptu choir formation. Previously solemn individuals jumped at the chance to participate, donning purple stoles and singing familiar Christmas carols to a slightly country beat. Gaiety turned to poignancy as the Rev. Justin Collett delivered a message about addiction, redemption and everyone needing a little bit of light. Those who have lived on the streets surrounding the warehouse understood, and when Holy Communion was offered, to some, it seemed like a kingdom feast.
The Rethink Church team at United Methodist Communications broadened the reach of this service to the online community at www.RethinkChurch.org, where they could watch and comment on the service (personalized through video co-hosts), send prayer requests to the Upper Room Living Prayer Center and find a church in their community.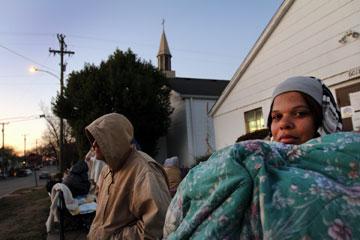 Last-Minute Toy Store offers hope, help
For four days in Advent, a tiny congregation in Nashville, Tenn., opens its doors to community families for the Last-Minute Toy Store. The store marked its 18th year in 2011.
According to the Rev. Paul Slentz, pastor of Sixty-First Avenue United Methodist Church, parents and guardians of 4,674 children and teens gave their families a happier Christmas, thanks to the generosity of others. Each participant received a ticket to choose new toys and gifts, plus books, oranges and candy canes, at no charge.
Reporting on the Faith and Leadership website, Fiona Soltes said, "But this is not an affluent church that just opens its pocketbook. The humble congregation, all but a few low-income themselves, offer their ongoing time, efforts and sense of ownership instead. The toy store - with more than 20,000 gifts worth some $200,000 donated by individuals and organizations citywide in the months preceding Christmas - is aimed at reaching those who have missed the deadline for toys from other agencies.
"It also draws hundreds of individual volunteers who join members of the congregation in pulling it off. Many volunteers receive assistance themselves."
Slentz shared a thank-you note from one mother. "Thank you so much," Sandra wrote. "You have given me hope in my heart. I was so worried that on Christmas morning, my little boy wouldn't have anything. God bless and merry Christmas."
Find Advent and Christmas Resources
*Dunlap-Berg is internal content editor for United Methodist Communications, Nashville, Tenn. Also contributing to this report were Daniel R. Gangler, director of communication, Indiana Annual (regional) Conference; Anne M. Gearhart, director of communications, Northern Illinois Annual Conference; and Neelley Hicks, assistant director, Communications Ministry Group, United Methodist Communications.
News media contact: Barbara Dunlap-Berg, Nashville, Tenn., (615) 742-5489 or [email protected].
First published Jan. 6, 2012.
---
Like what you're reading? Support the ministry of UM News! Your support ensures the latest denominational news, dynamic stories and informative articles will continue to connect our global community. Make a tax-deductible donation at ResourceUMC.org/GiveUMCom.