---
Key points
United Methodists in Romania, Hungary, Slovakia and Poland are providing shelter, food and other help for those who have fled Ukraine.
In western Ukraine, United Methodists also are helping those fleeing from farther east in the besieged country.
Across the United Methodist connection, people are praying and offering financial support for relief efforts.
---
As Russia's assault on Ukraine intensifies, United Methodists near the besieged country are finding ways to help with the flood of more than 1 million refugees.
So are United Methodists in western Ukraine, such as the Rev. Volodymyr Prokip, in Lviv, who described his church and student ministry's efforts to help in a video interview with the Rev. Fred Vanderwerf of the Minnesota Conference.
"God is with those who are crying," said Prokip, who with fellow United Methodists has provided food and temporary shelter to those headed out of the country.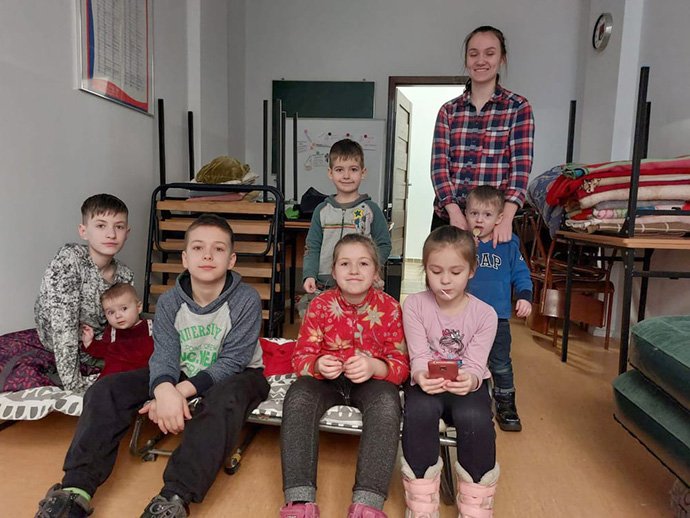 Reports of the United Methodist response are coming in from Romania, Hungary, Slovakia, Poland and Bulgaria.
A good example can be found in Cluj-Napoca, Romania, where just last year United Methodists rented a former hotel and made it into a community center.
That leap of faith turned out to be a blessing, given the sudden emergency of people in large numbers fleeing across the Ukraine-Romania border.
The Rev. Rares Calugar, superintendent of The United Methodist Church in Romania, reported by phone that the community center is suddenly full of refugees — most of them women and children.
They are given food and offered the chance for conversation and counseling.
Many are passing through on their way to other countries. Some hope to return to Ukraine when the situation allows.
Those who wish to stay in Romania will soon be moved to other shelters in the city.
"The UMC has built a network in Cluj-Napoca and has access to numerous apartments and houses where those leaving the community center can stay to make room for new arrivals," Calugar said.
The willingness of the local population to donate is high, he added. The church is getting food and other in-kind donations. Along with distributing those to refugees in Cluj-Napoca, church members have gone to the border to aid those just crossing into Romania, Calugar said.
Because the community center is currently devoted to housing and caring for refugees, its usual sources of income, such as rent from meetings, is curtailed. So the Romanian United Methodists are drawing on support from across the connection, including the United Methodist Committee on Relief, Calugar said.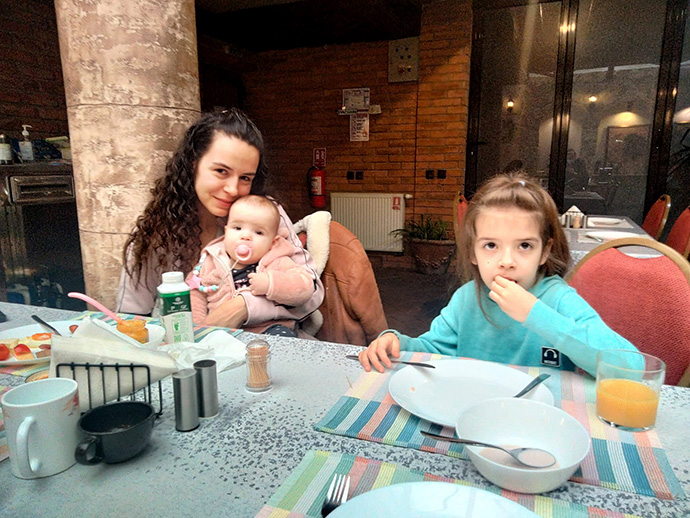 In Budapest, Hungary's capital, United Methodists have been at the Budapest Keleti railway station to greet arriving refugees.
"We brought yesterday a lot of water, juice for children, and muesli chocolates," said the Rev. László Khaled, superintendent of The United Methodist Church in Hungary, by email.
Two local United Methodist churches have provided accommodations for refugees, and some Hungarian United Methodists have gone to the border to offer help. Planning, including fundraising, is underway to extend the humanitarian efforts, Khaled said.
The Rev. Svetlana Komives Francisti, of The United Methodist Church of Michalovce, Slovakia, assisted a group of African students who had been studying in Kyiv and became refugees, escaping across the Ukraine-Slovakia border.
She transported six of the students back to her church, where they are resting and preparing to join relatives or fellow students in other countries, said the Rev. John Calhoun, pastor of the English-Speaking United Methodist Church of Vienna and formerly a missionary in Ukraine.
The Bratislava United Methodist Church in Slovakia also has taken in refugees, and United Methodists are providing food, hygiene items and other necessities.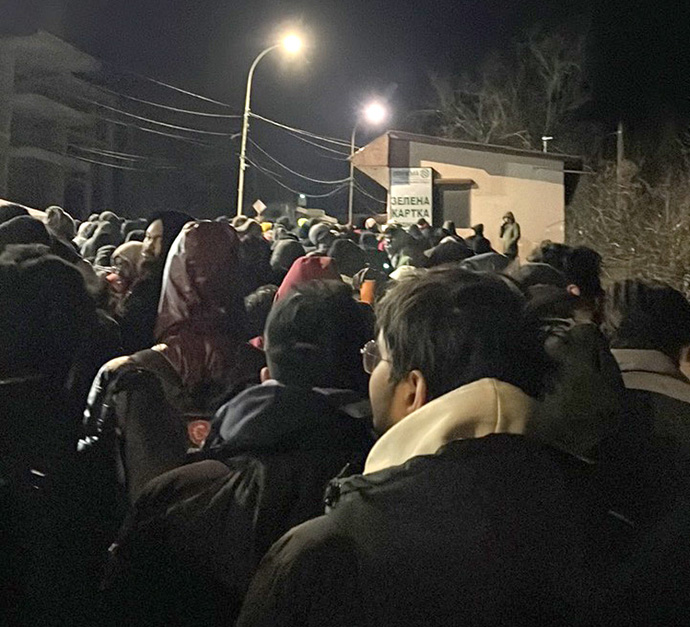 United Methodists in Poland have been opening church doors as well.
"In some places, refugees sleep on mattresses like at Warsaw UMC," the Rev. Slawomir Rodaszynski, a superintendent, said by email. "We buy warm clothing and shoes, particularly for kids. Some churches prepare hot meals."
Voices from Ukraine, Russia
The Rev. Fred Vanderwerf is currently a superintendent in the Minnesota Conference, but he and his wife, Stacy, spent eight years as missionaries in Ukraine.
Drawing on that background, Vanderwerf has done a video with the Rev. Volodymyr Prokip, a United Methodist pastor in Lviv, a city in west Ukraine. Prokip shares about his ministry to fellow Ukrainians who have been fleeing the country since Russia began its invasion. Click here for that interview.
Vanderwerf also did an extensive interview with Moscow-based Eurasia Area Bishop Eduard Khegay, who oversees The United Methodist Church in both Russia and Ukraine. Khegay describes his heartbreak over and opposition to the Russian invasion, and discusses some of the accompanying geopolitical complexities. Click here for that interview.
He added that some United Methodists are taking refugees into their homes.
Bulgarian United Methodists reported that they, too, are preparing to take in refugees.
Though far from the conflict, the First United Methodist Church in Hershey, Pennsylvania, has watched it unfold with special concern. First Hershey has been involved in mission work in Ukraine for nearly 30 years, since soon after the country achieved independence.
Beth Valentine, a physician and the church's associate in ministry for congregational care, has made 18 trips to Ukraine and, with her husband, adopted two children from the country.
"My husband and I are heartsick — that's probably the best word," Valentine said of the invasion. "It's just a feeling of sadness and frustration and helplessness."
But Valentine and First Hershey are doubling up on support for Raising Hope Ukraine, the nonprofit of nondenominational missionaries Archie and Ruslan Tkachuk, in Mohyliv-Podilskyi, Ukraine.
"They have been able to pivot and focus their ministry on refugees," Valentine said. "They have shelters with bunk beds, in their church and in a center in their town, and they're welcoming people who are fleeing from other parts of the country."
Meanwhile, United Methodists continue to pray for an end to violence in Ukraine.
The Korean Council of the New York Annual Conference held a Zoom prayer gathering on Feb. 27, with 35 pastors and lay leaders attending. The group plans to meet weekly for prayer until there's peace in Ukraine.
Subscribe to our
e-newsletter
Like what you're reading and want to see more? Sign up for our free daily and weekly digests of important news and events in the life of The United Methodist Church.
St. Luke's United Methodist Church in Oklahoma City, Oklahoma, decided to add to its Ash Wednesday services an all-day prayer vigil for peace for the people of both Ukraine and Russia.
Otterbein United Methodist Church in Mont Clare, Pennsylvania, hosted a prayer vigil on Feb. 26, attended by community members, including natives of Ukraine. Among the speakers was the Rev. Ihor Royik of the Saints Peter and Paul Ukrainian Catholic Church in Phoenixville, Pennsylvania, and he shared about his upbringing in Ukraine and about the family members still there.
The Rev. Tom Brooks, husband of Otterbein's pastor, the Rev. Catherine Bowers, wrote a report on the service for the Eastern Pennsylvania Conference.
He noted that the service ended with the singing of "Let There Be Peace on Earth."
Schweizer is assistant to Bishop Patrick Streiff of The United Methodist Church's Central Conference of Central and Southern Europe. Hodges is a Dallas-based writer for United Methodist News. Contact Hodges at 615-742-5470 or [email protected]. To read more United Methodist news, subscribe to the free Daily or Weekly Digests.
---
Like what you're reading? Support the ministry of UM News! Your support ensures the latest denominational news, dynamic stories and informative articles will continue to connect our global community. Make a tax-deductible donation at ResourceUMC.org/GiveUMCom.