It's not as if the Rev. Rachel Baughman doesn't have enough to do. She's executive pastor at University Park United Methodist Church in Dallas, and mother to four young children.
But she recently traveled more than 6,000 miles to care for refugees washing up on the island of Lesbos, Greece, from Syria, Afghanistan, Iraq and elsewhere.
"There is a massive humanitarian crisis going on," Baughman said. "This is one of those opportunities you have in your life to decide to be there or not."
Baughman was one of seven United Methodists, four clergy and three laity, who made a Jan.18-30 trip to Lesbos to work with a grassroots relief group called Better Days for Moria.
The all-volunteer effort operates right outside Moria, a registration camp for refugees who made the exhausting, perilous boat or raft rides from Turkey, across a narrow part of the Aegean.
Most of the United Methodist team worked the overnight shift, helping new arrivals get warm clothes, food and drink, and tent space.
"The number one thing was to provide care and comfort," said the Rev. Deborah Coble Wise, pastor of Trinity United Methodist Church in Waverly, Iowa.
Staying up all night in a tent, in cold weather, waiting for action, reminded Wise of "M*A*S*H." But she noted that, just as in the TV show when Radar would suddenly call out "Chopper coming in," the group would get a phone alert that a busload of refugees was on its way from the Lesbos shore.
One night a bus came without warning. The families in question were particularly traumatized – cold, wet, hungry, thirsty and not even sure where they were.
"You found yourself standing in the middle of a room that was complete chaos and fear, and just anguish," Baughman said.
The United Methodist volunteers called for medical help and hung up sheets and blankets so that people could get out of wet clothes immediately, with some privacy. The volunteers also tried to be a reassuring presence across language barriers.
"After about an hour, after people got dry and got something to drink, it was like the mood completely changed," said the Rev. Wes Magruder, pastor of Kessler Park United Methodist Church in Dallas, and organizer of the United Methodist group. "They started smiling. We were able to play with the kids."
On some overnight shifts, the United Methodists constituted half the crew. They discovered that there are battlefield promotions even in peace work.
"The second night I was there, I became the tents team supervisor," Magruder said. "We quickly learned that you're the rookie or the amateur on your first night, and the second night you're the expert."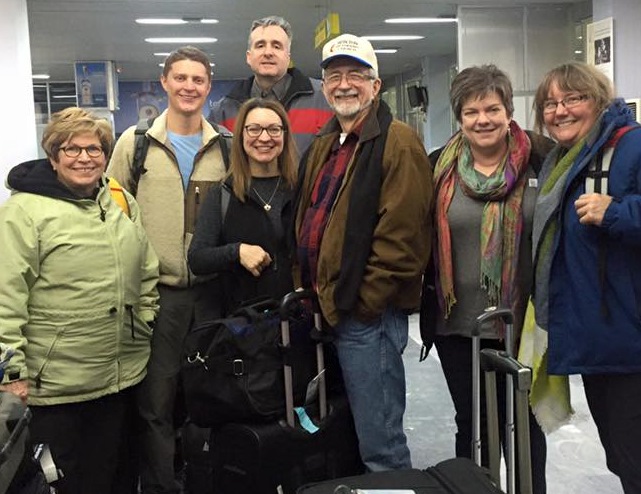 `Unique kind of trip'
Magruder is a former missionary in Cameroon, and he currently chairs the board of Refugee Services of Texas, a nonprofit which helps settle refugees around the state.
He closely followed news accounts of how civil war in Syria, and continuing violence, poverty and oppression in neighboring countries, had led so many to leave their homelands.
Magruder wrote an op-ed piece for the Dallas Morning News, calling on the United States to accept more Syrian refugees. He also spoke with a Muslim friend who had volunteered on Lesbos, helping to alleviate appalling conditions for those having arrived, via Turkey, in hopes of relocating farther north in Europe.
Soon Magruder was pulling together a team of United Methodists to go to Lesbos and pitch in. He looked for those who shared his concerns about the crisis, and had mission trip experience and savvy.
"I knew this was going to be a unique kind of trip that would require a whole lot of flexibility and a whole lot of emotional resilience," he said.
Magruder notes that being on the scene gave him an even greater appreciation for the scale of the flight from Syria, Afghanistan and other countries.
The Office of the United Nations High Commissioner for Refugees (UNHCR) reported last November that 3,300 people were arriving per day on Lesbos. Some 4.5 million people have fled Syria during its civil war.
"There's this flow of people who are running for their lives," Magruder said. "They're desperate to give their kids a safe life and some kind of a future. As Christians, we ought to care about that."
Magruder and others in the group said the trip also gave them a greater appreciation for the burden Europe is facing as so many refugees seek to relocate there, and for the chronic economic woes of Greece.
The United Methodist team created a Facebook page and posted about their experience, including this entry by Baughman:
Tonight a family of 12 children and their elderly blind father captured my heart. I helped them when they arrived and mistook the oldest daughter for the mother of the young children. Her mother was killed and she has taken on responsibility for her young siblings. They arrived scared, shivering, wet, and hungry. Now they are dry, full, and sleeping in a shelter. Before the youngest went into the tent tonight he surprised me by tugging on my coat and saying with his only newly learned English words, "Thank you. I love you."
Baughman and Magruder, who will be speaking about the trip on Feb. 18 at Dallas' Northaven United Methodist Church, hope other United Methodists will consider travelling to Lesbos.
The need continues to be large.  
"You can show up on the island and walk up to any of the groups that are working and say, `Can I help?' And they'll put you to work," Magruder said. "It's that easy."
Hodges, a United Methodist News Service writer, lives in Dallas. Contact him at (615) 742-5470 or [email protected]
---
Like what you're reading? Support the ministry of UM News! Your support ensures the latest denominational news, dynamic stories and informative articles will continue to connect our global community. Make a tax-deductible donation at ResourceUMC.org/GiveUMCom.