An amphibious vehicle being developed by a United Methodist could help rescue and relief operations during frequent floods in the Philippines.

Severe Weather Amphibious Navigator, or SWAN, is a research initiative by Ryan John de Lara, a layman from United Methodist City Temple in Cabanatuan City. The Philippines tops the list of countries at highest risk of climate change hazards, according to a report this summer by the Global Peace Index.

The seamless movement from land to water and water to land will speed up rescue and relief operations, De Lara said.

"Because the lesser the time of response, the higher the chances of rescue and survival of flood/typhoon victims."

SWAN is a prototype of an amphibious navigator made of abaca fiber composites woven into fabrics. Molded with a fiberglass-reinforced composite hull, SWAN is lighter than steel and just as strong. The vehicle is a conversion of an existing truck, with the under chassis and engine mounted to the hull to form the new vehicle.

"Abaca composites will be used for the canopy of the amphibious vehicle," De Lara said.

He said using natural fiber instead of synthetic makes it more environmentally friendly.

The vehicle is designed to enhance disaster relief and response to flooding with its on-road, off-road and amphibious capabilities. It can carry up to 20 people and 200 packs of relief goods in response to the needs of communities in disaster management, particularly during rescue operations.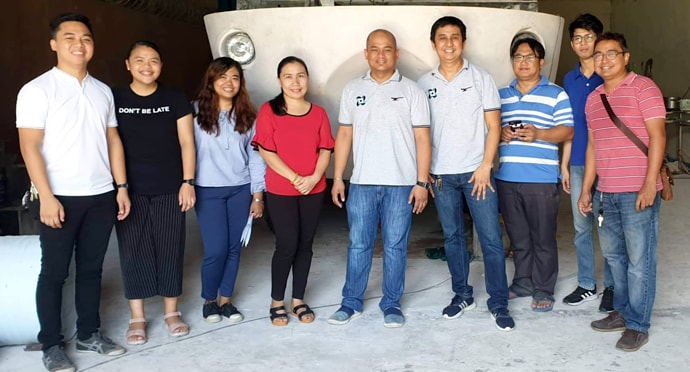 The project, which began Feb. 1, 2018, is expected to be complete soon. It was funded by the Department of Science and Technology Executive Committee of the Philippine Council for Industry Energy and Emerging Technology Research and Development.

Wesleyan University-Philippines, a United Methodist university, signed a memorandum of agreement with the Philippine Council to build a prototype for the Severe Weather Amphibious Navigator project.

As project leader, Wesleyan University-Philippines collaborated with two other universities, Holy Angel University and Don Honorio Ventura Technological State University. The project was the first to receive national funding in the region with a grant amounting to 11 million pesos (more than $210,000 USD).

De Lara, who currently serves as director of the research development and productivity office at Wesleyan University-Philippines, along with Jaypee Pajarillaga of Holy Angel and Edgardo Santos of Don Honorio, presented the SWAN project to the Department of Science and Technology in Quezon City.


Subscribe to our
e-newsletter
Like what you're reading and want to see more? Sign up for our free daily and weekly digests of important news and events in the life of The United Methodist Church.

De Lara said Central Luzon is regularly devastated by typhoons and monsoon rains, which are usually near places vulnerable to flooding, and it is difficult to transport relief goods.

"When the typhoon and flooding arrives, they find it difficult to move the goods because they need to transfer it to a rescue boat and back to a truck/carrier, which usually costs more time in response," De Lara said.

"So the design and fabrication of a locally produced amphibious vehicle was proposed. The unique component of the SWAN was the utilization of a modified and assembled military truck as the based unit, which utilizes a single engine for both land and water travel."

Davao Area Bishop Rodolfo A. Juan, president of the Philippines College of Bishops, praised the project.

"This invention is a valuable addition to the limited resources being utilized by our disaster risk reduction volunteers. It is a perfect manifestation of Filipino ingenuity," Juan said.

Mangiduyos is a communicator from the Philippines. News media contact: Vicki Brown, news editor,

[email protected]

or 615-742-5470. To read more United Methodist news, subscribe to the free Daily or Weekly Digests.