A young adult member of a Korean-American United Methodist congregation in San Jose, Calif., - detained for several weeks in Arizona on an immigration charge - was released March 27.
Ueen Joung (Cindy) Chang, 26, a long-time member of Korean United Methodist Church of Santa Clara Valley, was on her way to attend a friend's wedding in Phoenix on March 8 when the car in which she was traveling was stopped at an interior border patrol checkpoint in Wellton, Ariz.
Since then, she was held at the Eloy (Ariz.) Detention Center under threat of deportation to South Korea.
The Rev. Sunae Frances Cho, who has served as one of Chang's pastors for the past six years, told United Methodist News Service that Chang was being sent home by Greyhound bus and is expected to arrive in San Jose tomorrow.
"Her case is still being in review in the ICE (Immigration and Customs Enforcement) but she is being released under supervision without bail," she said."We did not expect this to happen."
Cindy Chang's sister, Helen Chang, created an online petition at change.org calling for Chang's release. The family also set up a Facebook page asking for public support.
"I heard that this (Chang's release) was result of the overwhelming support from petitions and public outcry in support for Cindy and who she is," Cho said. "I guess this is a proof of how she lived, she lived right in the eyes of people and to God."
Cho described Chang as a compassionate and faithful church member who displays diligence and humor in her service to both the congregation and community.
"Cindy is a woman of God and citizen who has touched many lives here at our church for many years," she said. "She has strong ties to her local community in San Jose and is a community builder."
The congregation of nearly 600 members at Korean United Methodist is led by the Rev. Samuel Hong, senior pastor. "They were devastated when they heard the news," Cho said about church members, who have written to elected leaders on Chang's behalf. "They're praying hard."
Chang, who moved with her family to the U.S. when she was 7 years old, "was not fully aware" of her current immigration status before the traffic stop, said her attorney, Anoop Prasad of the San Francisco-based Asian Law Caucus.
Her application for a green card, which had been pending nearly a decade, had been denied, he said, but the denial notice and a notice to appear for a deportation hearing were mailed to an old address.
"When she did not appear for the hearing, the immigration judge ordered her deported in her absence and also sent notice to that old address," Prasad explained. "Cindy did not learn any of this until she was arrested."
Prasad met with her family and filed an emergency stay of removal with the immigration court, so that Chang could not be deported without a hearing.
Congregational leader
Chang has worshipped at Korean United Methodist Church since 1993. She has coordinated Vacation Bible School and serves as a Sunday school teacher for youth, a lay deacon and a praise leader.
"She devoted herself in teaching the younger generations at her church as a mentor, teacher, leader, sister and friends to various age groups," Cho said. "Her love for the children is transparent, genuine, exceptional and authentic, which you don't see in many young people today."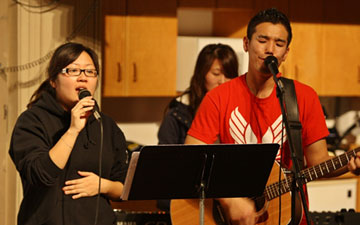 Cindy Chang, left, sings during an event at Korean United Methodist Church in San Jose, where she is an active member and lay deacon. After growing up in the U.S., she is facing deportation to Korea.
Chang is a leader of the congregation's multiethnic "ACTS" or "A Church That Serves" ministry, started at the beginning of 2011 for younger-generation English speakers. Most are Korean-American, but Hawaiian, Vietnamese and Chinese young adults also attend.
"The main focus of our ministry is to celebrate passionate worship on Sundays," Cho explained. Three small-group meeting sessions are aimed at college students, young professionals and married couples. Other activities include community projects, such as a homeless ministry.
Chang will continue to need support for her legal case to stay in the United States, her pastor said. The Asian Law Caucus already has requested her removal order be re-opened because she did not receive notice of the original deportation hearing.
"That motion is pending with the immigration judge," Prasad told United Methodist News Service on March 26. "We also asked that immigration release her from detention while the motion is pending and mobilized community support for her release."
Calling for support
Having success with petitions and phone calls "often requires thousands of people applying pressure," noted the Rev. Deborah Lee, director of the Interfaith Coalition for Immigrant Rights in northern California, which also advocated for Chang's release.
Bill Mefford, director of human and civil rights, United Methodist Board of Church and Society, also sent notice of Chang's situation to the "rapid response teams" network that is part of the denomination's Interagency Task Force on Immigration.
Forty of the 62 United Methodist annual (regional) conferences have set up teams or task forces working to help mobilize church members toward "loving and welcoming immigrants" and defending immigrant rights, Mefford explained.
"Cindy is a woman of God and citizen who has touched many lives here at our church for many years. She has strong ties to her local community in San Jose and is a community builder."
-The Rev. Sunae Frances Cho
"When there's an urgent plea put out, as in this case with Cindy Chang &ellipsis; they get busy," he added.
That was the case recently when Cristian Ramirez, an undocumented immigrant and member of Christ's Foundry United Methodist Mission in Dallas, was sent to a detention center in Haskell, Texas, after being pulled over for an expired inspection sticker on his vehicle.
Ramirez, born in El Salvador, is one of the more than 60,000 college students living in fear of deportation who would benefit with the passage of the DREAM Act (Development, Relief & Education for Alien Minors). The act would create a path to citizenship for young undocumented immigrants who came to the United States as children, completed two years of college or military service and met other requirements, including passing a criminal background check.
A few days after rapid response team members "started flooding the White House with calls," Ramirez was released from the detention center, Mefford said.
*Bloom is a United Methodist News Service multimedia reporter based in New York. Follow her at http://twitter.com/umcscribe. Jacob Lee, director of Korean Resources for United Methodist Communications, contributed to this report.
News media contact: Linda Bloom, New York, (646) 369-3759 or [email protected].
---
Like what you're reading? Support the ministry of UM News! Your support ensures the latest denominational news, dynamic stories and informative articles will continue to connect our global community. Make a tax-deductible donation at ResourceUMC.org/GiveUMCom.