The church fulfills my needs 
By Margaret Brown Burton
September 27, 2017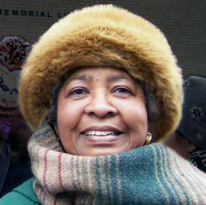 A long, long, long time ago, I was baptized at Clinton Tabernacle, a small African Methodist Episcopal Zion (AMEZ) church in Hickory, North Carolina. A few years later, my mother transferred our membership to Hartzell Memorial United Methodist Church (then Hartzell Methodist Episcopal) in the same city. I was never told — nor did I ever ask — the reason for our leaving. One cardinal societal rule during my Great Depression Era childhood was that children are to be seen and not heard. Therefore, being a socialized creature, I was fully aware of and dutifully conformed to all the "rules."
However, on rare occasions, some unnoticed, surreptitious listening by children was possible. For example, shortly after my mother had transferred our membership to Hartzell, a rumor by family members was unintentionally overheard. It seemed that, following a kerflooey at the AMEZ church, an unnamed, "uppity," middle-aged woman had taken her young daughter, left, and joined another church. Reportedly the precipitating factor had been the nomination of "a man" to a position formerly held by the unnamed, uppity, middle-aged woman. While never having acknowledged nor responded to "rumors," reportedly the yet unnamed, uppity, middle-aged woman was reported to have said in confidence to a close friend that not only did she consider herself far better qualified than "the man," but that she had served faithfully, efficiently and effectively in that position for a number of years, and saw no earthly reason why church leaders would "trust the unqualified 'man' to fill such an important position." 
Notwithstanding that early family history from which I was effectively shielded, I shall be eternally grateful to my late mother for having taken me to The United Methodist Church. Now, as I enter the eighth decade of my life here on earth, I remain a committed, dedicated Christian member of The United Methodist Church. I am United Methodist because our church encourages and expects its members to practice spiritual disciplines — one of which is to read and study the Bible. Through daily prayer, Scripture reading, study, relationships and encounters with people, I have visceral knowledge that God is Love. I experience that love daily in so many ways. I love God! God loves me! God loves all people without regard to religion or race, education or social status, sexual orientation, political persuasion or any other blinders some people may choose to put on. The children sing and I believe: "Jesus loves me, this I know, for the Bible tells me so." God's love is unconditional; absolutely nothing can ever separate us from the Love of God in Christ Jesus. For me, membership in The United Methodist Church continuously affirms and confirms that assurance. Praise God from whom all Blessings flow! (UM Hymnal 94)
I am United Methodist because our theology is logical and practical. The Wesleyan Quadrilateral, for example — scripture, tradition, reason, experience — can serve as a moral guide for decision-making throughout life. During my post-high school years in nursing school, college and graduate school, as with many young people, I was often faced with a plethora of new experiences, challenges and opportunities. On those occasions that required my making what I deemed to be a particularly difficult decision, I would deliberately focus on The Wesleyan Quadrilateral. I can vividly recall actually asking myself audibly: "What have I learned about a similar situation from reading my Bible? What effect will my decision have upon the legacy and reputation of my family in my church and community? What would a reasonable, intelligent person my age do in this situation? Have I learned anything from the experiences of others who have made a certain choice?" Admittedly I probably did not always make the best decisions back then, but I thank God that, among other spiritual and parental teaching resources, I had that "guide" I had learned at my United Methodist church. Open my eyes that I may see glimpses of truth thou hast for me. (UM Hymnal 454)                                                                                                              
I am United Methodist because our theology is about "caring for the least of these." How can we love God whom we have never seen, yet hate, devalue or show disregard for a sister, brother or neighbor? As United Methodists, we are "called" to care. We care for and about our sisters and brothers both near and around the world. We care for and about the earth we share and our environment. We value old people and young people and children and the less fortunate and the infirmed. We believe that every person deserves to be valued and respected. We seek peace with justice. Our doctrines inspire us to work together to find ways to make the world a better place. We believe that works must be joined with love and faith. We believe that with God, all things are possible. I am United Methodist because my church affirms, and believes its members, through the power of The Holy Spirit, can and shall, "Follow Jesus, make disciples, and transform the world." "A Charge to Keep I Have, a God to Glorify" (UM Hymnal 113)
As an aside, I remember being very depressed in the mid 1960s during final talks of merger and of dissolving the then powerful and beloved Central Jurisdiction.
"It will never work; racism is too ingrained; those people will never change," I heard myself and my compatriots say, repeatedly. Although many heartbreaking family stories and personal memories still exist about "how we got over," our family stood firmly with the church during that period of time. We prayed. We made concessions but we stayed. We are still here! We stand firm! The deceased father of our four children was baptized at Hartzell Memorial United Methodist Church, and his extended family remain (have remained) members of Hartzell for generations — as far back as Hartzell's recorded history.
To the present day, my immediate family (adult children and I) remain faithful, committed members of The United Methodist Church. We strive to support the church with our prayers, presence, gifts, service and witness. While I must admit it has taken me nearly 50 years to be able to say the words "Southeastern Jurisdiction" without a smidgen of consternation related to painful past and some current insensitivities, I remain committed to The United Methodist Church. It may be of interest to know that, as I finish this article, I am surrounded by supplies to make school kits that I will take to our 2017 UMW Mission U at Pfeiffer University in Misenheimer, North Carolina, in a few weeks. Help us accept each other as Christ accepted us, teach us as sister, brother each person to embrace. (UM Hymnal 560)      
And lastly, I am United Methodist because we are a connectional church. As such, there are multiple opportunities to meet with, pray with, study with, work with, interact with and learn to love, value and appreciate the lives and the God-given gifts and graces of many people. I am the church, you are the church, and we are the church together! All who follow Jesus, all around the world, yes, we're the church together. (UM Hymnal 558) 
Margaret Brown Burton is a certified lay speaker and a member of Saint Matthew's United Methodist Church in Greensboro, N.C., where she is co-chairperson of outreach ministry.
Return to the Many Voices, One Faith home page
---
Like what you're reading? Support the ministry of UM News! Your support ensures the latest denominational news, dynamic stories and informative articles will continue to connect our global community. Make a tax-deductible donation at ResourceUMC.org/GiveUMCom.