Our theology, our history, my heritage
By the Rev. Lindy Broderick
September 27, 2017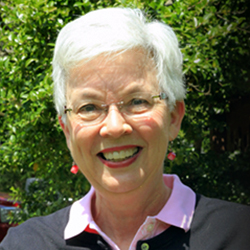 I am United Methodist because of our theology, our history and my heritage. I agree with our Wesleyan practices, especially our theology of God's grace. Through The United Methodist Church, I've grown in faith knowing that God's gift of grace is all we need in life. God's prevenient grace came first before I even knew God and worked in me to allow me to choose God in my life. God's justifying grace gave me the strength and foundation to grow in Christian love and extend that love in return to God and to others.
As we continue to grow in faith, God's sanctifying grace continually fortifies us to grow and mature spiritually while we strive toward Christian perfection. I affirm the four guidelines that are pillars of our faith. Our beliefs are based in Scripture, developed through the ages in tradition, strengthened by our experience and, equally important, by reason, which allows us to understand and articulate that faith to others.
I celebrate and affirm our message of "Open Hearts. Open Minds. Open Doors." I believe we are blessed and enriched by the diversity we have within in our United Methodist denomination. We are diverse in all aspects — as seen in our annual conferences, General Conference and in the global outreach of our missions. I love our unique connectional system that, although sometimes burdensome and bureaucratic, brings us all together and provides us support and fellowship by bringing together laity and clergy to grow in God's love and extend Christ's mission and ministry into the world. I love the bonds of tradition and heritage in our "connectionalism," as first established by John Wesley in the earliest days of Methodism.
I was baptized as an infant in The Methodist Church, yet was blessed with the freedom to explore other Christian beliefs. Growing up as a military dependent, I attended different Christian churches in different communities as well as Base Chapel as we moved around the United States and abroad. I was confirmed in the Roman Catholic Church as a young teenager and still cherish the rituals of the Catholic Mass. I heard my first whispers of a calling to ministry at this early age; however, ministry opportunities for women in the Catholic Church were confined to the convent. At that age, I did not want to make a commitment to a life in the convent. After graduation from college, I yearned for a deeper knowledge of God and spent some time in the Episcopal Church — which provided a bridge from the Catholic faith to my return to my Methodist heritage.
What brought me back to The United Methodist Church was the desire to grow and learn in small groups and Sunday School classes, which is one of the bedrocks in our Methodist tradition. I found that in the DISCIPLE Series Bible Study classes and the Companions in Christ covenant group studies offered in our United Methodist churches. With every class and every opportunity for growth, I matured in my understanding and commitment to Christ — all through God's grace!  
I also felt a yearning for a return to my roots, my heritage. You see, my great-great grandfather, the Rev. John Andrew Miller, was a Methodist minister who spent his life in circuit ministry in Louisiana in the late 1800s. My grandfather was also to have been a Methodist minister and was called "Preacher" all of his life, yet he chose to devote his life to lay ministry through music: writing hymns, playing the piano and singing in the church choir. Our ancestors were one of the original founding families of the Patterson United Methodist Church in Patterson, Louisiana. My grandparents were charter members of Carrollton United Methodist Church in New Orleans. My mother worked in the church offices for First United Methodist Church in Bossier City, Louisiana, and First United Methodist in Natchitoches, Louisiana.
My call to ministry was reawakened in The United Methodist Church through its nurturing and spiritual disciplines, scripture, tradition, experience and reason. By God's grace, I am now an ordained deacon in the Louisiana Conference. I am currently serving as a "circuit-riding preacher" in rural Northwest Louisiana following in the tradition of my great-great grandfather. I pastor three small, rural churches and preach at each of the three every Sunday. I am humbled and blessed to work with the congregations of Oak Grove United Methodist in Natchitoches, Louisiana; Weaver United Methodist in Flora, Louisiana, and Provencal United Methodist in Provencal, Louisiana. All three are in the Shreveport District. I am proud to serve God and my neighbor as "one of these people called United Methodists."                                                         
The Rev. Lindy Broderick is the chaplain and director of the Christian Leadership Center at Centenary College of Louisiana, and she serves as the part-time pastor of a three-point charge in Natchitoches Parish.
Return to the Many Voices, One Faith home page
---
Like what you're reading? Support the ministry of UM News! Your support ensures the latest denominational news, dynamic stories and informative articles will continue to connect our global community. Make a tax-deductible donation at ResourceUMC.org/GiveUMCom.