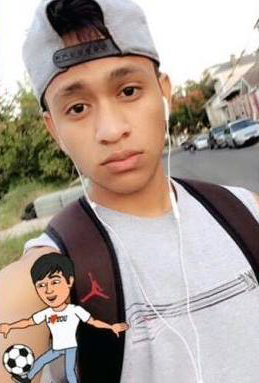 A 19-year-old who is part of an intentional community at a United Methodist church has been in custody for more than a month since his arrest by U.S. Immigration and Customs Enforcement for a traffic violation.
Hector Martinez, a United Methodist who lives at First Grace United Methodist Church, faces deportation after he was stopped by New Orleans police when he ran a red light while on his way home from work. Since Martinez is undocumented and did not have proper paperwork, police called ICE. Martinez is currently detained at The Pine Prairie Correctional Center in Pine Prairie, Louisiana.
Martinez thought he would face a traffic charge, but realized at the police station that he had become a deportation case, even though he had never had a deportation order under his name.
"Here [in the correctional center] they treat us like animals, they yell at us. I am already getting used to the system because what more can I do in this situation?" Martinez said.
The Congress of Day Laborers, which advocates for immigrants, and the sanctuary movement organized a demonstration in front of ICE offices on July 21 to ask for the release of Martinez.
His father already was working at the church when Martinez came to the U.S. from El Salvador, the Rev. Juanita A. Ramos, community church developer and pastor of the Hispanic/Latino ministry at First Grace, said when Martinez arrived from El Salvador.
"Hector's dad was a custodian at First Grace," Ramos explained. "As part of a program at First Grace that we call 'intentional community,' Hector and his father lived in a room at the church we provided for working there."
"Hector has been living with us in the church for two years," said the Rev. Shawn Anglim, senior pastor at First Grace. "We helped him get him into middle school and high school. He is a very joyful young man despite coming from such a difficult situation."
Ramos said Martinez was about to start his senior year of high school. "He is an excellent student, and is an honor student in mathematics and algebra. Hector was even taking college classes at Delgado Community College because he is so advanced," she said.
Martinez also had two part-time jobs and periodically sent money to his mother and grandmother in El Salvador. With his savings, he bought a car so he could get to school, college and both his jobs, Ramos said.
"Everything went well for a year, but a few weeks ago, he ran a red light and got pulled over. Instead of getting a ticket, the police officer called immigration," Ramos said.
Ramos said Martinez had his first court day on July 11 and another court date is set for July 26.
"Unfortunately, the lawyer did not send all the appropriate documents on time," she said. "The lawyer did not provide the character witness letters written by his teachers, the school principal, the senior pastor at First Grace, and the director of a ministry that helps immigrant children. He only presented a few written letters by members of the community that did not have as much weight as the other letters. The judge told him that he did not have enough information to justify why Hector wants to stay in the country."
The Congress of Day Laborers, which has facilities at First Grace, is considering taking Martinez's case and will make a final decision soon.
Ramos said Martinez "feels lonely and has seen horrible things, for a 19-year-old, in jail. It is difficult for a young man who is not accustomed to the street."
Martinez said he fears returning to El Salvador because of gangs. "I have a life here and I have a better future [in the United States]," he said.
Rachel Taber is an organizer for the Congress of Day Laborers in New Orleans. She said the organization supports families who have had relatives deported and helps people who have been detained by ICE. Congress members accompany people who have to periodically check in with ICE in an effort to make sure they are not arrested while checking in. The organization also advocates for immigrants politically and legislatively.
Anglim said at First Grace, this is not a national political issue, it's a church issue. "This affects people who are sitting on our pews. This is not something abstract," he said.
The pastor said it is important to remember that Martinez is a teenager and a part of the church community. "I remind people in the church that Hector is my neighbor, that there is a reason why Jesus spoke about our neighbors. There is an assumption in the gospel that God brings people together to have profound and joyful life together. Hector is the person next to me, and you can't let the person next to you be taken away."
If Martinez is released, Anglim said he will continue to live in the church, which has publicly declared it will be a sanctuary church.
For the moment, the community is supporting Martinez financially through a "GoFundMe" page where they are raising funds for bail, while waiting for the judge to grant it.
Maldonado is associate director of Hispanic/Latino United Methodist Communications, Nashville, Tennessee. News media contact: Vicki Brown at (615) 742-5470 or [email protected]. To read more United Methodist news, subscribe to the free Daily or Weekly Digests. 
---
Like what you're reading? Support the ministry of UM News! Your support ensures the latest denominational news, dynamic stories and informative articles will continue to connect our global community. Make a tax-deductible donation at ResourceUMC.org/GiveUMCom.