Key points:
Many United Methodist churches have been raising funds for relief and recovery efforts on the Hawaiian island of Maui, where wildfires destroyed the town of Lahaina, including Lahaina United Methodist Church.
Two newly chartered United Methodist churches are among those making donations for Maui relief.
Hawaiian United Methodist churches have been helping financially and in other ways.
---
When news came about the devastating wildfires on the Hawaiian island of Maui, ReNew United Methodist Church knew it had to help.
ReNew, in South Pasadena, California, began meeting three years ago and only became a chartered United Methodist church in June.
It might have deferred to larger, more established churches, but the 45 charter members dug deep for Maui: They collected more than $5,000.
"Our congregation gave incredibly generously, especially for the size of our ministry," said the Rev. Sam Park, ReNew's pastor.
The United Methodist Church of the Pines in Jasper, Texas, was chartered on April 23 with 73 members and consists of people who chose to remain United Methodist after their church disaffiliated.
At that church, too, the plight of Maui prompted a sizeable special offering, a collection of $2,035 on Aug. 20.
"Our hearts went out to them," said the Rev. Jerry Neff, the church's pastor.
Those two churches stand out because of their youth, but they are hardly alone.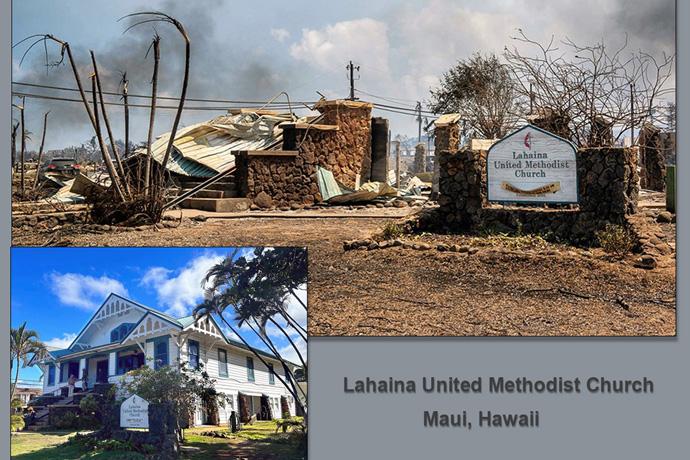 Many United Methodist congregations and some conferences have made special fundraising appeals for Maui, reflecting the severity of the overall situation — and the fact that Lahaina United Methodist Church's sanctuary and the homes of most members were lost to the fires.
Getting overall totals for giving to the United Methodist Committee on Relief and the California-Pacific Conference's targeted efforts for Maui will take a while, but the early United Methodist response has lifted the spirits of Pastor John Crewe, who leads the Lahaina church.
"It's given me the assurance that we'll be able to rebuild," he said, noting that his church has already received more than $75,000 in relief and recovery donations through its website appeal.
UMCOR, which has made an initial $10,000 solidarity grant for work on Maui, also commented on the rush of donations.
"UMCOR is grateful for the ways in which individuals, churches and conferences have shared updates and collected offerings within their communities in the aftermath of the Maui wildfires," said Katherine (Katie) Hills Uzoka, director of international disaster response. "The funds will allow UMCOR to continue supporting local response and recovery efforts."
On Aug. 8, wildfires essentially destroyed the historic west Maui coastal town of Lahaina. At least 115 people were killed, and many others remain unaccounted for.
Though no one from Lahaina United Methodist died, members have friends who did. And Crewe estimated that about 75% of the church's families have lost their homes.
Among them is Rosalyn "Roz" Baker, a former Hawaii state senator who played electric piano for Lahaina United Methodist's services. She was glad to be able to strum a borrowed ukulele in an Aug. 20 service that Crewe led in a condominium center's community room.
"Even in all the stress, there are bright spots," said Baker, who has found temporary lodging on the island. "It's nice to see our congregation in particular has come together and is going to be doing whatever is necessary to rebuild."
Ala Lani United Methodist is about a 30-minute drive from Lahaina in Kahului. A few members there live in Lahaina and lost homes. But mostly, Ala Lani members have been balancing grief at their neighboring community's loss of life and property with trying to help in any way possible.
"Tessie Layugan, the lay leader of Ala Lani, had many relatives and friends who lived in Lahania and lost their homes," said the Rev. SonHye Kim, senior pastor of Ala Lani. "Tessie took 13 people, from a 1-year-old to an 80-year-old grandma, in her house instead of sending them to shelters. Church members provided them with clothing, food and other necessities."
Ala Lani members also served food to first responders and — with help from children's ministry director Joy Kim of Aiea Korean United Methodist Church — raised the money to buy school uniform T-shirts for about 100 children from Lahaina who will now be attending Kahului Elementary.
Subscribe to our
e-newsletter
Like what you're reading and want to see more? Sign up for our free daily and weekly digests of important news and events in the life of The United Methodist Church.
Ala Lani's administrator, Tina Draper, has been of crucial help to Crewe as he's ministered to Lahaina members. Draper has fielded calls from concerned people all over the U.S.
"She listened to their stories of their connections with Lahaina UMC," Kim said.
Kailua United Methodist, on the Hawaiian Island of Oahu, has had members offer condos they own on Maui to displaced persons. The church has raised more than $10,000 for relief and recovery.
"Given that we're so close to Maui, the devastation weighs heavy on all our hearts," said the Rev Brian Belting, pastor.
Beyond Hawaii, United Methodist churches — including some of the largest, such as St. Luke's United Methodist in Indianapolis and Resurrection Church in Leawood, Kansas — have been quick to give.
St. Luke's announced a Maui-focused donation of $10,000 to UMCOR. Resurrection gave $20,000 to the California-Pacific Conference fund.
"Our congregation has been praying for those who lost loved ones, homes and businesses in the devastating fires in Maui," said the Rev. Adam Hamilton, Resurrection's senior pastor. "We are waiting to see how else we can help in the recovery and rebuilding."
First United Methodist Church of Lompoc, California, is among the small churches that have taken special offerings.
"Since we live in California, we are very aware of the widespread destruction of wildfires," said the Rev. Terry Fisher, co-pastor.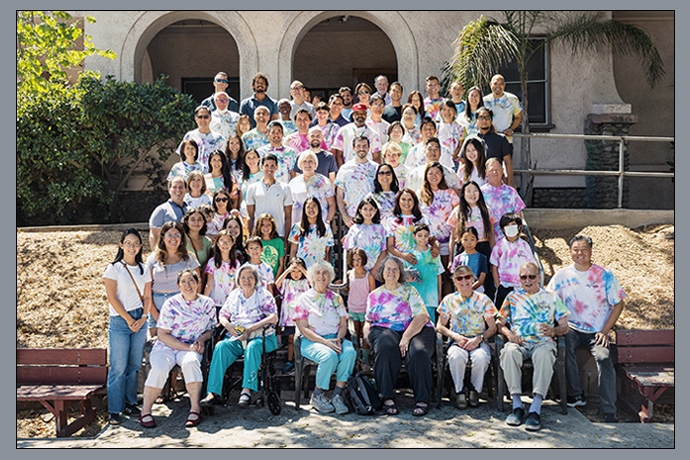 The Rev. John Nash of First United Methodist Church, in Los Alamos, New Mexico, said many of his members recall May 10, 2000, when the Cerro Grande fire destroyed more than 235 homes in their community.
Nash said his church can identify with Lahaina, and quickly took a special offering for UMCOR. He noted that the power of United Methodist giving has been evident in New Mexico, where a $2 million UMCOR grant is helping with recovery from fires in the northern part of the state.
Many U.S. conferences have asked churches and individuals to contribute to relief efforts in Maui. At least two conferences — Louisiana and Western North Carolina — have made donations of $10,000 to the California-Pacific Conference's fund.
Full plate for Cal-Pac
The California-Pacific Conference has been dealing not only with the Maui wildfires but with flooding from Tropical Storm Hilary.
Two pastors have confirmed to the conference a need to file an insurance claim for their churches, said Miya Kim, the conference's interim communications manager.
She said the conference has Early Response Team training sessions planned, but given conditions in Lahaina, where the Maui wildfires hit hardest, sending United Methodist volunteers to help with rebuilding will likely be months away.
"The direct gift from the Western North Carolina Conference for Maui is alongside the contributions of our people through UMCOR," said Bishop Ken Carter, who leads the conference.
He added: "Bishops and their treasurers are often aware of needs in the aftermath of disasters — displaced clergy and their families, local churches unable to receive Sunday offerings, members who have lost employment, the need to pay salaries of staff persons, such as youth directors, worship leaders and musicians. I have been blessed to serve conferences who have been both recipient and giver. This is the often hidden but profound strength of our connection."
Carter said that he's served on denominational panels through the years with the Rev. Tom Choi, superintendent of the Hawaii District, and has respect and admiration as well for California-Pacific Conference Bishop Dottie Escobedo-Frank.
"This is also the connection," Carter said.
Judy Cramer lives now on Oahu, where she attends Parker United Methodist Church in Kaneohe, but she grew up in Lahaina and lost her family home there in the wildfires. She and her brother were staying at the house on Aug. 8, and had a harrowing evacuation.
Cramer is back on Oahu and dealing with a range of emotions, but one is gratitude for United Methodists and others who have been trying to help.
"People have been so generous and so kind," she said. "Prayers have helped tremendously."
One of Cramer's prayers is for staying power in the response.
"It's going to be a long, long haul."
Hodges is a Dallas-based writer for United Methodist News. Contact him at 615-742-5470 or [email protected]. To read more United Methodist news, subscribe to the free Daily or Weekly Digests.
---
Like what you're reading? Support the ministry of UM News! Your support ensures the latest denominational news, dynamic stories and informative articles will continue to connect our global community. Make a tax-deductible donation at ResourceUMC.org/GiveUMCom.