How do you attract tourists to worship with your church during the months of summer vacation?
The little Michigan towns of St. Ignace and Mackinaw City have both tourists and locals standing in line for 30 minutes for a seat at their Vesper Cruise services led by various local denominations.
On a balmy August evening onboard the Arnold Ferry boat called "Ottawa" stands a man in sandals, shorts and grey sweatshirt who could pass for a "fudgie" - the nickname given to tourists who travel to the Upper Peninsula of Michigan to vacation andbuy fudge.
However, as the ferry pulls away from Dock #1 in St. Ignace, his real mission is revealed. Accompanied by a musician and church members from St. Ignace United Methodist Church, the Rev. Erik Alsgaard picks up a microphone and energetically welcomes the 221 passengers aboard to the Friday August evening vespers. Painted words on the wall behind Alsgaard read that there are 255 adult life jackets onboard, enough for everyone.
Beneath the 'Mighty Mac'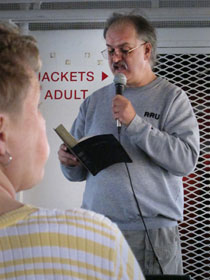 The Rev. Erik Alsgaard leads the Vesper worship by reading the creation story to the 221 passengers aboard the Arnold Ferry boat.
"This is the only church you go where they tell the pastor to be louder," jokes Alsgaard as he competes with the sounds of engine and boat whistle.
Passengers sit on green wooden benches while the ferry chugs into the Great Lake Huron water to begin its journey beneath the Mackinac Bridge - "Mighty Mac," as it is known locally, the nickname given to the five-mile suspension bridge connecting the lower and upper portions of Michigan. The crowd is an eclectic mixture of tourists, St. Ignace residents and youth group members.
The six-week vespers program begins each summer on the 4th of July, and a different local church leads the service every Friday evening. Tonight is sponsored by the United Methodists.
Alsgaard says that he always does a version of the creation story from Genesis. As the sky darkens into dusk and the boat travels below the 552-foot-tall bridge, it's hard not to be in awe of God's creation.
While song sheets are passed out, Alsgaard engages the crowd. Soon we learn that passengers include young people from the United Methodist Church for All People in Columbus, Ohio, who are doing mission work at White Pine Community United Methodist Church in White Pine, Mich. There are also Lutheran and Southern Baptist youth groups aboard who are attending church camps in the area. Some church members attend for the first time. Tourists are just happy for a boat ride.
Connecting people
During the singing, Ruth Paquin hands out souvenir postcards of the bridge. Paquin's grandfather was the Methodist pastor in St. Ignace from 1951 to 1963. The bridge opened in 1957. The summer population swells with vacationers, while those who brave the intense winters to live as permanent residents are much fewer in number.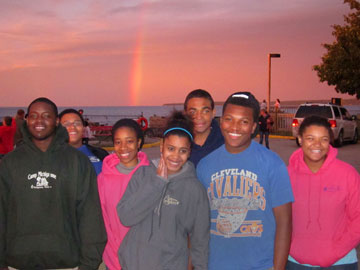 Many young adults rode the Vesper Cruise, including several from Camp Michigamme and a group from the United Methodist Church for All People in Columbus, Ohio, who were on a mission trip.
"It's God's Country; sometimes God only knows why we live here," Paquin jokes.
She is also a member of St. Ignace United Methodist Church, as is Allison Colegrove, who is on her first Vesper Cruise to celebrate her 10th birthday. Colegrove was baptized in March by Alsgaard and is one of four youth that St. Ignace United Methodist Church sponsored at Camp Michigamme this summer. She is embarrassed when passengers sing "Happy Birthday," but says that the cruise is "very cool." Her grandmother, Carolyn Tamlyn, shared that Allison told her, "If I didn't go to church, I would just think that Easter and Christmas were another fun day."
The Vesper Cruise combines singing of hymns, meditation, a free boat ride and a freewill offering. There is almost always money left over to help local ministry. One that Alsgaard is especially proud of is the thrift store created by Project HOPE, made up of six local churches, which makes as much as $1,500 per day and has contributed more than $500,000 in mission assistance since its creation six years ago. Tom North, a church member for 42 years, mentions that church attendance at St. Ignace United Methodist is up 30 percent. Like the "Mighty Mac," the little church of 200 members is busy connecting people, reaching out and making a difference.
"The Vesper Cruise is all about hospitality," noted Alsgaard. "It's another 'door' to have people welcomed by the community." Alsgaard added that he's "not trying to convert" during the boat ride but that it's "just a chance to relax, enjoy the scenery, worship, enjoy what God has given us and reflect on Scripture. We want to make sure they (the passengers) have a place to be welcomed in Christ's name."
As the boat ride ends back at the dock, a giant rainbow appears in the sky as if on cue, a perfect ending to an evening that began with the story of creation. When Alsgaard saw the rainbow he "got chills."
"The rainbow … it was a Holy Spirit moment for me – a God moment."
*Barry is the photo researcher for United Methodist News Service.
News media contact: Kathleen Barry, Nashville, Tenn., (615) 742-5470 or [email protected].
---
Like what you're reading? Support the ministry of UM News! Your support ensures the latest denominational news, dynamic stories and informative articles will continue to connect our global community. Make a tax-deductible donation at ResourceUMC.org/GiveUMCom.