When the nine died, they were living by faith, reaching out in love and surrounded by grace.
That knowledge is how mourners at the June 26 memorial service for the Rev. Clementa Pinckney, killed with eight others at Emanuel African Methodist Episcopal Church, could remember his legacy with joy as well as sorrow.
"With grace, anything is possible, everything can change," declared President Barack Obama just before he began to sing the first verse of "Amazing Grace" at the end of his eulogy.
To South Carolina Bishop L. Jonathan Holston, who represented The United Methodist Church at the service, the president's leading the worshippers into that hymn "was almost a signature moment" of his speech. "You could tell he felt it in his heart."
Since the June 17 shooting of the clergy and church members as they were engaged in Bible study at Emanuel, United Methodists have mourned and joined in the national discussion about race, justice and hope.
Holston first met Pinckney when the pastor helped organize a Pan-Methodist worship service for the family of Walter Scott and the community. "We were working on planning a Methodist day at the statehouse," the bishop added. "It was just a tremendous pleasure to meet him and have a chance to work with him."
The service already was underway when Obama flew in on Air Force One to deliver the eulogy at TD Arena, College of Charleston, where thousands had begun gathering in the early morning hours. The nearly four-hour service began with a clergy processional at 11:50 a.m. as the Rt. Rev. John Bryant made a call to worship "for the home-going celebration for Clementa Pinckney."
The president began by acknowledging Pinckney's personal achievements — in the pulpit by 13, pastor by 18, public servant by 23 — and his graciousness, his ability to stay true to his convictions and his belief in better days ahead.
"Clem was often asked why he chose to be both a pastor and public servant," Obama said, adding that those in the AME church know "you don't make those distinctions."
A calling is not just to a congregation, he explained, but to "the life and the community in which the congregation resides."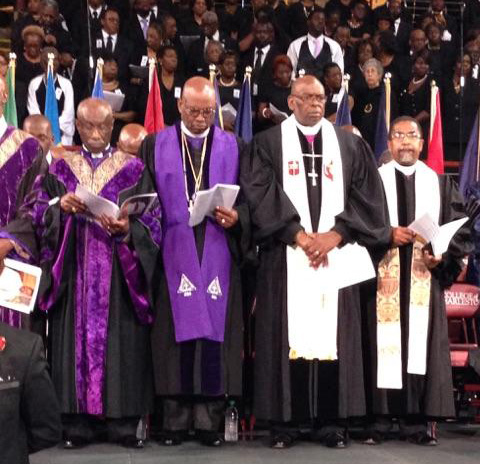 Importance of the church
Obama acknowledged the importance of the church in African-American society. "To the families of the fallen, the nation shares in your grief," he said. "The pain cuts that much deeper because it happened in the church."
In particular, Emanuel AME Church in Charleston has a special role in history, "not just for blacks, not just for Christians, but for every American who cares about the expansion of human rights in this country. … That's what this church meant," he said.
Whether or not the alleged killer of the nine knew this history, the president continued, "he surely sensed the meaning of this violent act … not random but as a means of control and a way to terrorize and oppress."
The killer's attempt to provoke a deep racial divide backfired, Obama noted. "God works in mysterious ways. God has different ideas. He (the killer) didn't know he was being used by God."
Obama said that blinded by hate, that person could not imagine grace, love and forgiveness or how others would respond with to his actions not only with revulsion, but also with thoughtful introspection and self-examination.
"Blinded by hatred, he failed to comprehend what Reverend Pinckney so well understood, the power of God's grace."
Tackling the tough issues
Touching upon issues raised by the racially motivated shootings, the president talked about being blind "to the pain the Confederate flag stirred in many of our citizens" and praised South Carolina Gov. Nikki Haley's "recent eloquence on the subject" of removing the flag from the statehouse. Haley is a United Methodist.
"But I don't think God wants us to stop there," he said. "For too long, we've been blind to the way past injustices continue to shape the present. Perhaps we see that now. Perhaps this tragedy causes us to ask some tough questions."
The toughest and politically touchiest question, perhaps, is gun control, which the president tackled head on. "For too long, we've been blind to the unique mayhem that gun violence inflicts upon this nation," he declared.
Sporadically, eyes are opened — he referenced Charleston, Aurora, Sandy Hook — but 30 lives are lost to gun violence every day in the U.S., he said, and countless other lives are changed forever because of that.
Obama called for a moral choice to change those statistics and suggested that "an open heart" might be more useful than any policy or analysis to accomplish that.
Holston already is contemplating "how to grow from this moment" and what the next steps might be to guide congregations to deal with racism and gun violence.
"How do we perfect action rather than just perfect our words?" the bishop asked.
Bloom is a United Methodist News Service multimedia reporter based in New York. Follow her at https://twitter.com/umcscribe or contact her at (646) 369-3759 or [email protected]
---
Like what you're reading? Support the ministry of UM News! Your support ensures the latest denominational news, dynamic stories and informative articles will continue to connect our global community. Make a tax-deductible donation at ResourceUMC.org/GiveUMCom.