A year to the day before Martin Luther King Jr. was assassinated, the civil rights leader made a major public speech against the war in Vietnam.
John C. Goodwin, then 25 years old, was at Riverside Church in New York to document it.
His photographs of King from that day and several other anti-war events from 1967 and 1968 have been in demand ever since.
Goodwin, who later spent many years as the staff photographer for the United Methodist Board of Global Ministries, had a goal when he began his professional career in photography. He wanted to show that those opposed to the Vietnam War were not just "hippies and wild radicals" but also respectable and concerned religious leaders.
The April 4, 1967, "Beyond Vietnam" speech to the National Emergency Committee of Clergy and Laymen Concerned About Vietnam drew some 3,000 people to Riverside and captured the nation's attention.
"That was his coming out," Goodwin told Isaac Littlejohn Eddy, who crafted a cartoon video for Time Magazine, called "Capturing King: John Goodwin, anti-war photographer" to re-create the day of the speech. "When he spoke at Riverside Church, that was his 'coming out' in terms of being anti-war."
Among his reasons for opposing the war, King said in his speech, was the recognition "that the war was doing far more than devastating the hopes of the poor at home. It was sending their sons, their brothers and their husbands to fight and to die in extraordinarily high proportions relative to the rest of the population."
"We were taking the black young men who had been crippled by our society and sending them 8,000 miles away to guarantee liberties in Southeast Asia which they had not found in southwest Georgia and East Harlem."
Today, Goodwin remembers being impressed with the speech; at the time, he "listened with one ear" as he carried out his assignment. While the speech's content was not a surprise to the audience, he said, "not everybody in the Civil Rights Movement was in favor of him doing that." In fact, King was criticized by many, including President Lyndon B. Johnson, who did not like King making connections between civil rights and Vietnam.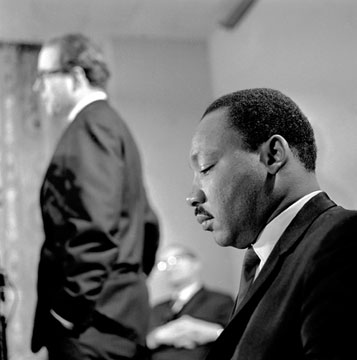 The Rev. Martin Luther King Jr. (right) and the Rev. William Sloane Coffin address a 1967 news conference by Clergy and Laymen Concerned About Vietnam in Washington.
A UMNS photo John C. Goodwin.
April 15 peace march
Eleven days after the speech, Goodwin photographed King marching with Dr. Benjamin Spock, the celebrated pediatrician, at a major peace demonstration in New York. This was just the beginning of the "Vietnam Summer" campaign that the pair was promoting to mobilize grassroots anti-war activists.
The April 15 march, which proceeded from Central Park to the United Nations, was the first mass anti-war demonstration that Goodwin would shoot. It was a paid assignment for "Youth Magazine," a publication started by the United Church of Christ but which eventually represented a number of denominations.
"It was exciting, and I, of course, was happy to have maneuvered myself to get the first row of marchers," he said. His photograph captures King and Spock marching arm-in-arm.
As Goodwin recounted in 2008 to Suzanne Pekow of American Radio Works for a photo essay, "King's Last Year: Photographs by John C. Goodwin," he also remembered the march "because people were throwing bags of flour out of their windows in anger," and Goodwin was doused with hot coffee.
In big New York marches, he explained to UMNS, some participants would line up on side streets and then merge onto Fifth Avenue as the march passed by. On that particular day, Goodwin had wandered down one such side street to see who was lined up and found waiting marchers being pelted with flour and eggs.
He was looking down into the small screen of his Hasselblad camera, focusing on protesters on the other side of the street, when he saw on the screen an angry woman approaching him. "Suddenly, she was throwing a cup of hot coffee at me," he said. "I thought, 'What a great shot.'"
Indeed, Goodwin's camera lens did catch the arch of hot liquid in the air, but the coffee also found its mark. Luckily, it did not burn him. He said that was the only time he was attacked physically during a peace demonstration.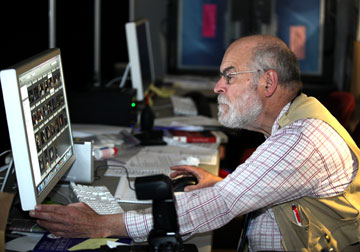 Photographer John C. Goodwin edits photos in the newsroom of the 2012 General Conference of the United Methodist Church at the Tampa (Fla.) Convention Center.
A UMNS photo by Kathleen Barry.
Three King encounters in 1968
Early the next year, during a Jan. 12, 1968, news conference at the Commodore Hotel in New York, Goodwin had his only conversation with the civil rights leader.
At the end of the news conference, Goodwin mentioned that King might know his father. The Rev. Dean Goodwin, an American Baptist pastor, was acquainted with both King and King's parents through encounters at Baptist conferences and events.
"Yes, I knew your father very well," King responded when he heard the name. "Please give him my warmest regards."
Goodwin was happy to relay the message. "I brought greetings back to my father, who was pleased," he remembered.
That news conference had been organized to announce that Clergy and Laymen Concerned About Vietnam was planning a second national mobilization for peace, primarily for church-related groups, the next month in Washington.
Goodwin was there on Feb. 6, 1968, as about 2,500 people, led by King, gathered for a silent prayer vigil at Arlington National Cemetery's Tomb of the Unknowns. He captured King and the Rev. Ralph Abernathy shaking hands with Rabbi Abraham Heschel, Rabbi Maurice Eisendrath and Rabbi Everett Gendelrin just before the vigil began.
He also documented the evening program, when King spoke at New York Avenue Presbyterian Church for the mobilization's final gathering.
That was Goodwin's last opportunity to photograph King. Two months later, the civil rights leader was assassinated in Memphis.
*Bloom is a United Methodist News Service multimedia reporter based in New York. Follow her at http://twitter.com/umcscribe.
News media contact: Linda Bloom, New York, (646) 369-3759 or [email protected].
---
Like what you're reading? Support the ministry of UM News! Your support ensures the latest denominational news, dynamic stories and informative articles will continue to connect our global community. Make a tax-deductible donation at ResourceUMC.org/GiveUMCom.