Daniel Terry spent 40 years of his life working as a volunteer with those most in need in Afghanistan.
Fluent in several regional languages, the 64-year-old United Methodist layperson had a deep understanding of the Afghan culture - an understanding that he used to guide the staff of international nonprofit organizations.
So it came as a shock when leaders of the United Methodist Board of Global Ministries, which has supported Terry for 30 years, learned that he was among the 10 aid workers killed Aug. 5 in a remote northeast section of the country. The Taliban later claimed responsibility for the murders.
Only one other United Methodist aid worker has been murdered in recent decades. In 1977, Glenn Eschtruth, a doctor who served in a Kinshasa mission hospital in the African country then known as Zaire, was killed by mercenary forces.
"It is almost beyond belief that Dan Terry would be murdered in Afghanistan," said Thomas Kemper, chief executive of Global Ministries. "He loved the country with a passion and worked tirelessly on behalf of its most marginalized communities."
One of Terry's skills was building relationships with the Afghan people, said David Wildman, a Global Ministries executive and Afghanistan expert. "He understood the wisdom of poor communities," he added. "In all his work, he was always asking, 'What can I learn from the community I'm with?'"
Deaths confirmed
At an Aug. 9 press conference in Kabul, Dirk R. Frans, executive director of International Assistance Mission, confirmed that the 10 people killed were volunteer members of the group's missing Nuristan Eye Camp team.
"This is a sad day, particularly for the relatives and friends of those killed," he said. "Our thoughts and prayers are with all of them. We pray that they will find strength in their faith and in the communities to bear this unbelievable loss."
Wildman called the ambush the worst attack in years on relief workers in Afghanistan.
Besides Terry, the other Americans confirmed dead were Dr. Tom Little, an optometrist and the team's leader; Cheryl Beckett of Knoxville, Tenn.; Brian Carderelli of Harrisonburg, Va.; Dr. Tom Grams, a dentist from Durango, Colo.; and Glen Lapp, a nurse from Lancaster, Pa.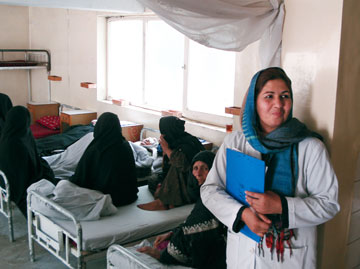 A nurse watches over patients at an eye hospital in Kabul, Afghanistan. Eye care is one of the health services that
relief groups offer in Afghanistan. A UMNS file photo
by David Wildman.  
Also killed were Mahram Ali and Jawed, both of Afghanistan; Daniela Beyer of Germany; and Dr. Karen Woo, a British citizen. Two other Afghan team members, Said Yasin and Safiullah, survived.
"We want to pay tribute to each of our colleagues who died, to their commitment to serve the Afghan people," Frans said. "Those who have known them and seen them at work can do nothing but pay the highest tribute to them."
Frans characterized Little as "the driving force behind much of what has been achieved in eye care in Afghanistan" and said he and Terry had worked together there for years. Both were so devoted to the Afghan people that they made the country their home.
Terry and his wife, Seija, a nurse, raised their three daughters in Afghanistan. He worked for many years in Lal-wa Sarjangal, relating with local communities and serving as a liaison with aid groups and the government.
The Rev. Bruce Griffith, a friend of Terry's and a Global Ministries executive, said Terry often helped the aid groups provide services to remote areas.
"Dan's work related broadly to nonprofit relief and medical organizations in Afghanistan," he explained. "He was a United Methodist gift to the humanitarian cause in a country that has known bloodshed and pain for decades. He represented hope, peace, justice and compassion."
Reaching remote communities
The eye camp team had just trekked 100 miles back through the Hindu Kush mountains to provide eye care "to some of the poorest and most remote communities in Afghanistan" when it was attacked, Frans said.
International Assistance Mission has been working in Afghanistan since 1966. The murders marked the first time the organization, which has 500 Afghan colleagues and 50 international colleagues, had lost an Afghan colleague killed while on duty. Over the years, four international staff members have died in other types of circumstances, he reported.
Frans disputed Taliban claims that the team was proselytizing and distributing Bibles in the Dari language.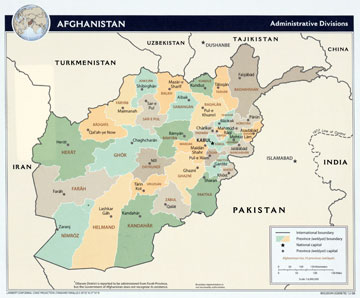 While registered as a Christian organization, International Assistance Mission functions solely as an aid agency. He pointed out that their teams would not be invited back to the villages where they work "if we were using aid as a cover for preaching."
He also presented letters at the press conference offering proof that the team had permission from the Afghan government to conduct its eye camp.
The additional tragedy that can be found in the volunteer aid workers' deaths, in Kemper's view, is "that we lose people who have not been outsiders but have been insiders and have been part of Afghanistan in a very important way."
Kemper called the killing of experienced volunteers like Terry and Little who "have made this trip many times before" a frightening development.
But Wildman considers the attack likely to be an isolated incident and noted that most humanitarian workers have not been targeted even in the growing context of violence around the country.
Continued humanitarian assistance is vital in Afghanistan, Wildman said. Nongovernmental organizations work in cooperation with local communities that are dealing with "critical life and death issues" faced by the more than 80 percent of Afghanis living in remote, isolated villages.
The country has the highest infant mortality rate in the world and the second highest maternal death rate. Basic primary health care "is being taught in poor communities in many different locations by many different kinds of humanitarian NGOs (nongovernmental organizations), both Afghan and international," Wildman added.
*Bloom is a United Methodist News Service multimedia reporter based in New York. Follow her at http://twitter.com/umcscribe. Some quoted material was provided by the United Methodist Board of Global Ministries.
News media contact: Linda Bloom, New York, (646) 369-3759 or [email protected]
---
Like what you're reading? Support the ministry of UM News! Your support ensures the latest denominational news, dynamic stories and informative articles will continue to connect our global community. Make a tax-deductible donation at ResourceUMC.org/GiveUMCom.