Although hundreds of people died as Typhoon Bopha raged over the island of Mindanao in the southern Philippines on Dec. 4, lessons learned during Typhoon Washi, which ravaged the region a year earlier, helped hundreds to survive the disaster this time around.
A variety of faith-based organizations, including the United Methodist Committee on Relief, have focused on disaster risk reduction during the past year.
"A year ago, people weren't prepared. They didn't care that a typhoon was coming. And they paid the price," said Ben Ramiso, the emergencies program manager for the Muslim-Christian Alliance for Advocacy, Relief and Development.
"But this time around, because of their experience and the training we've done in disaster risk reduction, the people were prepared. Those living along the river banks were evacuated two days before the storm," said Ramiso, whose organization's relief work near Cagayan de Oro was funded by Christian Aid, an ACT Alliance member based in the United Kingdom.
"Last year, the people had to save themselves. But today, because of better organization within the communities, the people mobilized quickly. The early warning systems the people established helped a lot. We did training four months ago during which people were identified as contacts for their neighborhoods. As local political leaders received the alerts from the government this time, the information was immediately disseminated to the people."
While Cagayan de Oro and nearby Iligan were ground zero for the destruction of Washi, which killed more than 1,200 people, this year timely evacuations took place well before the arrival of Typhoon Bopha, known locally as Typhoon Pablo.
"No one died this time around," said Nestor Hurano, the captain of Maasin, a village in Bukidnon province where three people were killed or disappeared during Typhoon Washi. "Because of the workshops and planning we've done with Christian Aid and MUCAARD, we were prepared for Pablo. We had considerable physical damage, but that can be repaired. Human lives cannot be replaced."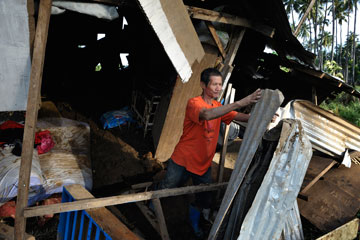 Armando Guniyon pulls apart the rubble of his home, damaged by floodwaters from Typhoon Bopha, in Cagayan de Oro, Mindanao, Philippines.
Yet not everyone gives the government high marks. Sineyda Valoria, secretary of the Survivors Collective in a neighborhood along the riverbanks in Iligan, said families there were ordered to evacuate to an elementary school. "The government did well in ordering us to evacuate in time," she said, "but when we got to the evacuation center there was no food or water." A private group and municipal authorities finally gave each family three kilos of rice, but Valoria said that wasn't enough.
"We were supposed to wait there until Saturday, but the people couldn't wait. We preferred to come back here rather than be hungry there," she said.
On Dec. 6, Balsa Mindanao, a network of popular organizations and development groups, delivered food packages to some 40 families in Valoria's neighborhood who were cleaning up their homes that were partially flooded in their absence. The food was purchased by UMCOR, a member of the ACT Alliance, and repackaged by Rural Missionaries of the Philippines, a Roman Catholic activist group.
UMCOR's director in the Philippines, Ciony Ayo-Eduarte, said that while her organization will continue to fill in gaps with food and other emergency supplies, it will intentionally focus on disaster risk reduction with communities in several parts of the country.
"We want to be proactive and not just react, so capacity building among the people is the focus of our humanitarian response," she said.
Imee Manginsay, executive director for the Muslim-Christian alliance, said one key to the success of disaster plans has been the intentional involvement of women in planning.
"During disasters, it's the women who care for the children and think of the impact on the family. So during our training and our mapping of risks in the communities we insured that women participated fully. It's the woman who will prepare the emergency kit and be sure that there's a flashlight and batteries. The men will worry about the cows and water buffaloes, but the women will insure that the family survives," she said.
Give to Philippines Emergency, UMCOR Advance #240235 and bring relief to typhoon-battered communities.
*Jeffrey, a United Methodist missionary and photojournalist, wrote this story for the ACT Alliance.
News media contact: Linda Bloom, New York, (646) 369-3759 or [email protected].
---
Like what you're reading? Support the ministry of UM News! Your support ensures the latest denominational news, dynamic stories and informative articles will continue to connect our global community. Make a tax-deductible donation at ResourceUMC.org/GiveUMCom.