Two United Methodist faith leaders were among a group of 11 arrested July 28 in the U.S. Capitol as they refused to stop public prayers asking the Obama administration and Congress not to balance the budget on the backs of the poor.
Jim Winkler, top executive for the United Methodist Board of Church and Society, the denomination's social action agency, and the Rev. Bob Edgar, a United Methodist elder and president of Common Cause, a national advocacy group, were arrested in the Capitol rotunda during a "faithful act of civil disobedience."
Edgar, who served as a Pennsylvania congressman from 1975-87, organized the protest and invited leaders in the faith and civil rights community to join him in a rally and prayers inside the rotunda.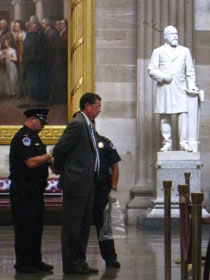 "Following a rally on Capitol Hill, we will enter the rotunda of the U.S. Capitol and kneel to pray for Congress to do the right thing: fulfill America's promise to care for those who cannot care for themselves, to offer a hand up and a fair shake to those willing to work to improve themselves and their communities," Edgar wrote in a blog.
The religious leaders were arrested about 1 p.m. and charged with demonstrating within a U.S. Capitol building.
"Congress is paralyzed by toxic partisan politics while people suffer," said the Rev. Michael Livingston, director of the National Council of Churches' poverty initiative. "Our elected officials are protecting corporations and wealthy individuals while shredding the safety net for millions of the most vulnerable people in our nation and abroad. Our faith won't allow us to passively watch this travesty unfold. We've written letters, talked with and prayed for our elected officials, and prayed together daily in interreligious community. Today, we 'offer our bodies as a living sacrifice' to say to Congress 'Raise revenue, protect the vulnerable and those living in poverty.'"
Jordan Blevins, director of peace witness for the Church of the Brethren and the NCC, added that the protesters consider themselves "citizens first and foremost of the realm of God."
"Sometimes living into that reality puts us at odds with what is happening in our country. This is one of those times - when steps Congress is taking contradicts our call as followers of Jesus Christ, we must take action."
Winkler, who works inside the United Methodist Building on Capitol Hill, and other members of the Washington Interreligious Staff Community have been holding daily prayer vigils on the lawn of the building since July 11 to pray for a "faithful budget."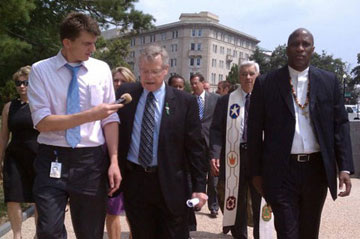 Winkler said the vigils were an interreligious effort to raise the voice of people of faith on behalf of the poorest and most vulnerable among us. "We are sending a visible signal to those in power that we do not believe the negotiations over the debt ceiling and budget can be resolved on the backs of poor people."
Others arrested include Rabbi Arthur Waskow, Shalom Center in Philadelphia; the Rev. Jennifer Butler, executive director, Faith in Public Life; the Rev. Paul Sherry, director of the Washington office, Interfaith Worker Justice; the Rev. J. Herbert Nelson, director of public witness, Presbyterian Church (U.S.A.); the Rev. Sandy Sorenson, director of Washington office, United Church of Christ, and Martin Shupack, director of advocacy, Church World Service.
*Gilbert is a multimedia reporter for the young adult content team at United Methodist Communications, Nashville, Tenn.
News media contact: Kathy Gilbert, Nashville, Tenn., 615-742-5470 or [email protected].
Related Articles
Religious leaders arrested at Capitol for budget protest
Faith leaders arrested in US Capitol during protest
D.C. vigils call for 'faithful budget'
Budget battle: Don't forget the poor
Faith leaders look at budget's 'moral' impact
Resources
United Methodist Board of Church and Society
---
Like what you're reading? Support the ministry of UM News! Your support ensures the latest denominational news, dynamic stories and informative articles will continue to connect our global community. Make a tax-deductible donation at ResourceUMC.org/GiveUMCom.