Evening, Jan. 14, Frisco, Colo.
At a late dinner, after two days without word, Nancy Gulley tries to reassure two of her sons and their wives.
She wants them to know, after 49 years of friendship that began when they were 15-a lifetime that had taken them to mission fields throughout the world-she and her husband, Jim, are at peace with their lives.
"We've had a great life. We've done the things we were called to do," she tells her family. "It'll be OK."
Evening, Jan. 14, Port-au-Prince
In their cramped space underneath the Hotel Montana, the trapped aid workers also are reconciling themselves to their fate.
"Please, if I don't make it out of here, make sure my wife, my children, my grandchildren know I love them dearly," Dixon keeps saying.
Rabb, his legs pinned together by Dixon's side, also asks the others, "If we don't make it, I want you to tell my family, tell Suzanne, that I love her."
As his wife is preparing their family, Gulley is preparing himself with similar thoughts of acceptance, and gratitude for a life well lived.
More than 50 hours into their ordeal, a feeling of calm pervades the men and women lying together. "We were at peace in a sense together," Gulley recalls thinking. "Whether we were rescued or not, our future is secure in God. We believed that."
Evening, Jan. 14, Port-au-Prince, elsewhere in the rubble
As she explores the opening into the night, Chand yells out, "Help, help!"
She has experienced disappointment before. One last time, she yells, "Help!" This time she hears a voice respond identifying himself as a French firefighter.
Neither knows where the other is. Chand puts her legs through the opening. The firefighter says, "I see your legs. Now, I know where you are. &ellipsis; Sarla, we will get you out, all of you."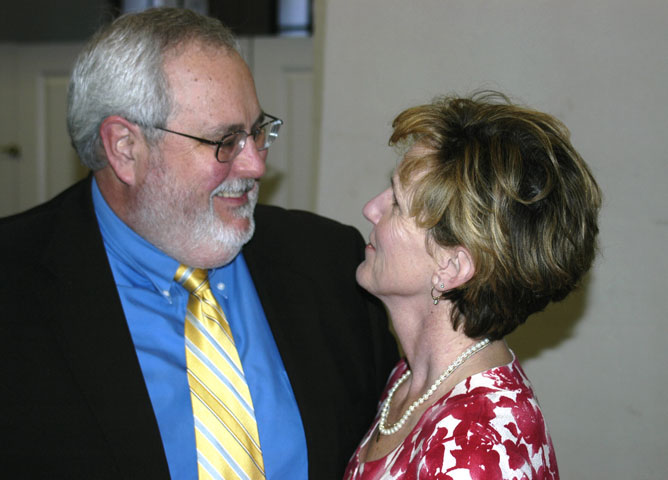 Shortly afterward, loud, clear voices pierce the darkness where her colleagues are imprisoned: "We are French firefighters, and we are here to rescue you."
The words of "Amazing Grace" fill the air. Her trapped colleagues sing the Doxology- "Praise God from whom all blessings flow"-as the rescue workers approach.
The rescuers still need three hours to expand an opening to allow Chand to get out. Creating room for the others takes more than another hour. Gulley and Santos are pulled out by their feet through an opening so small their chests brush against the concrete. Varghese stays with Rabb and Dixon a little longer before she, too, is taken out of the enclosure.
Evening, Jan. 14, Frisco, Colo.
Within 15 minutes of being rescued at around 10:30 RMT Jan. 14, Gulley receives a satellite phone. He calls his home in Colorado, and his middle son, Aaron, who lives in Santa Fe, picks up.
"Hello."
"Aaron, what are you doing in Frisco?"
"Dad, Dad, we thought you were dead!"
Then all Jim Gulley hears is a lot of shouting and yelling.
Late evening, Jan. 14, Port-au-Prince
Dixon and Rabb take longer to free. The concrete pillar they are trapped under is also holding up part of the ceiling.
But word is reaching their families of the rescue.
Dixon's daughter, Christy, thinking her father may have suffered just a broken leg, tells reporters her dad is the type of person who would want to stay in Haiti and help others.
"My dad's a fighter," she says. "He's a stubborn man, and we all love him for it. He's going to do whatever it takes."
At Rabb's home in Hawthorne, Suzanne Rabb and five of her children have gone to bed, saddened with the knowledge few people are believed to have survived the hotel collapse.
When she receives the phone call and learns her husband is a survivor, she yells, "He's alive."
The grown children run in from their bedrooms to the phone, each one wanting to hear for themselves. In a cacophony of joy, family members praise God. Suzanne experiences "immediate, absolute ecstasy" in her soul.
"I'm just so thankful, and I love you so much," she cries out to her absent husband.
Underneath the rubble, as firefighters work to free him, Rabb asks a Times of London reporter to pass on two messages:
"Tell my wife I deeply love her and we're going to survive this," he says.
Rabb cannot see the horror outside the hotel, where more than 200,000 lives have been lost and millions of Haitians are homeless.
Yet he adds:
"I'm praying for all those who did not survive."
Morning, Jan. 15, New York
Early Friday morning, the hope throughout The United Methodist Church is that all the injured mission workers, once feared lost, will be saved.
Dr. Gary Fish is on an overnight flight taking Clara Jean Arnwine to a hospital in Martinique. Arnwine, a volunteer with a United Methodist group from Texas, is suffering from injuries that resulted when part of a United Methodist eye clinic fell on her. She had been fitting patients with glasses, and had only been in the country for two days when the earthquake struck.
The United Methodist Committee on Relief announces all six humanitarian workers at the Hotel Montana have been rescued.
Within 48 hours, three mission workers will be dead.
Tomorrow: Resurrection.
*Briggs is news editor of United Methodist News Service.
News media contact: David Briggs, Nashville, Tenn., (615) 742-5472 or [email protected]
Related Articles
Missions of mercy become tests of faith
Resources
---
Like what you're reading? Support the ministry of UM News! Your support ensures the latest denominational news, dynamic stories and informative articles will continue to connect our global community. Make a tax-deductible donation at ResourceUMC.org/GiveUMCom.