The first graduates of the new Bo Women's Training Center are putting their skills to work and transforming their lives.
"I thank God my situation has changed since our graduation. Previously, I had no source of income. I relied on my husband for everything. Now, I work, I earn — two completely different sides of my life," said Janet Patrick, one of five students who graduated in July.
The Bo Women's Training Center in southern Sierra Leone is the fourth United Methodist Women's skills training center in the country, with the others in Freetown, Kono and Yonibana.
The new center, which opened in early 2018, has more space than the makeshift building the school previously occupied at a local church compound.
Less than a year after the dedication, enrollment doubled from 30 to 60.
Patrick, who studied to be a seamstress, joined a team of experienced tailors in town after graduation. She said she earns a living from the partnership, as well as from other jobs she does privately.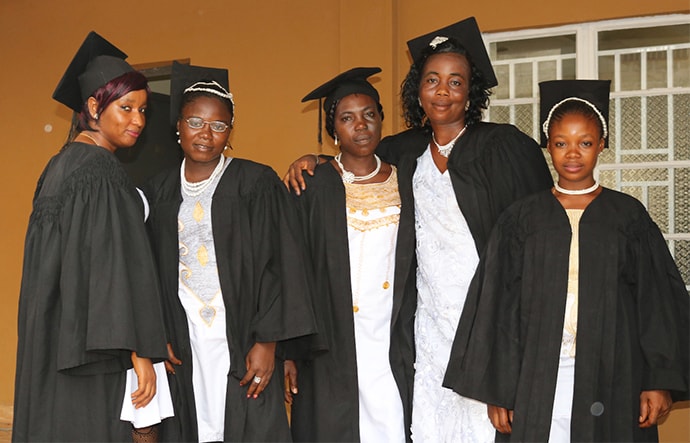 "I can buy uniforms, books and bags for my 6-year-old daughter. Previously, it was a sole responsibility of my husband. Now, I, too, can contribute and make the burden light for my husband."
Owing to the nature of his job, Patrick's husband stays in Freetown, the capital, about 150 miles from Bo. He supports her enterprise by buying fabric, which she can sew into dresses and sell to women in her village. This allows her to make extra money, she said.
Mbalu Kamara, 27, is an orphaned single parent. She partnered with another seamstress who owns a shop in town after graduation.
"We share resources together, though we are independent and work separately. She pays the rent for the shop, but she has encouraged me to stay in to help me grow," she said of her partner.
With the proceeds from her earnings, she can now take care of her 2-year-old daughter, she said.
Marian Sao Ensah also graduated in July and joined a team of tailors at Old Railway Line in Bo.
"I thank God because I learned a lot at the Women's Training Center. I am also learning a lot more here now that I have my own machine and in the real world of employment," said Ensah, a 42-year-old single parent.
"We get a lot of customers here and my boss also gives me special assignments to sew and I make money. I can now take better care of my children and myself," she said.
Ensah has four children, two in secondary school and two in primary school. Caring for them used to be a huge challenge, especially at the beginning of the school year, she said. Being a single parent, she spends most of her income on her children. She is relieved that she can now sew her children's dresses herself rather than take them to a tailor.
Dauda Fofanah, Ensah's boss, describes her as a humble lady who is ready to learn.
"She is diligent and is ready to take up any assignment I give her. She is third in command here in the workshop," he said.
Fofanah said their customer base is large and he counts on Ensah as his senior assistant to take responsibility and management when he is not around.
Ensah is grateful for the opportunity and mentorship.
"He encourages me to love the work more and more and we understand each other so well," she said.
Fifteen students initially enrolled in tailoring at the center, but only five made it to graduation.
Subscribe to our
e-newsletter
Like what you're reading and want to see more? Sign up for our free daily and weekly digests of important news and events in the life of The United Methodist Church.
"Some drop out because of family problems. Others got pregnant and did not come again, even though we encouraged them to do so," said Comfort Bangalie, Bo Women's Training Center coordinator, during the graduation ceremony. "Some say they do not have house help to take care of their children while they are out learning."
The students were equipped with new sewing machines at their graduation. Each machine costs Le1, 300,000 (about $120 U.S.).
Bangalie said training the women becomes useless if the graduates don't have the tools to succeed. She said buying their own sewing machines would be a challenge for most.
Ethel Sandy, Sierra Leone Conference women's coordinator, said skills training can help liberate women from domestic violence and hostile relationships.
The centers were set up to educate and empower disadvantaged young women in Sierra Leone affected by the civil conflict in the country between 1991 and 2002. Women who were abused through rape or forced labor or who dropped out of school because of the war were given skills training in tailoring, hairdressing, catering and other areas to help them become self-reliant.
Several years on, many women in Sierra Leone still drop out of school because of cultural practices that favor male children getting an education over girls. Domestic abuse and teenage pregnancy are other contributors. The country's education laws forbid pregnant girls from continuing in the formal school sector. The United Methodist Church is providing empowerment for these women through its training centers.
Fatmata Tuah is one of the center's success stories. A renowned businesswoman in Bo District, she studied gara tie dyeing, a coloration process of Sierra Leonean fabrics. She now owns her own property and has been able to provide an education for her children.
Tuah was invited to the July graduation to serve as a role model for the new graduates. United Methodist Women's Sandy spoke during the ceremony and encouraged the women to share what they have learned with others.
"With your knowledge and equipment, your future is now in your hands. Our Krio adage says, 'You've been given the flour. It's up to you to make the best cake in the world. Your children will eat. Your spouses will also benefit if you knead it properly,'" she said.
"After creation, God again empowered woman to be the mother of Christ the Savior. God has therefore positioned you to save other women by the knowledge you have acquired. Nobody is (too) old to learn."
Jusu is director of communications for The United Methodist Church in Sierra Leone.
News media contact: Vicki Brown at (615) 742-5470 or [email protected]. To read more United Methodist news, subscribe to the free Daily or Weekly Digests.
---
Like what you're reading? Support the ministry of UM News! Your support ensures the latest denominational news, dynamic stories and informative articles will continue to connect our global community. Make a tax-deductible donation at ResourceUMC.org/GiveUMCom.