In 2007, when the Rev. John Mark Branning decided he was young enough, at 33, to answer a call for military chaplains, he had the support of his United Methodist congregation in Mississippi behind him.
Three years later, when his Army National Guard Unit was deployed to Iraq for a year, that support was extended to Capt. Branning and his family in an extraordinary way by members of Crystal Springs United Methodist Church.
"It was the obvious thing to do, to support our pastor," said Paul Davis, chairman of the church's pastor-parish relations committee. "Frankly, it's just the right thing to do."
On Sept. 20, the Crystal Springscongregation was one of 15 U.S. employers recognized with the 2012 Secretary of Defense Employer Support Freedom Award, the nation's highest honor for employer support of Guard and Reserve. The award has been presented annually since 1996 by the Employer Support of the Guard and Reserve, a Department of Defense agency.
The honorees —​ selected from more than 3,200 nominations submitted by guardsmen, reservists, or family members acting on their behalf — met privately with General Martin E. Dempsey, Chairman of the Joint Chiefs of Staff, before the reception and dinner at the Ronald Reagan Building and International Trade Center in Washington.
Fourteen members of the congregation, including Branning and Davis and their wives, attended the black-tie dinner. Crystal Springs was the second church and first employer in Mississippi to receive the Freedom award.
The Rev. Tom Carter, director of endorsement for the United Methodist Board of Higher Education and Ministry, considers the congregation to be a denominational model for chaplain support.
"I was extremely pleased to hear that Crystal Springs United Methodist Church has been recognized by the Secretary of Defense for their support of Chaplain John M. Branning during his deployment," he said. "It is my prayer that other United Methodist churches will follow the example of Crystal Springs UMC."
For Branning, now 38, the award is fitting recognition for both his congregation and the United Methodist Mississippi Annual (regional) Conference. "Our conference as a whole really went out and beyond to try to take care of our church and me as a chaplain in the army and an elder in this conference," he said.
Responding to shortage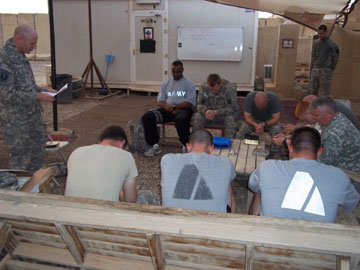 Branning had been assigned to the church in Crystal Springs, a town of about 6,000 some 25 miles south of downtown Jackson, Miss., for four years when he enlisted. "There was a great shortage of military chaplains, especially among the reserve," he explained. "They (the congregation) agreed it would be a great ministry and outreach for our church."
But because clergy are not covered by the Uniform Service Act, which protects the jobs of individuals deployed for active duty, he asked the congregation to consider whether a new pastor should be appointed to Crystal Springs.
His congregation not only declined to do so, but also allowed his wife, Traci, who was expecting their third child, to remain in the parsonage during his deployment from November 2010 to November 2011.
"It went without saying that we were going to support his family. That was beyond question," Davis said. "We love his family very dearly."
The congregation considered Branning's military assignment to be an extension of his ministry. "He is spreading the gospel in a very real sense when he goes abroad," he explained. "This is another form of a mission project, I guess, in our view and a very important one."
Crystal Springs, which has an average Sunday worship attendance of 225, received support from the district superintendent at that time, the Rev. Johnny Crosby. He preached every Sunday for five or six months, Davis said, before the bishop worried about the strain and found a retired minister to fill in for the remainder of Branning's deployment.
While he served as a battalion chaplain in Iraq, conducting worship services, providing counseling and providing insight to his commander on the nature of Islam and other religious aspects of the area, church members watched over his two sons, B.J., now 10, and Aidan, now 5, providing child care when their mother was at work.
The congregation also paid for parsonage expenses and school fees. When it was time for Traci Branning to give birth to their son, Jasper, on March 1, 2011, church members accompanied her to the hospital and set up a Skype connection so the pastor could be present for the delivery electronically.
"That's the beauty of our church," Branning said about the denomination. "The love was not only extended to members, but to me as pastor as well. They just wrapped their arms around us. You can't ask for more than that."
'Extraordinary commitment'
Beth Sherman, a public affairs staff person for the Office of the Secretary of Defense-Reserve Affairs, said Crystal Springs demonstrated "an extraordinary commitment" to Branning.
She told United Methodist News Service that the congregation paid the difference between his regular salary and military income while he was deployed, covered parsonage utilities, child care and tuition costs and provided $7,500 worth of morale kits to soldiers in his unit in Iraq.
"Their willingness to provide an exceptionally high level of uncompromising support for their Citizen Warrior employee and his family demonstrates aculture and spirit that stands out nationally as the ideal model for their fellow employers to emulate," she said. "They are truly Patriotic Employers in every sense of the word."
Life is back to normal for Branning, who continues to devote two weeks a year as a reserve chaplain, but he approaches his daily duties in a slightly different way.
"I came back and I started slowing down and looking and appreciating," he explained. "The possibility of life leaving so fast in a combat zone makes you appreciate life itself."
"I'm proud to be a United Methodist," Branning said. "I'm proud because of our connectional system and the way we work and the love that our people show."
*Bloom is a United Methodist News Service multimedia reporter based in New York. Follow her at http://twitter.com/umcscribe.
News media contact: Linda Bloom, New York, (646) 369-3759 or [email protected].
---
Like what you're reading? Support the ministry of UM News! Your support ensures the latest denominational news, dynamic stories and informative articles will continue to connect our global community. Make a tax-deductible donation at ResourceUMC.org/GiveUMCom.