For Brandon Burlsworth, the subject of the new film "Greater" that hits theaters Friday (Aug. 26), there was always a place greater than the one in which he found himself.
Greater than the living room where he dealt with his alcoholic father who was usually gone during his childhood. Greater than the football practice field where teammates made fun of his huge size and limited abilities. Greater than the social outings where classmates ridiculed the facts that he never cursed, drank or smoked.
"Greater" is now available on DVD and Blu-ray.
But with a strong Christian faith instilled by his church and his mother, Brandon developed the determination, the right size and eventually the football skills to rise above these situations and succeed.
Against all odds, he worked diligently in his schoolwork, in his prayer life, and especially on the football field. After graduating from high school, he enrolled and walked on to his favorite college football team - the Arkansas Razorbacks. Though he was overweight and out-of-shape, he did the work and never complained.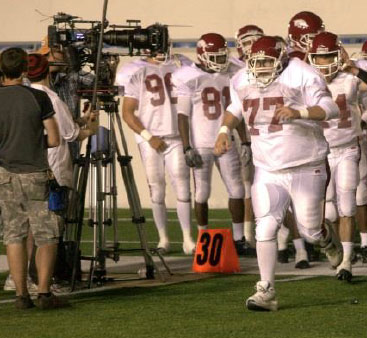 His college coach, Houston Nutt, even coined the inspirational phrase "Do it the Burls Way" to encourage future players to never give up, always give their best and overcome the obstacles life placed before them.
Eventually, Brandon rose above his shortcomings and earned a scholarship. He became a starting offensive lineman his junior year and was named an All-American after his senior season. He was then drafted by the Indianapolis Colts and prepared for a career in the NFL.
Marty Burlsworth was sixteen years older than his football-playing brother. He often called Brandon at school to ask how things were going. Marty knew what questions to ask in order to get real answers from his brother.
Marty asked about his school work, the Bible studies he convinced other teammates to attend, and all his efforts to lose weight and build muscle. Through all his hard work, "Brandon never complained," said Marty recently. "We were always looking forward to the next season and the next place that would be greater than the one Brandon was in at the time. We were on the highest of highs."
"Then," Marty said, "it was all over."
Days before Brandon was to sign his NFL contract and secure his family's financial future, he was tragically killed in an automobile accident.
"The whole state of Arkansas was in shock," said Marty. "We couldn't believe that this could happen to Brandon, after all his hard work to better himself and the people around him."
Marty faced his own challenges then, questioning his faith and wondering how this could happen to someone who seemed to do everything right. After about a year, Marty finally came to grips with his brother's death.
To others who face similar tragedies in their lives, Marty has some advice.
"I'm not saying being angry is okay, just that you should take the time to sort it out. It's a struggle and it's hard, but that doesn't mean you're a weak Christian. It's just part of life. It's really hard losing someone with so much promise. You never get over it," he said, "you just get better."
Marty has put Brandon's examples of hard work and helping others into action through the Brandon Burlsworth Foundation. The Christian organization's mission is to support the physical and spiritual needs of children, in particular those children who have limited opportunities. The foundation's logo prominently features Brandon's signature black-framed glasses.
The Foundation helps underprivileged youth attend Arkansas Razorbacks and Indianapolis Colts football games, provides eye care (in partnership with Walmart) to thousands of Pre-K through high school students from working families who cannot afford it, produces annual football camps, and gives scholarships and awards to students who best exhibit the traits of Brandon Burlsworth.
The film itself is an uneven, inspirational film that has a few good moments despite its wordy, sermonizing script and low budget production features. It's no "Rudy," the sentimental film about Notre Dame football's best known walk-on, but "Greater" does deliver a faith-filled message.
This message is summarized in the final scene - a look at Brandon Burlsworth's burial headstone. The epitath reads: "Our loss is great, but God is greater."
*Christopher Fenoglio is managing editor for UMC.org at United Methodist Communications.
He may be reached at [email protected], 615-312-3734.
---
Like what you're reading? Support the ministry of UM News! Your support ensures the latest denominational news, dynamic stories and informative articles will continue to connect our global community. Make a tax-deductible donation at ResourceUMC.org/GiveUMCom.