A group of women listens attentively as the workshop facilitator talks. A gasp, a murmur and, at times, applause can be heard. For the past five days, the group has been learning together, enjoying the opportunity to discuss issues previously considered taboo.
This is the Seke South Circuit of the United Methodist Church, about 30 kilometers south of Harare, the Zimbabwean capital. The 10 women in the church sanctuary have been attending training on home-based care for patients with various terminal illnesses. One of these diseases is HIV/AIDS.
In this country, publicly discussing sexual matters was previously unheard of. But, The United Methodist Church has taken a leading role in creating awareness about HIV/AIDS, supporting affected families and providing palliative care for the terminally ill.
Workshops like these and other church-initiated care programs remain the untold story of the African AIDS epidemic. While religious leaders have often been cast as the enemies of a system attempting to encourage condom use and medical interventions, two authors of a new book argue that religion and local religious leaders deserve significant credit for behavior changes in the fight against AIDS in Africa.
As stories of great suffering and lack of knowledge saturate media coverage, few consider how Africa might serve as a case study in loving-kindness.
Exploring role of religious communities
Professors Jenny Trinitapoli and Alexander Weinreb hope to alter this dominant narrative through their research about the intersection of religion and AIDS in sub-Saharan Africa. In "Religion and AIDS in Africa", they explore the role religious communities have come to play in both the prevention and treatment of HIV/AIDS.
For Trinitapoli, assistant professor of sociology, religious studies and demography at Penn State University in the United States, correcting myths is sometimes as simple as explaining infection rates.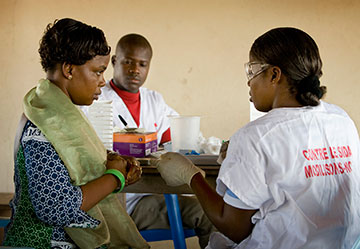 Cecile Ahimin Aya (left) has an HIV test during a public health screening at the Jerusalem Parish United Methodist Church in Yamoussoukro, Côte d'Ivoire, in November 2008.
"Some of my students begin a semester thinking over half of the African population has AIDS. I have to explain that where the epidemic is most severe, HIV prevalence is between 15 and 20 percent," she said.
The confusion does not end there. Perhaps the most important misconception is the idea that AIDS is prevalent in Africa because of ignorance.
As the book explains, public-health experts themselves are fond of claiming that lack of education leads to the spread of the disease across the continent. Trinitapoli and Weinreb show that conversations about relief now must shift to reflect their conclusion that, after two decades of exposure to public-health campaigns, virtually everyone in sub-Saharan Africa is aware of AIDS, especially in countries with high rates of infection. The true ignorance is in the way outsiders understand the process of prevention.
The longstanding slogan for basic HIV prevention is the ABCs: Abstain, Be faithful, use Condoms. Government leaders and religious communities alike encourage people to protect themselves by saving sex for monogamous relationships and using condoms when a partner is infected or thought to be unfaithful.
But, much of the focus in "Religion and AIDS in Africa" is on local prevention strategies, especially those led by religious groups. Increased attention to the function that abstinence, divorce and the avoidance of alcohol have in preventing HIV transmission has enhanced the role religiously grounded moral teachings play in protecting communities.
Impact of the change in faith affiliation
Over the course of the 20th century, the percentage of Africans who are Christians increased from about 10 percent to almost 50 percent, and the percentage of Africans who are Muslims increased from about 32 percent to 42 percent. This growth has made the HIV/AIDS relief increasingly reliant on the work of religious communities.
Weinreb, associate professor of sociology at the University of Texas at Austin in the United States, explains that it is localized efforts of religious leaders and congregations that most often are not recognized.
"Western aid organizations need to be aware of their own secular biases and consider how these can clash with local realities and belief systems. ...Working through already mobilized members of religious communities is almost certainly preferable to imposing strategies that strike people as foreign," he said.
Individual and community religiosity has been shown to protect people from contracting HIV and, in the case of already infected individuals, provide support and manage social safety nets.
Examples of efforts in Zimbabwe
Relief efforts with a religious grounding can be found in such places as Harare, Zimbabwe, where local volunteers provide counseling, support and palliative care for HIV/AIDS patients. Volunteers mobilized through such programs as the Seke South Circuit workshop consider caring for others a vital part of their life of faith.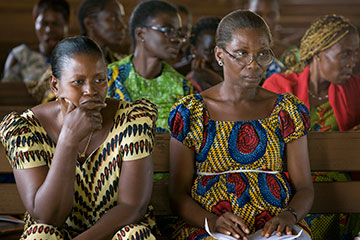 Women listen to a public health education lesson on AIDS at Jerusalem Parish United Methodist Church in Yamoussoukro, Côte d'Ivoire, in November 2008.
Mavis Chimbunde, head of women's work for The United Methodist Church's Chitungwize-Marondera District, says the church has adopted a multipronged attack in the fight against HIV/AIDS.
"We have been using the pulpit to create awareness about the disease, knowing that once the congregation is well-informed, they are better equipped to deal with the disease, whether they are infected or affected," she said.
She also said that encouraging members to live a Christian life helps discourage them from having multiple sex partners.
The church introduced courses for home-based caregivers in response to the number of people who were already providing quality care for loved ones.
"The sick are more comfortable in the care of people they know rather than strangers," Chimbunde said. "We decided it was essential for the congregants to know how to care for the sick...We serve a low-income earning population and engaging the services of a nurse for home care is beyond their reach, hence the need to equip them with knowledge and skills on how to care for those afflicted by HIV/AIDS."
One female church member, who declined to give her name, said she felt safe to disclose her condition at Seke South Circuit. Her decision resulted in other church members going for voluntary counseling and testing, she said. Some who tested positive asked her for advice and support.
"I am able to live positively knowing that my church embraces me as I am," the woman said.
Health and welfare committees in the church have taken center stage in educating people about the need to know their HIV status and how to make lifestyle changes once status is known. This education has included teachings on anti-retroviral treatment, nutrition and behavior change.
The United Methodist Church runs three mission hospitals and 12 rural health facilities, which offer a variety of services related to HIV/AIDS. These include voluntary testing and counseling, prevention of mother-to-child-transmission, CD4 count and anti-retroviral therapy. The church has trained volunteer caregivers who offer palliative care, education, and support for orphans and vulnerable children within their respective communities.
"In sub-Saharan Africa, there is no social security or strong welfare states. When a person is too sick to fetch water or work the fields, there is no food," Trinitapoli said. "Devout, church-going people, primarily women, have come to spend a lot of their time looking after their fellow Christians or Muslims, checking on sick friends, bringing water, bringing sugar, bringing cheer.
"This system of support for non-kin is something unique to religion."
*Dallas is a religion journalist studying at Yale Divinity School. Chikwanah is a communicator for The United Methodist Church's East Zimbabwe Annual Conference.
News media contact: Tim Tanton, Nashville, Tenn. (615) 742-5470 or [email protected].
---
Like what you're reading? Support the ministry of UM News! Your support ensures the latest denominational news, dynamic stories and informative articles will continue to connect our global community. Make a tax-deductible donation at ResourceUMC.org/GiveUMCom.