Editor's Note: A delegation of United Methodist bishops and mission staff visited China in April to strengthen existing ties with the Protestant church there. This second part of a UMNS series - The Church in China - focuses on the decades-long faith of one pastor.
During China's Cultural Revolution, when the practice of religion was forbidden, the Rev. Bao Jiayuan found hope and comfort in the Bible verses that he and his four siblings had memorized as children for evening prayers.
"I know the word of God is powerful," he says today. "If you remember in your heart, the words will come when needed."
Bao, now 69, was just 5 years old when the People's Republic of China was founded in 1949. His faith journey has been intertwined with that of other Protestant believers who adapted to their new reality by creating a self-sustaining religious community under a new government.
For 27 years, he has worked tirelessly for the China Christian Council. In many ways - especially through his leadership in overseas relations and in organizing the traveling Chinese Bible exhibition - Bao has become the council's good-natured ambassador to Christians and interfaith representatives worldwide.
His Christian heritage dates back to his great-grandfather, who was introduced to the religion in the mid-19th century during the Taiping rebellion. "After the failed revolution, he became a preacher," Bao said.
His grandfather, a Presbyterian, was both an elder in the church and a successful doctor. His father, Bao Guping, studied painting in Shanghai, then entered seminary after graduating from art school. A pastor in a local evangelical church, he also became a well-known artist.
When the People's Republic of China was founded in 1949, freedom of religious belief was part of the new constitution. But, western missionaries, including Methodist missionaries, faced restrictions and nearly all left or were expelled within four years.
In 1954, the Three-Self Patriotic Movement, with the goals of self-support, self-government and self-propagation of the gospel, became a bridge between Protestants and the Chinese government. As congregations merged near the end of the decade, a "post-denominational" era was beginning.
At the same time, Christianity was not attracting as many followers. "After liberation, the church was declining in China because of the education of atheism," Bao explained.
The Rev. Bao Jiayuan (right foreground) is flanked by United Methodist Bishop Warner Brown (left foreground) and Thomas Kemper of the denomination's Board of Global Ministries during worship at Chongwenmen Church in Beijing, China.
View in Photo Gallery
Refusing to deny Christ
His own faith grew stronger. When famous preachers came to his city, he hurried to their revivals after school, listening with "a fire in my heart." While a teenager, he devoured his father's library of theological books and learned to play church music on the piano from "a devout Christian lady." He still remembers passersby watching him play the piano through the window of the church, marveling that the music was coming from such a young person.
Bao was invited several times to become a Communist youth leader, but he refused, knowing he would have to deny Jesus. "I openly said I was from a Christian family," Bao remembers.
By the end of the 1950s, restrictions were tightening on Christians. Seminaries were closed after 1958, but the seminary in Nanjing was reopened in 1962, just as Bao was graduating from high school. "To me, that was a sign that God would ask me to go to seminary," he said.
He studied there for four years, until China's Cultural Revolution began in 1966. "The Red Guards entered the seminary and threw everybody out," he recalled, adding that the Red Guards made the seminary their headquarters. "They burned the library. Ninety percent of the books were burned."
Because Bao's father was a senior pastor, "we became a target of the revolution." The Red Guards came to their home seven times to take the theological books that had helped inform Bao's faith from his father's library. Eventually, his family was evicted from their home and forced to live in two small rooms elsewhere.
That was only the beginning. "All the church workers were sent to different places, some to the farm, some to the factory," he explained. "I was sent to the countryside to settle down with other youth."
In the north part of the province - an area that now has many Christians - Bao and others learned to grow cotton. "It's a hard life, of course, but not too hard to me because I was young," he recalls. "Your faith became private in your heart. The only book I had was the English Bible because the Red Guards didn't take it. They didn't know English."
Seven years after being sent to the farm, Bao returned home, where he was assigned by the government to work in a factory making sponge cakes. He had taught himself English while in seminary, so when the state-run travel agency needed tour guides, he applied, and was granted a job in 1979.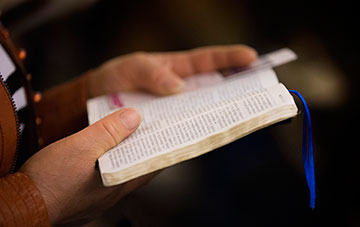 A parishioner reads her Bible at Chongwenmen Church in Beijing, China. Chinese Bible production, which was halted during the Cultural Revolution, began again in the 1980s with a prototype taken from old Bibles that had not been confiscated by the Red Guards.
A life of ministry
As churches began to reopen in the 1980s, he felt the pull to a life of ministry. After churches began to reopen in the 1980s, Bishop K.H. Ting, chairman of the Three-Self Patriotic Movement and president of the China Christian Council, invited him to join the council. He began work in the council's Nanjing office in 1986.
Over the years, Bao has been involved in just about every aspect of the official Protestant Church in China, from Bible production and distribution to training for clergy and laity to rural and minority church ministry. He ran the Nanjing office until it closed in 2004 and he transferred to the Shanghai office.
In some cases, the work has meant starting from scratch. Chinese Bible production began again in the 1980s with a prototype taken from old Bibles found in Beijing that had not been confiscated by the Red Guards. The prototype was written by hand and put together in the Nanjing office, Bao said, and the first run of the New Testament and Psalms were produced on a government printing press.
The opening of the Christian-related Amity Printing Press in 1987 for the production of Chinese Bibles was an exciting time for Chinese Protestants. "The demand was so large," he explained. "Churches started to reopen in many places. Every two days, three churches reopened in the 1980s."
Remembering how Bible verses sustained him during the Cultural Revolution, Bao also created a Scripture calendar for the China Christian Council. The concept - two verses a day, one for reading and one to memorize - was very successful, he said.
He was an instrumental part of the China Bible Exhibition that toured the United States in 2006 and 2011.
These days, Bao makes the weekly commute to Shanghai from his home in Nanjing, which he shares with his wife, Panyong Min, who is retired from the seminary there. Their daughter, who goes by her western name, Bonnie, works for the rural project at the Amity Foundation and also volunteers for English services at St. Paul's Church in Nanjing. He finds joy in his free time with her 20-month-old son.
But, he doesn't seem to have any immediate retirement plans. Instead, Bao, in charge of the council's training department, is focused on expanding the educational capabilities of Protestant seminaries and improving training opportunities for pastors and laity.
The church faces a continuing challenge because, for now, the capacity to educate new pastors is limited. "It will still take a long time, I think, to meet the needs," he says.
*Bloom, a United Methodist News Service multimedia reporter based in New York, and Mike DuBose, UMNS photographer, accompanied a United Methodist delegation to China in April. Follow Bloom at http://twitter.com/umcscribe.
News media contact: Linda Bloom, New York, (646) 369-3759 or [email protected].
---
Like what you're reading? Support the ministry of UM News! Your support ensures the latest denominational news, dynamic stories and informative articles will continue to connect our global community. Make a tax-deductible donation at ResourceUMC.org/GiveUMCom.