Whether you're part of a congregation of 50 or 5,000, you can reach out to children and families as a new academic year begins.
In Pensacola, Fla., for example, Warrington United Methodist Church is in ministry with Warrington Elementary School, less than a mile away. The congregation focuses on saying "Great job!" to the teachers and staff who strive to make a difference in the young lives they encounter daily.
"We have attempted to make the entire staff of the school feel the support and gratitude we have," said the Rev. Robert J. Bailey, "hoping that what we do for them helps them do a better job teaching our children.We want to make a significant impact on our community for Jesus Christ."
Here are a dozen ideas from United Methodist churches across the connection.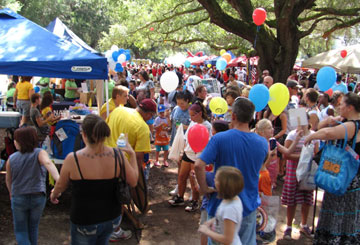 Adopt a school. Four congregations in the North Carolina Annual (regional) Conference do this. They include City Road, Henderson; Englewood and St. Paul, Rocky Mount; and Tabernacle, Townsville. Their ministries range from praying for students and faculty and tutoring to providing after-school programs, art classes, Christmas gifts for children, prizes for good grades, school supplies and teacher-appreciation events.
Assemble School Kits for the United Methodist Committee on Relief. Imagine the joy on a child's face when he or she receives a colorful cloth bag containing new crayons, an eraser, paper, pencils, pencil sharpener, ruler and scissors. These are easy and inexpensive to assemble.
Celebrate Christmas in July. Hay Street United Methodist Church, Fayetteville, N.C., takes Christmas in July seriously. In 2013, they decorated a Christmas tree for the "Clothes for Kids" campaign and outfitted all 300 children at a neighborhood elementary school with uniforms. 
Collect school supplies. Congregations in the Northern Illinois Conference participate in ChildServ's annual backpack-to-school drive, which benefits 600 at-risk children. ChildServ is a United Methodist ministry. And in Stephenville, Texas, women from First and Oakdale United Methodist churches and First Presbyterian Church start gathering school supplies even before the current academic year ends. First United Methodist Church has been at it for 25 years.
Encourage bookworms. Along with hosting a "Summer Café" during vacation and distributing backpacks to students, Cherry Point United Methodist Church, Havelock, N.C., tries to instill a love for reading. "Books are donated from the community," said Kim Smith, who heads the mission and ministry team, "and because we have adults who bring students and who come to eat themselves, we have expandedthe lending library to include books for adult readers. They come in, eat, visit and pick out books to read."
Fill the gap for children who may be hungry on weekends. The United Methodist Women at Ann Street United Methodist Church, Beaufort, N.C., purchases $100 worth of food for the Backpack Ministry of Loaves and Fishes every month during the school year, supporting more than 30 children. In Mitchell, S.D., Weekend Snackpack, recently relocated to Dakota Wesleyan University, provides food for 310 children. Each receives a bag containing a fruit, a grain, an entre and two other food items. And South Ensley United Methodist Church, Sand Lake, Mich., started a program called "Mac Baskets," named for the Macnoughton Elementary School. "We agreed to start a ministry where the kids who were identified by the school staff would get lunches placed in their backpacks," said the Rev. Darryl L. Miller. "This is done when no other kids are around so no one else knows. Many area churches devote their time as well as food items and funds to the project."
Get involved in a community clergy consortium to reach out to schools. The Milwaukee United Methodist Charge in Conway, N.C., participates in the Northampton County Minister's Council, which pairs every school with a clergyperson to provide pastoral care for students and faculty.
Offer opportunities for children to catch up and keep up with their studies over the summer. In Aulander, N.C., All God's Children United Methodist Church, a multiracial congregation in one of the poorer economic areas in the North Carolina Conference, has a six-week program for children to counter summer learning loss.
Provide after-school programs. First United Methodist Church, Jackson, Tenn., coordinates a tutoring/mentoring ministry called WINGS. Teaming up with Arlington Elementary School, WINGS works with second- through fourth-graders. "More than just tutoring programming, said Ann Woodall, "WINGS is an opportunity to be a Christian and spiritual mentor while encouraging academic success.
"Reach out to schoolteachers. Match faculty with prayer partners from the congregation; provide snacks in the teachers' lounge; remember staff with small gifts, birthday cards and thank-you notes throughout the year; serve breakfast to teachers and volunteer in the classroom. The Rev. Connie Marie Stutts of Beech Grove United Methodist Church, New Bern, N.C., said, "One of the teachers told me that whenever she is having a bad day, she just picks up one of her cards and remembers that she is loved and appreciated and being prayed for."
Say "Way to go!" Ross United Methodist Church, Dyersburg, Tenn., hosted a dinner in honor of the Dyersburg High School women's track team.
Teach virtue. In 2010, Stephanie Behymer, director of children's ministries at Heartsong United Methodist Church, Cordova, Tenn., contacted Macon-Hall Elementary School to see how the congregation could assist. The result was SchoolXP, a monthly assembly that focuses on moral values. "Our biggest blessing has been getting to know the kids and families," she said. "Virtue Quest represents fun. ... The students recognize our team instantly, write us letters, and the teachers are so appreciative of the time and effort we put into their students."
*Dunlap-Berg is internal content editor, United Methodist Communications, Nashville, Tenn.
This story was originally published on August 1, 2013. 
News media contact: Barbara Dunlap-Berg, Nashville, Tenn., (615) 742-5470 or [email protected].
---
Like what you're reading? Support the ministry of UM News! Your support ensures the latest denominational news, dynamic stories and informative articles will continue to connect our global community. Make a tax-deductible donation at ResourceUMC.org/GiveUMCom.