United Methodist leaders in Tennessee and across the nation are standing together to fight against a growing health issue among children.
Obesity, now diagnosed in 17 percent of children and adolescents, is an increasing problem, and faith leaders are saying it's time to do something about it.
Vincent DeMarco, the national coordinator of Faith United to End Childhood Obesity, is working with leaders of the United Methodist Board of Church and Society, United Methodist Men and others to fight against this crisis.
"Childhood obesity is a growing threat to our children's health," DeMarco said, noting that obesity contributes to diabetes and other health problems. "We need to deal with the problem, and it's a problem that can be dealt with. There are things we can do to make something happen, and the faith community is in one of the best positions of anybody to make something happen."
DeMarco has helped coordinate efforts in Wisconsin, Ohio, Colorado and, now, Tennessee.
"What faith leaders have shown in the areas where we've had these events is that they're motivated, and they want to work on it," he said.
On Tuesday, Oct. 23, the United Methodist Association of Preschools in Tennessee, the Board of Church and Society and United Methodist Men were host to a news conference at West End United Methodist Church in Nashville to announce a partnership with Michelle Obama's Let's Move campaign and other local advocacy groups to work toward ending childhood obesity.
The Tennessee Annual (regional) Conference of The United Methodist Church is encouraging churches and preschools to commit to the cause by signing a "covenant for a healthy faith community" which indicates their agreement to implement programs and policies that will create a healthier start for children.
Gil Hanke, top staff executive of United Methodist Men, said his agency "has a long history of advocacy in health issues, starting with tobacco and now with obesity."
Ready to do more?
The Let's Move Faith and Communities toolkit is full of resources and guidance on how faith-based and neighborhood organizations can initiate, expand and coordinate activities that make their communities places of wellness for kids and families. Download the toolkit.
Gayle Callis, president of the United Methodist Association of Preschools, said the partnership was created to address lifestyle trends leading to the "ridiculously alarming" statistics about childhood obesity in Tennessee.
"It's a commitment to making people more aware of the causes of childhood obesity and what we can do as a faith-based community to help change those causes," Callis explained. "We're focusing this particular initiative on early childhood and the things we can do to help prevent childhood obesity in that age group."
Callis said the partnership will begin in weekday childhood ministry programs to educate caretakers and parents and then will extend "into the congregations, the Sunday School classrooms, the whole faith community."
DeMarco said the purpose of the partnership is to unite faith leaders in joining the first lady's campaign.
"What we're doing is putting together these events around the country &ellipsis; to encourage faith leaders to work with the First Lady's Let's Move team to deal with childhood obesity," he said.
Shift in thinking
According to DeMarco, the partnership with The United Methodist Church began in May when about 20 national faith leaders, including Jim Winkler and Cynthia Abrams of the Board of Church and Society, "met with top leaders in the first lady's Let's Move team &ellipsis; to talk about how faith leaders can help move this issue."
DeMarco said the response from groups in Tennessee was "overwhelming."
"There is a lot of interest in this, and we think the Tennessee one is going to be one of the best events because of The United Methodist Church taking such a leading role in it," he said, "and really talking about specific things that are going to be done in the child-care area in helping children reduce obesity."
DeMarco and Callis said the United Methodist Association of Preschools plans to do training and research to equip people who work with children to understand causes of childhood obesity and how to change the growing trend toward overweight children.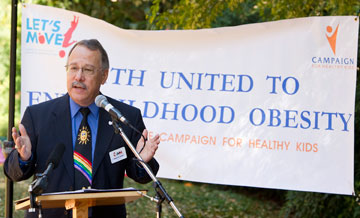 Gil Hanke says United Methodist Men "has a long history of advocacy in health issues, starting with tobacco and now with obesity."
Callis said that change is possible with a little shift in thinking.
"It involves being open to change and learning the research and understanding the whys behind what we do," she said. "I think it's making a commitment to be open to make those changes, and then learning what we need to change and how we need to do that."
DeMarco suggested that churchgoers who want to get involved can start by registering their organization with Let's Move. He then suggested that they join the fight to end obesity by generating support within their congregations.
"It's a serious problem, and the faith community can do a lot to deal with it," he said.
One way the preschool association is dealing with it is by offering sessions for child-care centers that want to learn more about improving food and exercise options for their kids. Callis said developing healthy habits early in life is crucial, and the group is ready to help.
"From birth until 5, children set habits. They're already developing habits that are going to stay with them for the rest of their lives," she said. "Basically what you have to do is educate - educate parents, educate caregivers - about the importance of this."
And, for Callis, taking care of children's health is not just her job as an educator but also her role as a Christian.
"In the Book of Discipline, under Social Principles, we're responsible for the whole child," she said. "I think it's important that we not only spiritually fill our children, but that we take care of the physical part of them as well."
*Snell is a freelance writer in Nashville, Tenn.
News media contact: Joey Butler, Nashville, Tenn., (615) 742-5470 or [email protected].
---
Like what you're reading? United Methodist Communications is celebrating 80 years of ministry! Your support ensures the latest denominational news, dynamic stories and informative articles will continue to connect our global community. Make a tax-deductible donation at ResourceUMC.org/GiveUMCom.