Martha McDonald doesn't just use her voice when teaching her nursing students about pathophysiology. She puts her whole body into the effort - literally throwing herself into a wall to make a point.
The point - in that particular instance - is to illustrate the difference between normal breathing and breathing done for a patient by a ventilator.
"(I do a) floating-through-the-air kind of thing, waving my arms - that I'm just a breath coming in naturally. And then I slam myself into a wall to explain that air coming in from a ventilator is slammed into the lungs," she said.
"I haven't hurt myself," she adds. "I have knocked things off the wall."
It's that enthusiasm and passion that earned McDonald an Exemplary Teacher Award from the United Methodist Board of Higher Education and Ministry's Division of Higher Education.
McDonald is associate professor of nursing at McKendree University in Lebanon, Ill. She is one of 50 faculty members at United Methodist-related colleges and universities nominated and selected by their institutions to receive the 2012 spring award for exemplary teaching, service to students beyond the classroom and commitment to value-centered education.
McDonald's students are nurses who already have an associate's degree in nursing and are pursuing a bachelor's degree at an off-campus site in southern Illinois. The program also offers a master's degree.
McDonald says she tries to relate the topics she teaches - pathophysiology, health assessment and nursing research and statistics - to something her students encounter in everyday life. Acting out pathophysiology does that, she says.
"They can anchor it to something in their own experience. These are practicing nurses, so I have the advantage that the class can often discuss a topic from patients they've had, rather than in an abstract form."
And, because her students are already working in their careers, McDonald says she also tries "to put myself in their shoes" and understand when they aren't able to submit an assignment on time or are having trouble finding information.
"They're adult learners," she said. "Life often interrupts or intrudes on their learning, so without just making it too easy &ellipsis; I'm willing to make reasonable accommodations for issues that come up. That's probably my strength (as a teacher)."
Team effort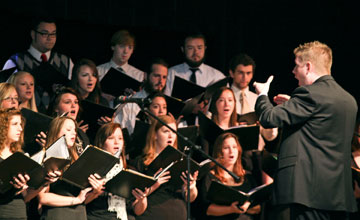 Nathan Windt directs the Concert Choir at Tennessee Wesleyan College in Athens, Tenn. A UMNS photo courtesy of Tennessee Wesleyan College.
Nathan Windt, director of choral activities and assistant professor of music at Tennessee Wesleyan College in Athens, Tenn., was nominated for the award by Suzanne Hine, Tennessee Wesleyan's vice president of academic affairs.
Hine said after reading the award criteria, she knew it was "just Nathan in a nutshell. He is just outstanding in every way."
Windt directs two ensembles and teaches two music classes, including music appreciation. He also coordinates a voice studio.
"He doesn't just lecture to his students but draws from them," Hine said. "He doesn't just talk at them but pulls from them, and deeply. His classes are always full. Students know he is no walk in the park &ellipsis; but they flock to him."
Hine says Windt is also introspective about his teaching and has been to her office a number of times to talk with her about how he can improve. "He is striving to be perfect," she said.
He also has encouraged her to sit in on his classes, which she says she has done. "I just get swept away in his class," she said. "I learn a lot, too."
Windt says he tries to motivate students by providing a variety of tastes and skills. For music majors, that includes tackling the master works, from Brahms' "Requiem" with an orchestra to a bluegrass mass with a bluegrass band to Hebrew love songs, classical pieces and spirituals.
For non-majors, he says, it's a little trickier. "We get a lot of students who've never sung in a choir before - ever," he said. "They really may not get to sing again when they leave college."
He says he also has students taking his music appreciation class as a fine arts elective and "some of them, frankly, have no interest in music, so I just try to bring in relevant examples."
That's particularly true with classical music, he says.
"They feel there's some kind of wall between their understanding it," he said. "Part of it is the composers are 300 to 400 years old, and they (students) just can't relate to that."
For the most part, he says, it's also not music they listen to on a daily basis. "We kind of try and demystify the musical experience and maybe make connections between Beethoven and Lady Gaga, which seems really outrageous, but it's really not," he said. "There really are close enough similarities that, most of the time, people come out of the class thinking, 'Well, I hadn't thought of that perspective before.'"
Collaboration is key, he says. "(As a conductor) I can wave my arms around in a very artful way and look inspired, but I &ellipsis; can't make the sound of 45 voices," he said. "I have to get them to buy into what I hear in the piece, and so when we go for this collaborative effort, then we all share in this and they appreciate that and I appreciate that, too, because without them, I can't do any of this."
That collaboration also occurs between Windt and the other professors in the department, Windt says, which is why the music program is successful.
"The award that I got &ellipsis; we all share it in, my colleagues in the music department," he said. "I'm fortunate to receive the award, but it doesn't happen without their help. It's really kind of a team effort here. We're going to see all of these students, and we're all going to be a part of that."
Award recipients
In addition to support and appreciation for outstanding teaching, the Division of Higher Education provides a certificate and monetary award to the faculty members nominated and selected by their institutions to receive the award.
Recipients of the 2012 spring awards include:
*Tita Parham is a freelance writer, editor and communications consultant based in Apopka, Fla.
News media contact: Maggie Hillery, Nashville, Tenn. (615) 742-5470 or [email protected].
---
Like what you're reading? Support the ministry of UM News! Your support ensures the latest denominational news, dynamic stories and informative articles will continue to connect our global community. Make a tax-deductible donation at ResourceUMC.org/GiveUMCom.