What began as an effort by United Methodist Women in 2015 to bring Ukrainian and Russian women together to talk peace has evolved into a permanent regional forum called the Women's Peace Dialogue Platform.
Harriett Jane Olson, UMW's top executive, was among the panelists who shared the story and purpose of the dialogue March 16 as part of the 61st Session of the U.N. Commission on the Status of Women.
United Methodists, particularly those in Europe, were searching for a peaceful response as the Russia-Ukraine conflict heated up, Olson recalled.
"It was natural for United Methodist Women to be a part of this," she told those in the crowded conference room on the lower level of the U.N.'s General Assembly Building. "We have generations of commitment to the work of peace in the world and to the effective engagement of religious groups, faith groups, as part of civil society."
The World Federation of Ukrainian Women's Organizations became an essential dialogue partner "to help us explore what was happening and who the activists were," Olson said.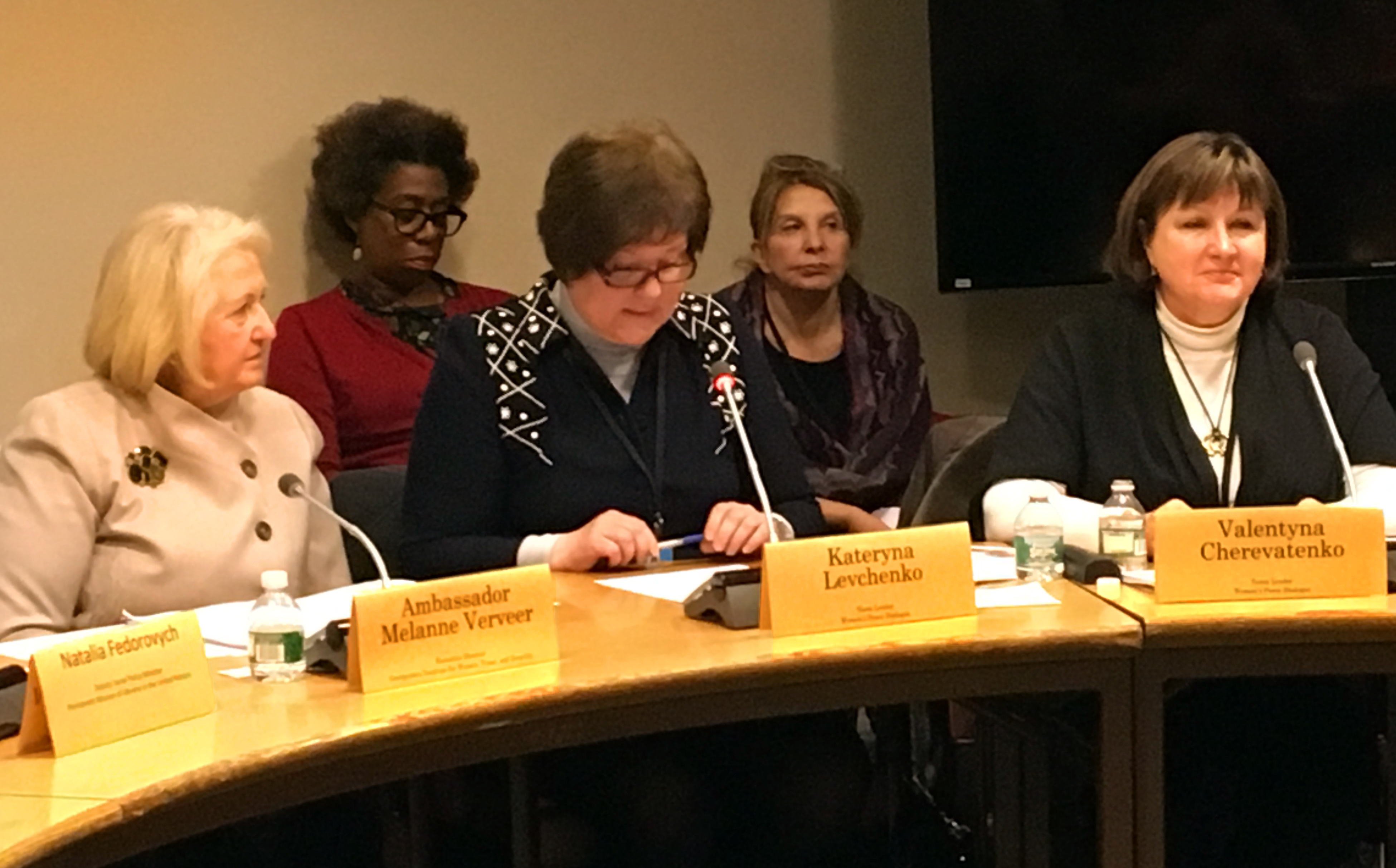 Ten women — five from Ukraine and five from Russia — met in Istanbul in September 2015. "The objective was to create some space for mutual support," Olson noted, "And this happened, in the first round of dialogue."
Half of all peace treaties fail after the first five years and only a small number of women are involved in the process, according to Melanne Verveer, Georgetown Institute for Women, Peace and Security, who served as the panel's moderator.
"Yet the evidence shows that where women's participation in peace processes has been influential, those efforts bring a faster end to hostility and peace is much more likely," she said.
A key element for women's equal participation is U.N. Security Council Resolution 1325, adopted in 2000 to ensure the full participation of women in the prevention, management and resolution of conflict. Implementation of that resolution has been lagging, Verveer pointed out.
"It's not only a resolution, it's a brand," said Ambassador Kai Sauer, permanent representative of Finland to the United Nations. But "it is a regrettable fact," he added, that women remain underrepresented nearly 17 years after the resolution's adoption.  
Ukraine was first nation to prepare an action plan for 1325, said Natalia Fedorovych, Ukraine's deputy social policy minister, and found that success requires the active involvement of regional authorities.
Kateryna Levchenko, the dialogue team leader from Ukraine, knew that to create "a culture of peace across regions," women in Russian peace organizations had to be involved in the talks. She is president of La Strada-Ukraine, a nongovernmental organization that works to prevent human trafficking and supports other human rights issues.
Valentyna Cherevatenko — chair of a human rights organization, "Women of the Don," in the Russian Federation — recognized the importance of joining the dialogue. "I immediately said yes because I couldn't say no."
UMW at Status of women meeting
United Methodist Women is an active participant in the annual gathering of the United Nations Commission on the Status of Women, which meets from March 13-24 this year.
The organization brought in 22 delegates to take part in CSW-61 and sponsored side events this week related to the theme of women's economic empowerment.
UMW owns and operates the Church Center for the United Nations, directly across the street from the U.N., which hosts numerous events and programs for nongovernmental participants during the two weeks of CSW meetings.
She said she was profoundly affected when her peacebuilding group visited Grozny, in the Chechen Republic, in November 1996. They stayed with a family who had been in the city on New Year's Eve in 1994 when the Russian Army started its assault on separatists there.
It was difficult, emotionally, for their hostess to recount the story of that unexpected attack, she explained. A Moscow television station showed New Year's celebrations with "plenty of champagne" at the same moment that this family in Grozny, "children and adults, were crawling on the floor, trying to find shelter to hide from explosions and shelling."
When the shelling was particularly bad, "her little daughter came to her, sat on her lap and whispered, 'Please, Mamma, don't cry. I'm not afraid to die.'" Cherevatenko said she often thinks about how this must happen in every country where there is conflict.
Starting the dialogue was not an easy process but they did learn to listen to each other.
"Together, we decided what we wanted to do and how we wanted to influence the situation in our countries and the relations between our countries," Cherevatenko explained. "We agreed on our common values and the principles we each share."
Levchenko pointed out that the dialogue "also gives an opportunity to call things by their real name and to clearly define the different sides in the conflict for those who might be mediators."
After the first meeting in 2015, the women realized it was essential to expand their circle. The second round of dialogue, in June 2016, included 18 women from 10 countries. "In the current situation in our region, bilateral initiatives are less effective than multilateral ones," Levchenko said.
Participants came from Azerbaijan, Armenia, Belarus, Georgia, Kazakhstan, Lithuania, Moldova, Russia, Tajikistan and Ukraine.
The second dialogue took place in Bund Schlaining, Austria. Philipp Charwath, Austria's deputy permanent representative at the U.N., noted that his country has an action plan for U.N. Resolution 1325 and puts the resolution and its successors "high on the agenda."
Evolving from the second meeting is the Women's Peace Dialogue Platform and the recognition of the need for local work on U.N. Resolution 1325 "so that women could openly form their own bonds of mutual support and undergird the work of peace and reconciliation," Olson said.
A third round of dialogue is being organized for this year to consolidate membership and do initial planning for the platform. Countries represented will be those in a sub-region of the Organization for Security and Co-operation in Europe, which is based in Vienna.
Expected to participate are 25 women "incorporating a variety of perspectives into a collaborative approach toward peace," Olson said.
Those involved in the platform "share the vision that sustainable peace cannot be reached without full participation of all parts of society and that women are important actors in this process," said Tatiana Dwyer as she read a statement from Julia Kharashvili, team leader from the Republic of Georgia. Dwyer, the UMW executive for global justice, has been instrumental in organizing the dialogues.
"The women's peace dialogue is not based on political considerations," Kharashvili's statement said. "Its aim is to find connectors and not dividers."
Bloom is the assistant news editor for United Methodist News Service and is based in New York. Follow her at https://twitter.com/umcscribe or contact her at 615-742-5470 or [email protected]. To read more United Methodist news, subscribe to the free Daily or Weekly Digests. 
---
Like what you're reading? Support the ministry of UM News! Your support ensures the latest denominational news, dynamic stories and informative articles will continue to connect our global community. Make a tax-deductible donation at ResourceUMC.org/GiveUMCom.