Taking a look at Haiti's journey to recovery
On Tuesday, Jan. 12, 2010, at 4:53 p.m., a 7.0-magnitude earthquake shook apart Haiti's heart. The epicenter was 16 miles from the capital of Port-au-Prince, killed more than 200,000 and affected 3 million. 
Five years later, most of the rubble has been cleared but the aftershocks are still being felt. The United Methodist Church joined hands with the Eglise Méthodiste d'Haïti (Methodist Church of Haiti)  in the first terrible days and have worked side by side every day since.
United Methodist Communications photographer Mike DuBose was in Haiti days after the quake, Jan. 22-29, and later in November 2010. He returned in 2013 and 2014.
These photographs are records of how life has changed and how much life still needs to change for the people of Haiti.
Haiti Eye Clinic in Petit-Goâve
A group of 12 missionaries from Highland Park United Methodist Church in Dallas were working in the village of Petit-Goâve when the clinic collapsed on Jan. 12, 2010. Jean Arnwine, one of the volunteers, died from her injuries. The church has been making medical mission trips to Haiti since 1976 and returned to the rebuilt clinic in 2014 for a re-opening celebration.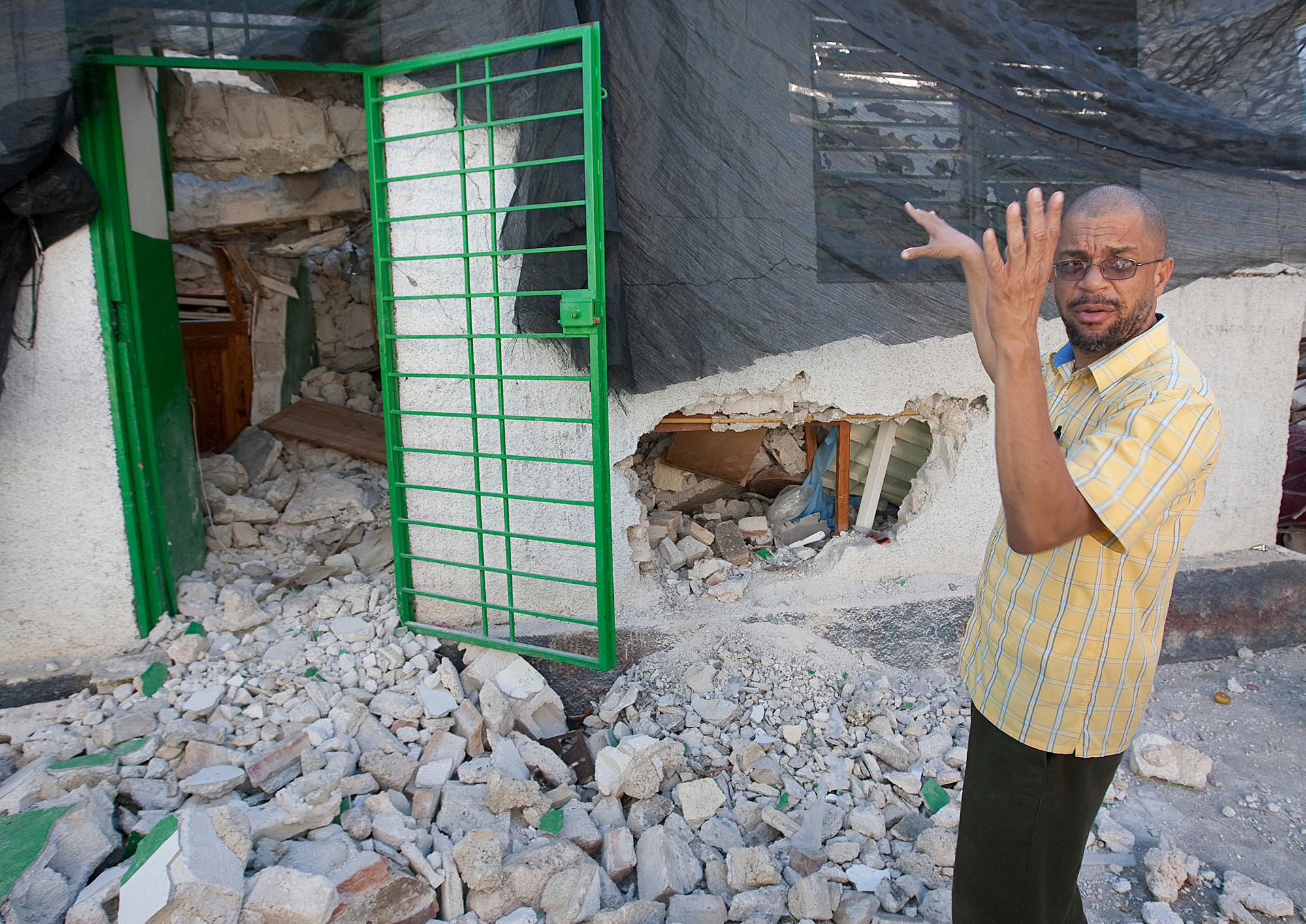 2010: The Rev. Ralph Denizard describes how a massive earthquake destroyed the Haiti Eye Clinic in Petit-Goâve.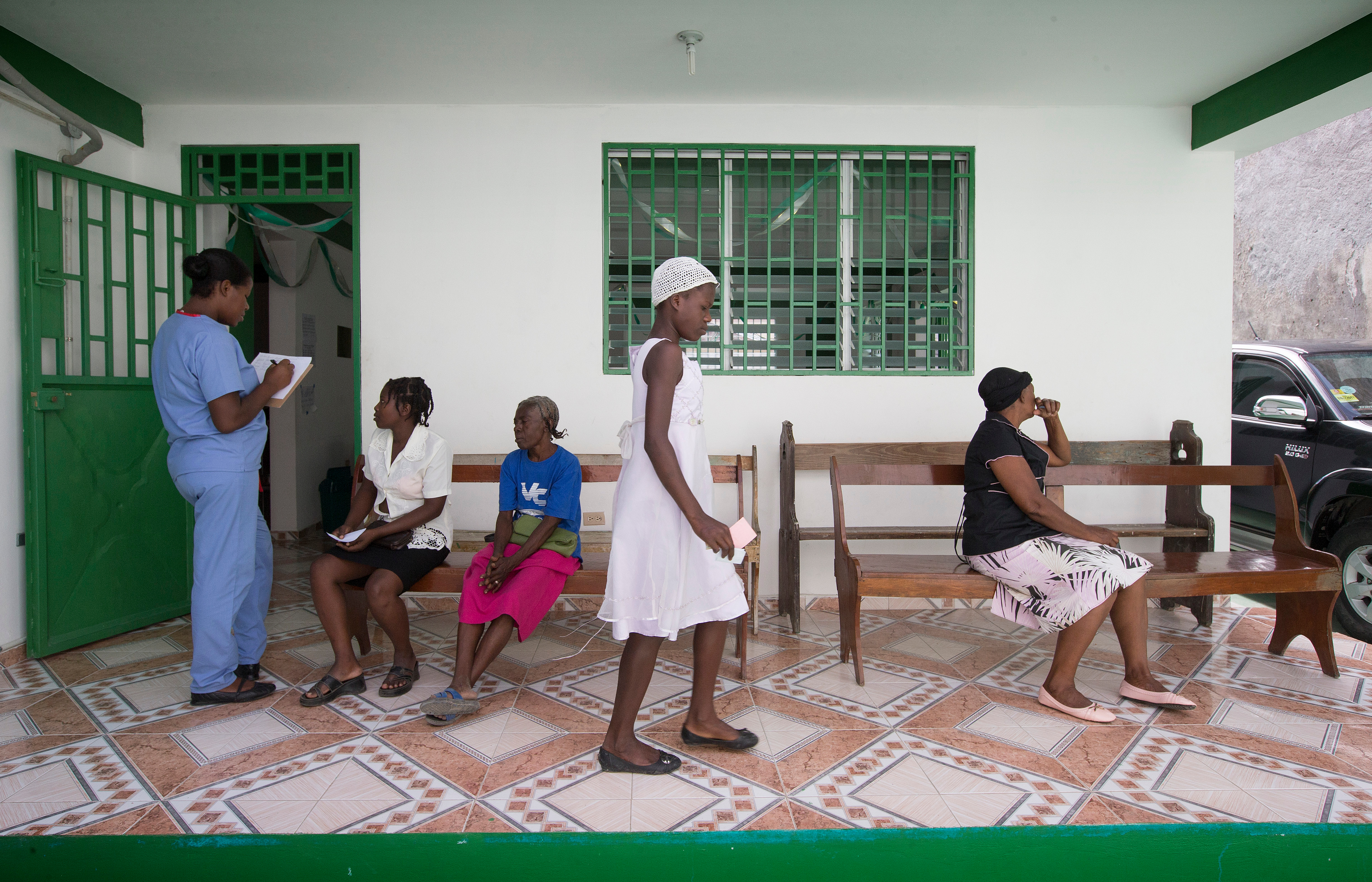 2014: Patients wait to be seen at the Haiti Eye Clinic in Petit-Goâve. The clinic is back in operation after being re-dedicated in January 2014.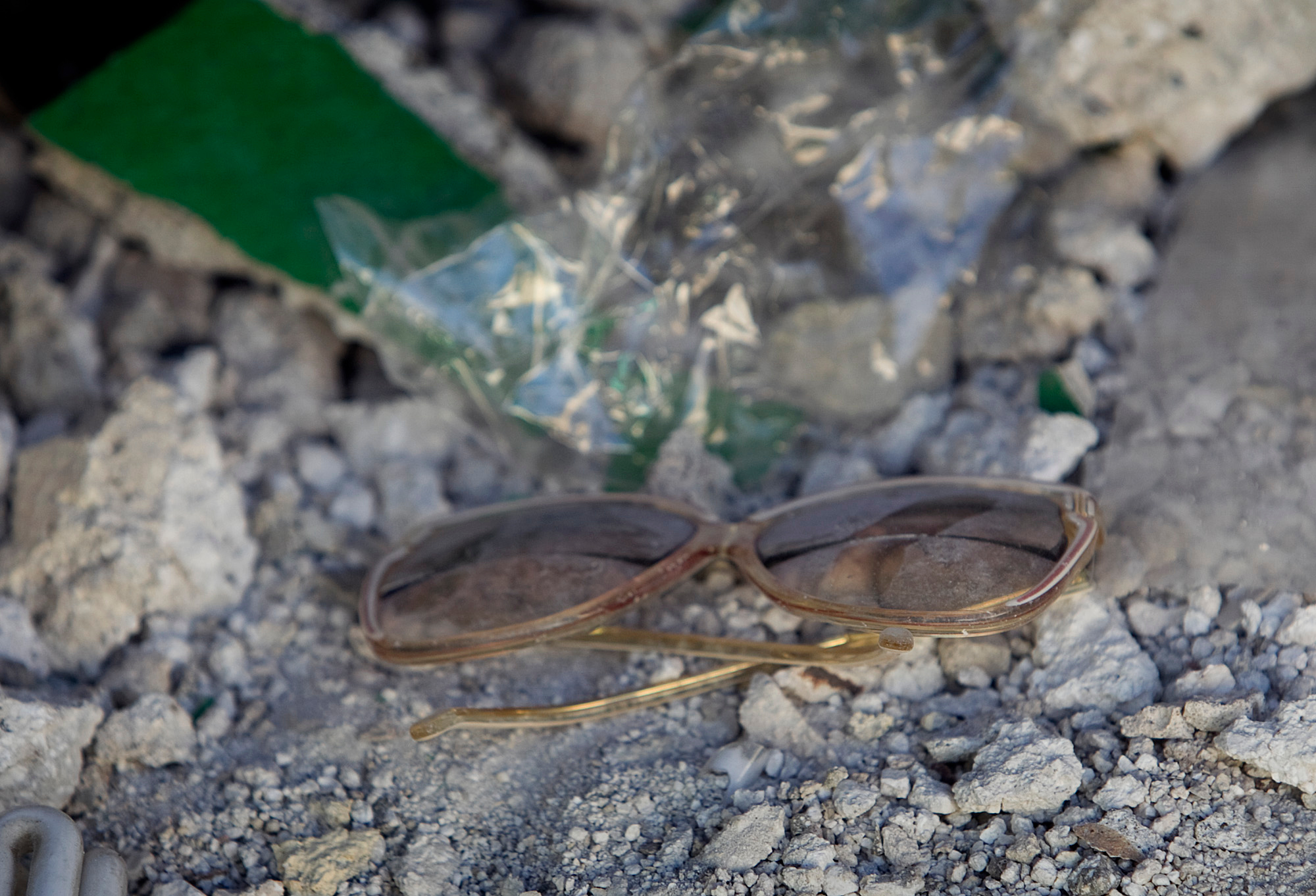 2010: A pair of eyeglasses lies amid the rubble of the Haiti Eye Clinic in Petit-Goâve. 
Eyewitnesses
Leonard Jeangille, a translator for the Methodist Church in Haiti, was part of the team with the Highland Park church on that day. He remembers every minute. At 4 p.m., Jeangilles told the team leader the group should be heading back into Port-au-Prince. "(The team leader) told me, 'No, these people have been waiting all day, and it would be a shame to send them home before we see them.'"
Jean Claude Degazon, a longtime staff member of the Methodist Guest House, who was trapped in the rubble of the eye clinic also remembers every detail of that day. He said that when the eye clinic collapsed, he could only move one arm and hand, the one with his cell phone. He said God kept telling him "you can do something." So he stuck his hand out, and a friend pulled him free. Together, they directed rescue workers to the site to pull out other team members.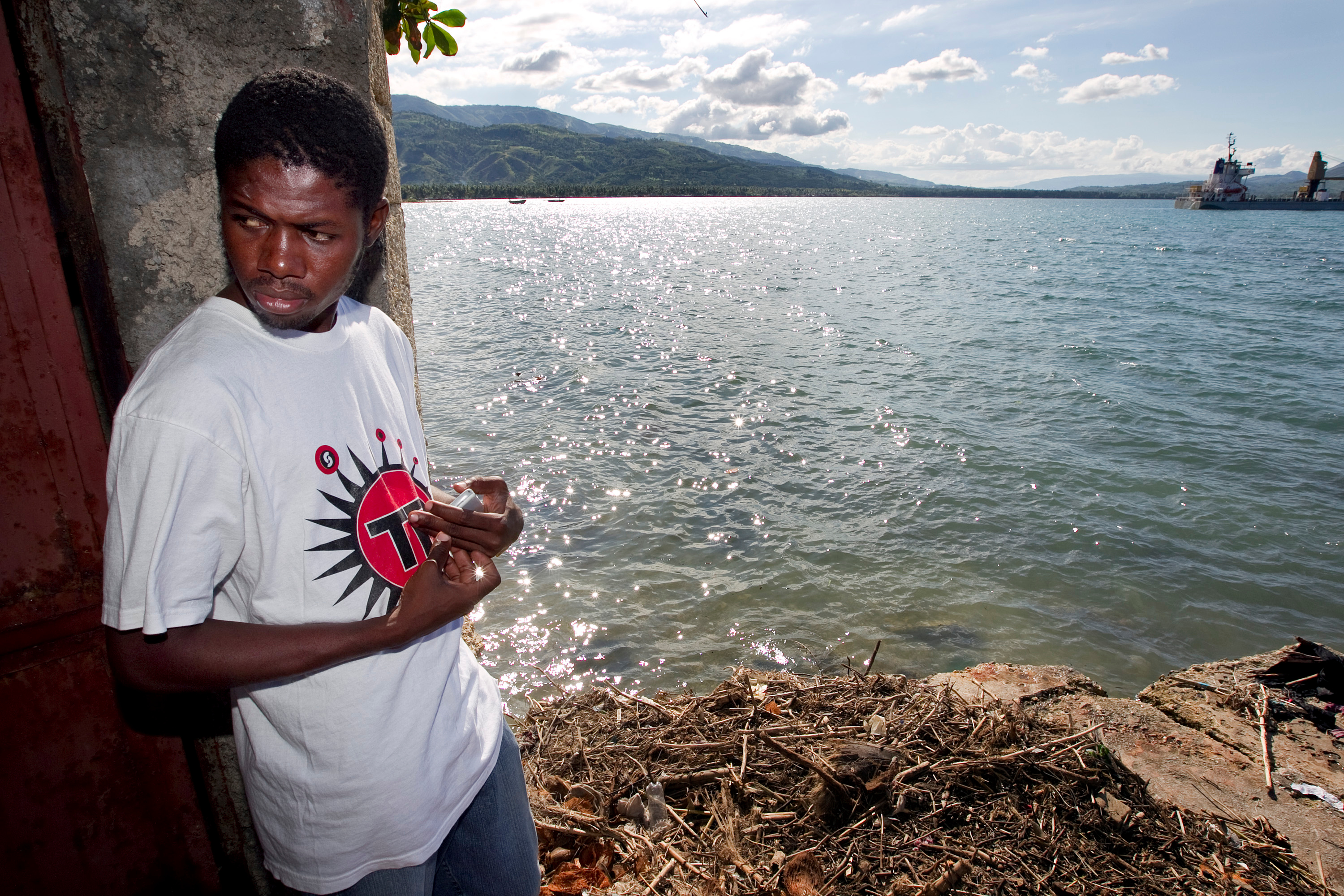 2010: Leonard Jeangilles stands in a doorway that looks out over the Caribbean Sea from the back of the Haiti Eye Clinic in Petit-Goâve in November 2010.
2013: Jean Claude Degazon (left) describes being trapped in the rubble of the eye clinic in Petit-Goave during the earthquake. Degazon rebuilt his home in Port-au-Prince with help from the Haiti Home Assistance Program, a collaborative effort on the part of the Methodist Church of Haiti, UMCOR and United Methodist Volunteers in Mission. His mother, Andrea Bonsoir (center), 80, is among 15 family members who live in the home.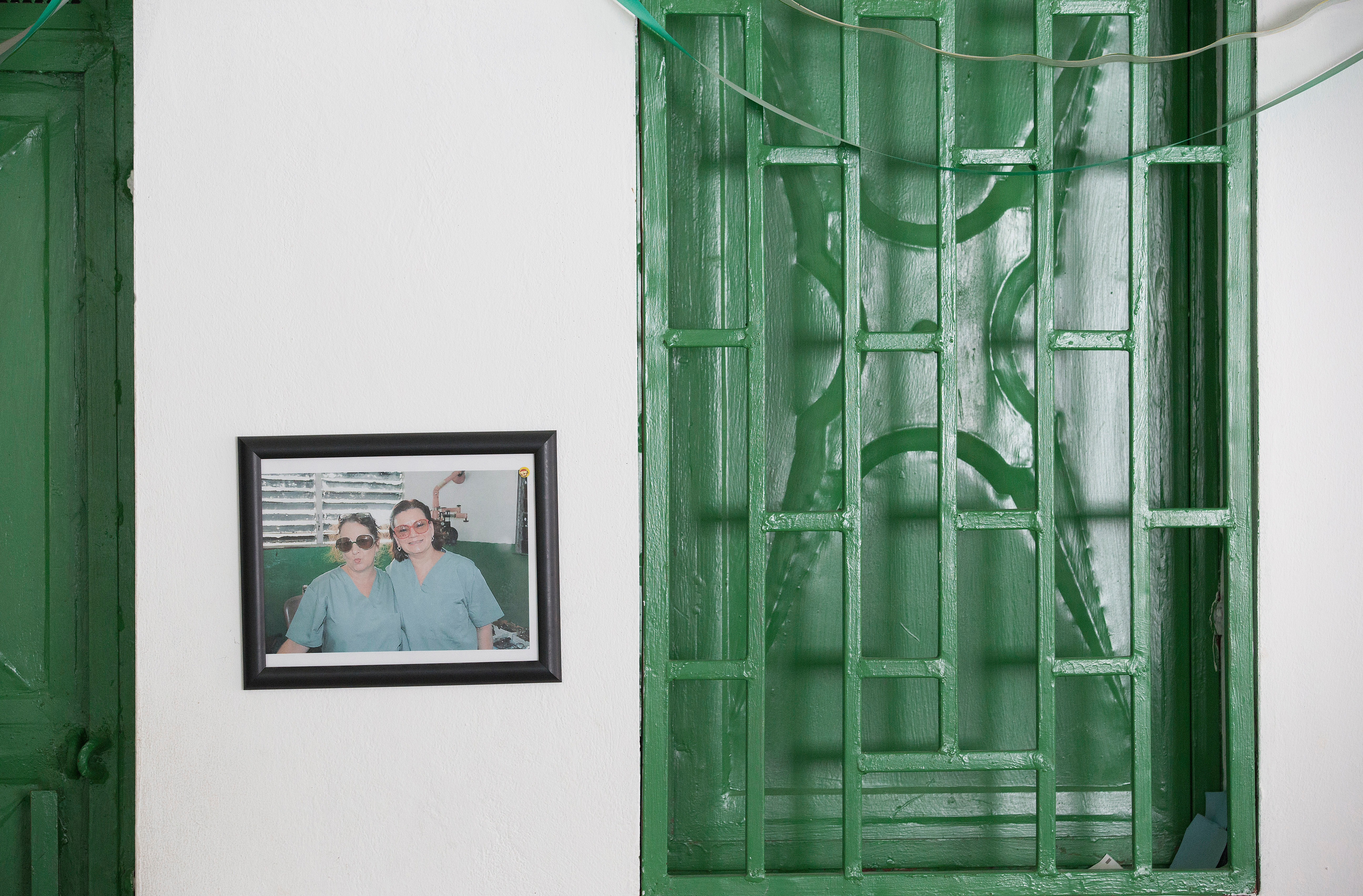 2014: A photograph of United Methodist volunteers Karen Gardner (left) and Jean Arnwine enjoying a light moment between patients, hangs in a place of honor in the waiting room at the Haiti Eye Clinic. Joel Fish, another volunteer from Highland Park, captured the moment prior to the earthquake.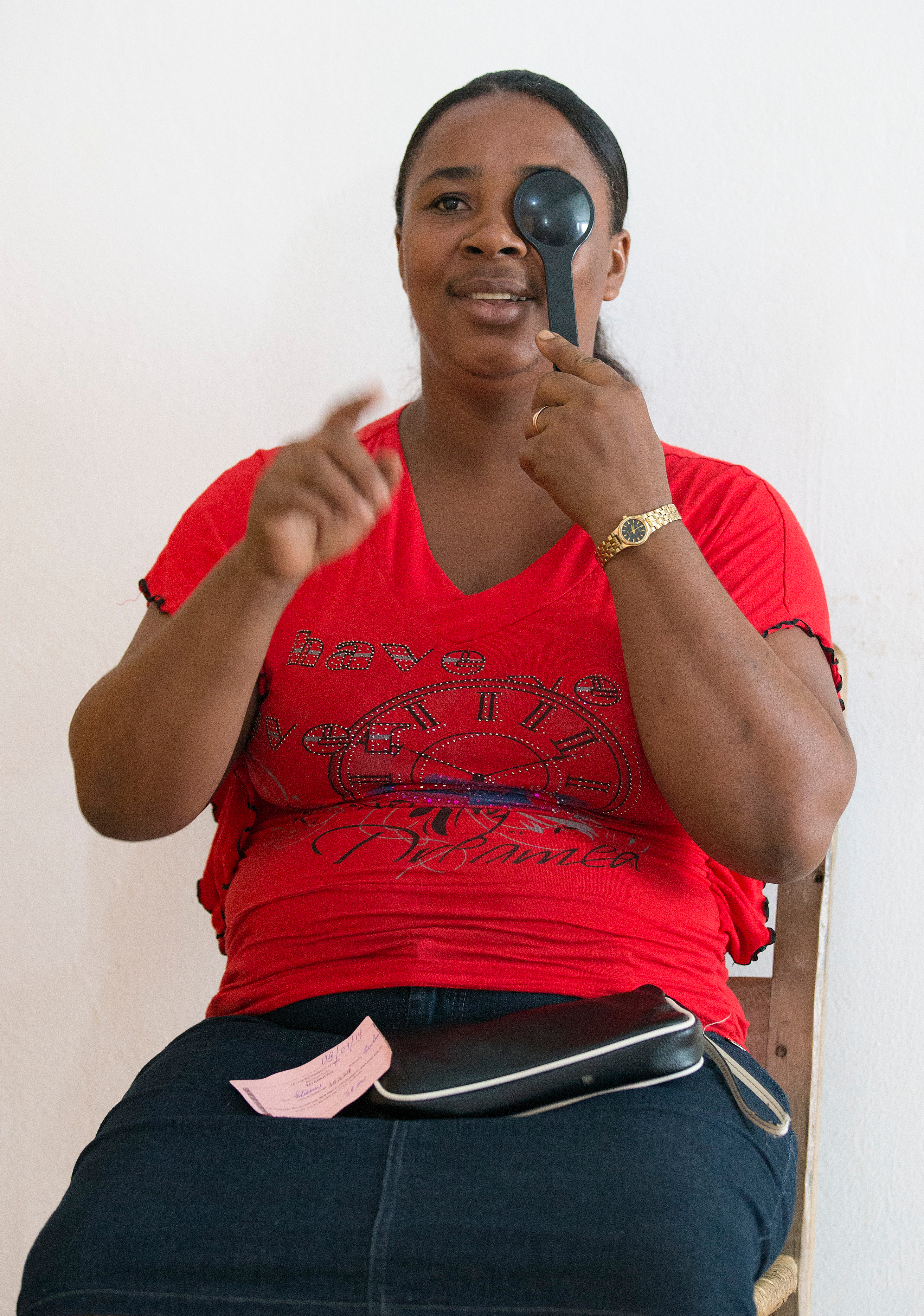 2014: Evelyne Etienne gets a vision exam at the rebuilt Haiti Eye Clinic. 
A world in ruins
In minutes, ordinary daily life crumbled. Walking around Port-au-Prince felt like walking onto a Hollywood disaster movie set. The National Palace was part of the twisted, surreal landscape. Thousands of people were living outside, under the stars, too afraid to live anywhere that had a roof and walls. Strangers and families pressed together. Sheets, tablecloths, towels as walls and roofs. Some were lucky enough to have mattresses to sleep on, others made do with cardboard or nothing at all.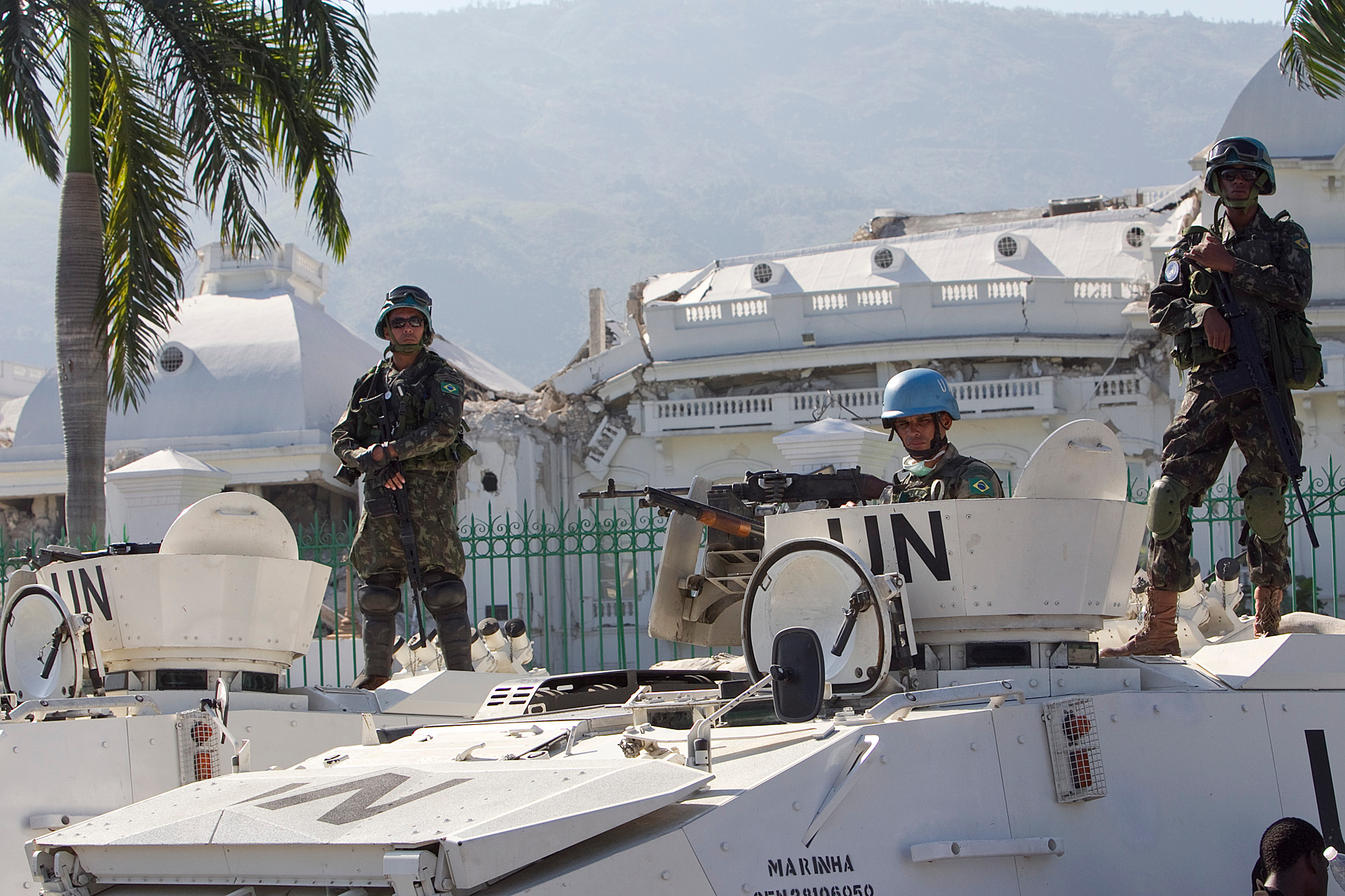 2010: United Nations soldiers from Brazil help guard the earthquake-damaged National Palace in Port-au-Prince.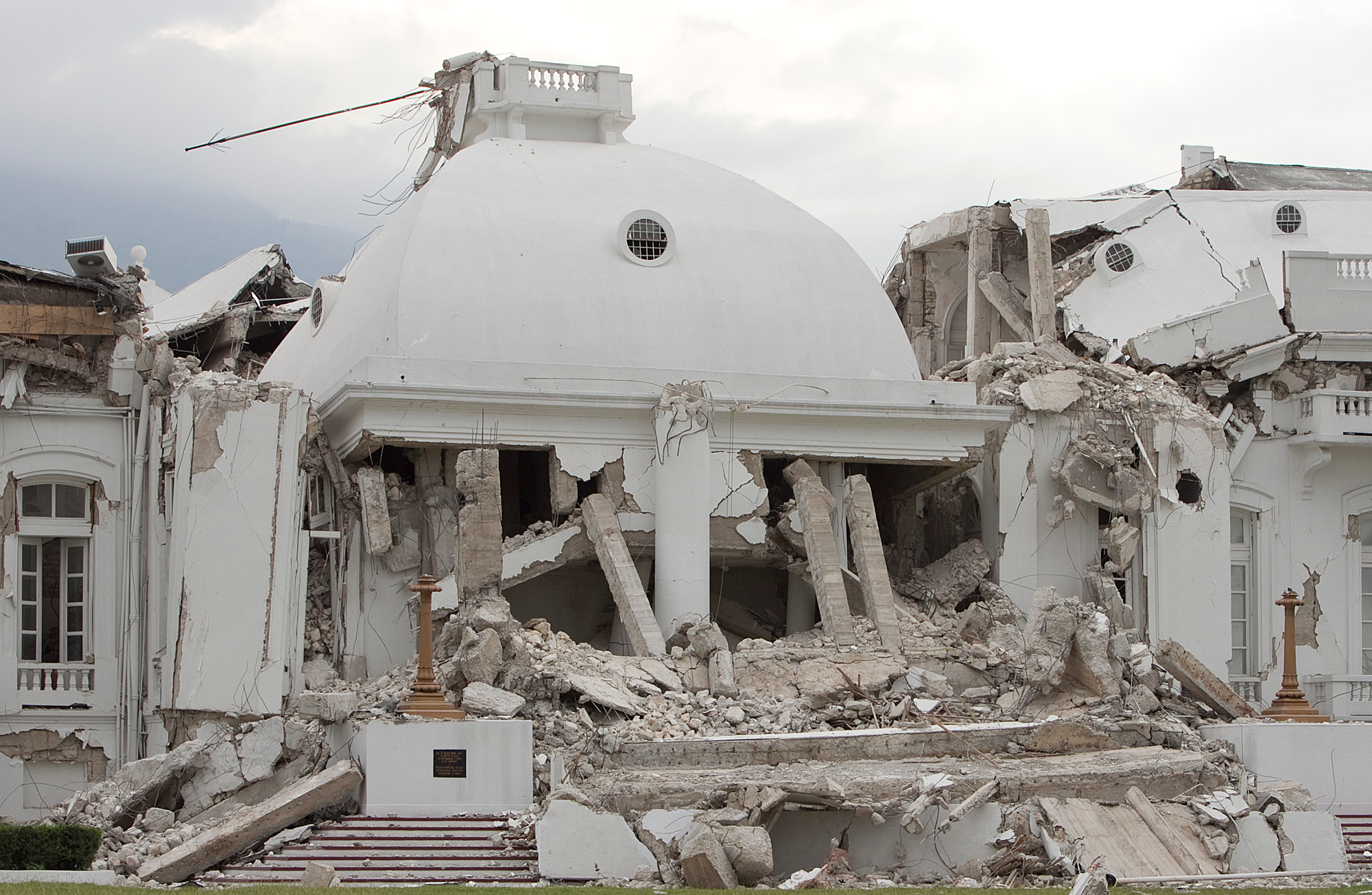 2010: The National Palace lies in ruins in Port-au-Prince.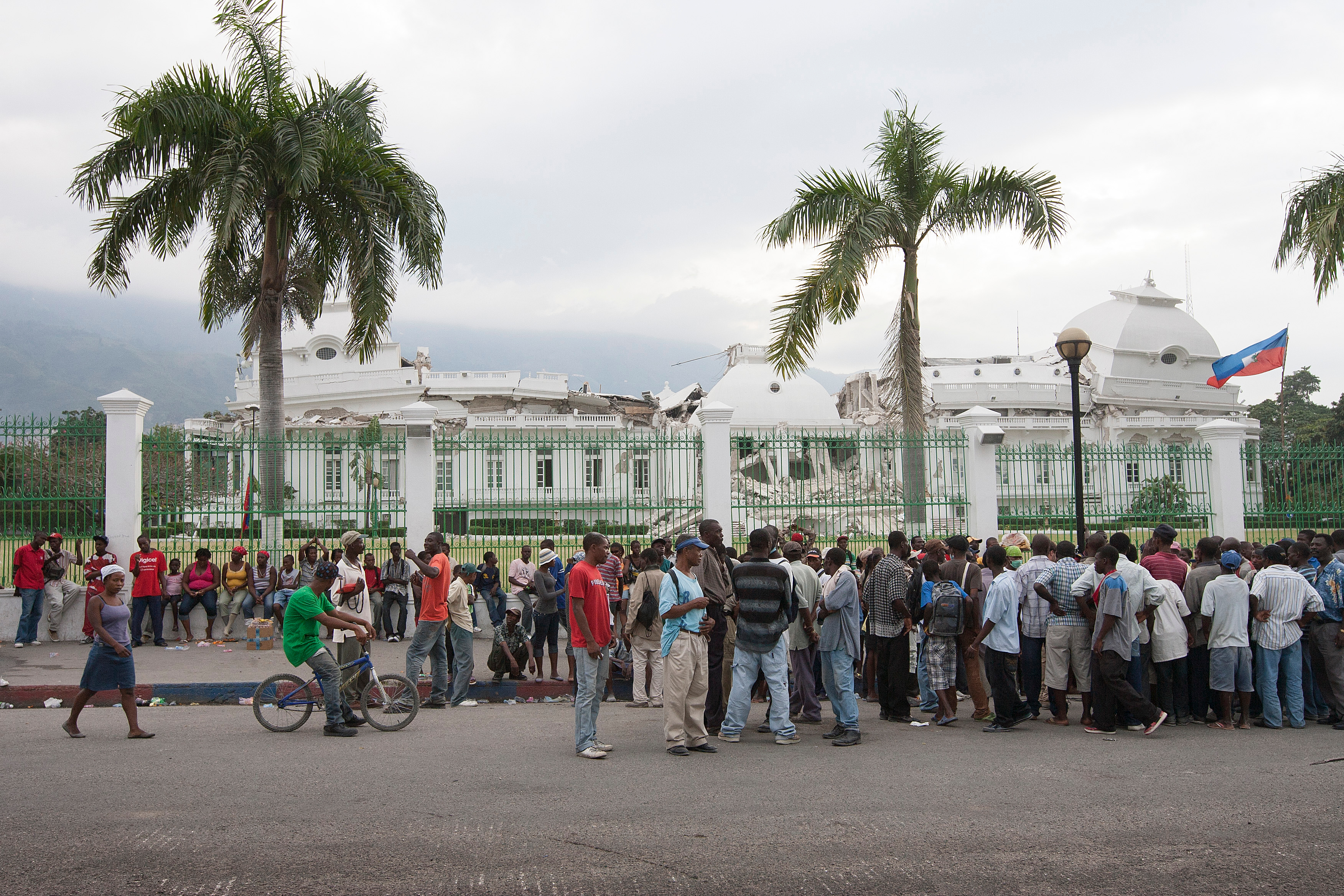 2010: Residents of Port-au-Prince line up outside the devastated National Palace.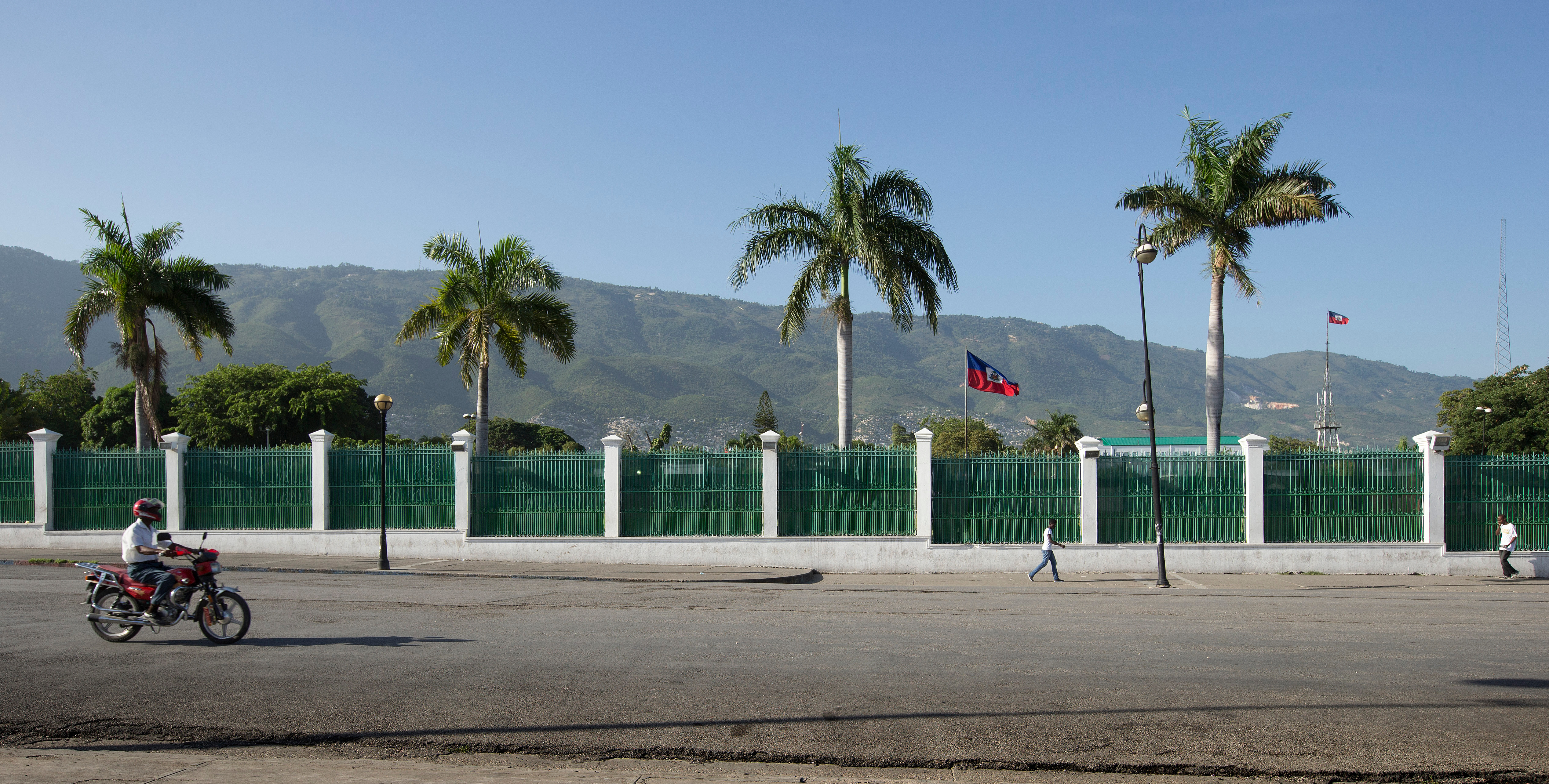 2014: The fence is all that remains of the National Palace in Port-au-Prince. The rubble was removed in 2012 and plans have not been set for its possible replacement.
---
Like what you're reading? Support the ministry of UM News! Your support ensures the latest denominational news, dynamic stories and informative articles will continue to connect our global community. Make a tax-deductible donation at ResourceUMC.org/GiveUMCom.