Since announcing her support for same-sex marriage, Chicago Area Bishop Sally Dyck said she has received numerous emails from United Methodists across the United States who agree and disagree with her stance.
Still, she said, she has been particularly heartened to receive notes of support from people with no religious affiliation. According to the Pew Forum on Religion and Public Life, about one in five U.S. adults say none when asked to list religion.
"I have had a concern about the 'nones,' and I heard from them," Dyck told United Methodist News Service. "I think it's more likely they will (visit a United Methodist church). I think it's a long process back. I think, for some 'nones,' this might be part of the journey back."
Dyck, whose episcopal area encompasses the Northern Illinois Annual (regional) Conference, announced her support Jan. 10 for the Religious Freedom and Marriage Fairness Act, which would allow same-sex civil marriage in the State of Illinois.
She began her tenure in Northern Illinois in September after leading the Minnesota Conference as bishop for eight years. She is also the chair of the United Methodist Communications board. The agency includes United Methodist News Service.
Dyck said she issued her statement because of her strong feelings in favor of marriage.
"Serial relationships - whether they are heterosexual or homosexual - are a concern for me," she said. "I think they undermine the security and stability of our communities and of individuals ultimately."
Among United Methodists in Northern Illinois, reaction to the bishop's statement was swift - with some hailing and some deploring her stand.
The Rev. Scott Field, senior pastor of Wheatland Salem Church, with campuses in the Illinois cities of Naperville and Oswego, criticized the statement for emphasizing marriage as a civil rights issue and not from a distinctively Christian perspective.
"My take is her letter will not be long-remembered by the partisan, political forces but will not be forgotten by United Methodists who wonder why their bishop is grandstanding on the issue," he said.
The Rev. Lois McCullen Parr, pastor of Broadway United Methodist Church in Chicago, strongly disagreed.
"When religious leaders can make affirming statements for equality, it makes a difference," she said. "I would go so far as to say it saves lives."
Her church has an outreach ministry to young people who are lesbian, gay, bisexual, transgender or questioning their sexual orientation.
"Many are surviving on the street because they've been kicked out of the family home when they came out," Parr said. "Her statement is a prophetic word when young people are suffering."
Church law and varied reactions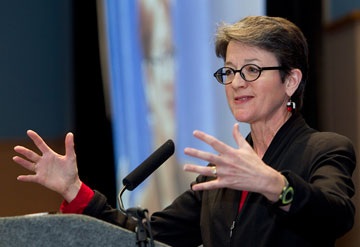 United Methodist Bishop Sally Dyck speaks about the importance of "holy conversation" during the pre-General Conference news briefing at the Tampa Convention Center in Florida.
A UMNS photo by Mike DuBose.
Still, Dyck and her supporters acknowledge her statement also disagrees with official church policy.
The United Methodist Book of Discipline, the denomination's law book, since 1972 has proclaimed the practice of homosexuality "incompatible with Christian teaching." The book prohibits United Methodist churches from hosting and clergy from performing "ceremonies that celebrate homosexual unions."
"She's forcing United Methodists to take sides between the bishop and the Book of Discipline," Field said. "And that's always a difficult thing."
The Rev. Brad Wilson, senior pastor of First United Methodist Church of Des Plaines, said Illinois' law allowing civil unions already provides the legal protections for same-sex couples that the bishop seeks.
He fears that if same-sex marriage receives state sanction, it will add pressure on clergy to officiate at such unions in violation of their conscience.
However, Wilson said he suspects his view on same-sex union is in the minority in the Northern Illinois Conference just as the endorsement of same-sex marriage is a minority view in the global United Methodist Church.
In 2011, more than 1,000 active and retired United Methodist clergy across the United States signed pledges announcing their willingness to defy the denomination's ban on officiating at same-sex unions. In the Northern Illinois Conference, nearly a third of the conference's clergy - 215 of 696 - signed the statement.
The pledges, in turn, sparked a countermovement by other United Methodist clergy and lay people urging the Council of Bishops to make clear that they will enforce the Book of Discipline on this issue. More than 2,800 clergy and nearly 13,500 laity signed the petitions.
Bishops responded in a letter released Nov. 11, 2011, promising to uphold church law banning same-sex unions. Dyck, as chair of the council's Unity Task Force, helped draft the letter that was later approved by the full council.
Dyck reiterated that promise in her Jan. 10 statement. "I can't perform a same-sex marriage as a United Methodist clergy person and as the bishop I can't give permission to any other clergy to do the same," she wrote.
The Rev. Gregory Gross, who along with Parr helped organize the Northern Illinois Conference pledges for same-sex marriage, said Dyck's statement shows the Illinois legislature that church and civil law can coexist with different definitions of marriage.
The Discipline and disagreement
Other Illinois clergy on same-sex marriage
A letter earlier this month by Chicago's Cardinal Francis George and his auxiliary bishops condemned the same-sex marriage bill. Recognizing such unions, the Catholic bishops wrote, means pretending "to accept something we know is physically impossible." George is a former president of the U.S. Conference of Catholic Bishops.
More than 250 Illinois religious leaders in December signed an open letter endorsing same-sex marriage in the state, the Chicago Tribune reported. The signers included rabbis as well as United Methodist, Episcopal, Lutheran, Presbyterian, United Church of Christ and nondenominational church leaders.
One of the denomination's Social Principles listed in the Book of Discipline declares: "Certain basic human rights and civil liberties are due all persons. We are committed to supporting those rights and liberties for all persons, regardless of sexual orientation."
However, the Social Principle on marriage also says the denomination supports "laws in civil society that define marriage as the union of one man and one woman."
In comments on the initial UMNS story about Dyck's statement, some readers questioned whether a United Methodist bishop who disagrees with the Social Principle on marriage could be charged with disseminating contrary doctrine.
The Rev. Thomas E. Frank, the author of the frequently used textbook Polity, Practice, and the Mission of The United Methodist Church, says the denomination's Social Principles do not carry the same weight as official church doctrine.
The denomination's doctrinal statements deal mainly with basic Christian - and in some cases specifically Protestant - teachings such as the Trinity, Christ's resurrection and justification by faith alone.
The Social Principles, in contrast, are the denomination's prayerful response to the "human issues in the contemporary world."
Frank, who is also a historian of Methodism and professor at Wake Forest University in Winston-Salem, N.C., noted that if the Social Principles were official doctrine and United Methodists had to adhere to all of them, "there would be no UMs."
*Hahn is a multimedia news reporter for United Methodist News Service.
News media contact: Heather Hahn, Nashville, Tenn., (615) 742-5470 or [email protected].
---
Like what you're reading? Support the ministry of UM News! Your support ensures the latest denominational news, dynamic stories and informative articles will continue to connect our global community. Make a tax-deductible donation at ResourceUMC.org/GiveUMCom.