Key points:
At Bishkek United Methodist Church, "mama pastor" Nellya Shakirova provides a spiritual home and motherly care for her congregation.
Indian and Pakistani students are able to transcend political differences as they come together for meals, worship and community.
For some students, the freedom to worship is a welcome change from the vulnerability they experience as Christians in their home country.
---
On a Thursday night in February, about 20 people crowd around a pair of narrow tables in the sanctuary of Bishkek United Methodist Church. The tables are wedged between the pews, where the group just worshipped a few minutes earlier.
It is a loud, joyful group, representing Kyrgyz, Pakistanis, Indians, Russians, Americans. Political differences have been left outside on this wet, wintry evening. Inside the small church, everyone taps into a deeper reality that transcends all differences — the reality of being one in faith. This is Jesus' table, and all are welcome.
A feast has been spread, including Kyrgyz pastries and chicken cooked in a cauldron on an open fire outside the building. Food is passed around and stories are shared.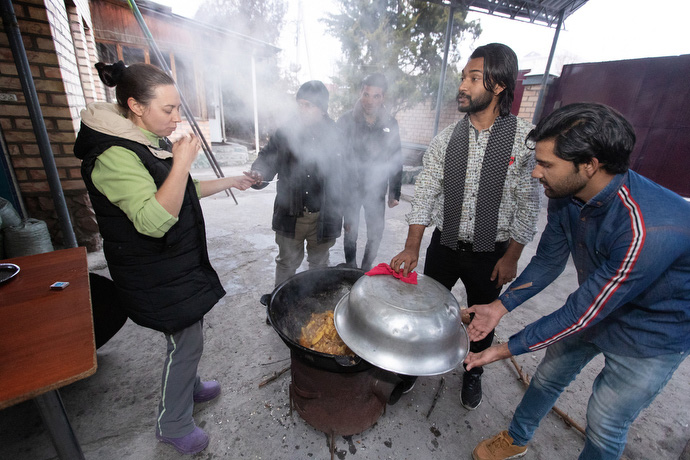 The Rev. Nellya Shakirova sits at the center of the action. Some of the students call her "mama pastor," and she nurtures the congregation with the care of a mother. Many of those gathered are international students far from home, and she looks after each of them.
"They leave their parents and move to another country; it's stressful for them," she says. "I guess when they see care through me, it reminds them of their mom. I love them very much."
If they are underdressed for the cold weather, she may scold them and have them put on socks or a jacket, she says. "Just like a mother. I do it arbitrarily, but some of them I just squeeze and cuddle."
The love in the church is "amazing love," which comes from heaven, she says. Students say they feel the presence of God here.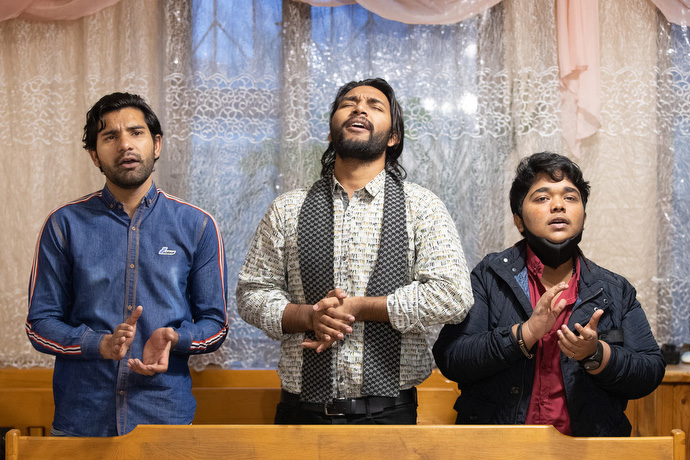 The small house church, located off a muddy alley in the heart of Kyrgyzstan's capital, is a symbol of how transformative a Christian faith community can be.
Here, Indian and Pakistani students come together for worship and community, despite the political divisions between their countries, and people from other groups and nationalities also are part of the congregation. Families are of mixed heritage, representing Tatar, Ukrainian, Russian and Moldovan backgrounds, among others. While Russian is the primary language, Bible studies are also held in English, and it's not unusual to hear songs of worship in Urdu and other languages.
The church typically has 40 to 60 people on Sundays, with 100 or more on Christmas, and about half of the members are international students, Shakirova says.
"Students are my backbone," she says. "They are like eaglets who do a tremendous amount of active work in the church." They have energy, creative ideas and a desire to serve, she says.
Like all of Kyrgyzstan's churches, this congregation is young, founded only 19 years ago. She has been pastoring it for about four years.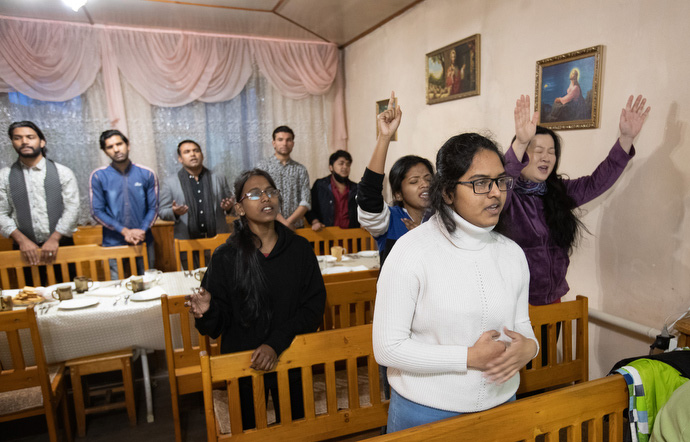 Shakirova was originally an unbeliever. Through her former husband, she began going to church, and a neighbor invited her to a Bible group at the United Methodist church. During this period, she experienced a series of dreams and visions that changed her life.
In her first dream, she says, she saw how Jesus suffered and died for her. In the second, she says, she saw her soul as dark and dirty, and the Holy Spirit came into her in the form of clean water from heaven. Later, in a vision, Jesus told her that he is coming soon, and she felt the power of the Holy Spirit go out from her hand to her son sleeping nearby, who was sick at the time. He was healed, she says.
"It was a miracle for me," she says.
After the vision, she felt God calling her to ministry. She went to seminary and became ordained last year. She says she feels the presence of God and can see God's love through people's eyes.
"I believe we receive gifts of love from God if we have the Holy Spirit."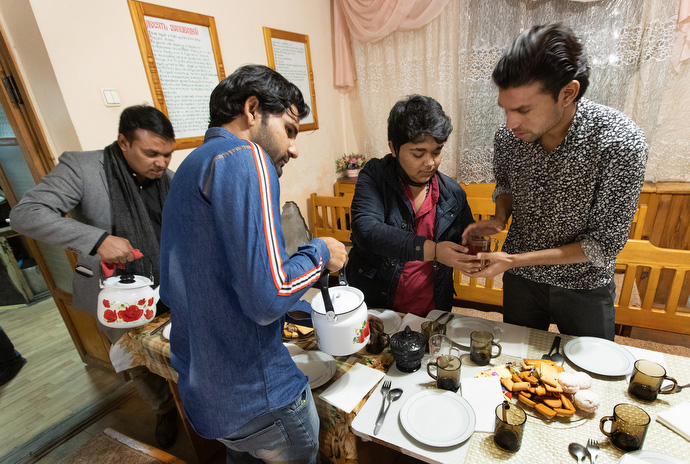 Shakirova and the church share God's love in the community, providing help with electric bills, clothes, groceries and transportation, depending on finances. More important, she says, are "the ministry and Bible groups where God helps people grow spiritually through the living word."
The church also has become a haven for young people of faith.
Abby Abheepsa Sagar says Bishkek United Methodist Church has changed her life in ways she couldn't have imagined. God brought her here, she says. Meeting people who are working for God, spending their time and energy and faith, "moved me a lot," she says.
She is in her fifth year at the International School of Medicine in Bishkek and expects to finish next January. She plans to return home to India and work in the health system.
She says she has good friends here from Pakistan, and they are all similar. Politics creates barriers, but that doesn't get in the way of relationships here. "We are same," she says. "We love one God."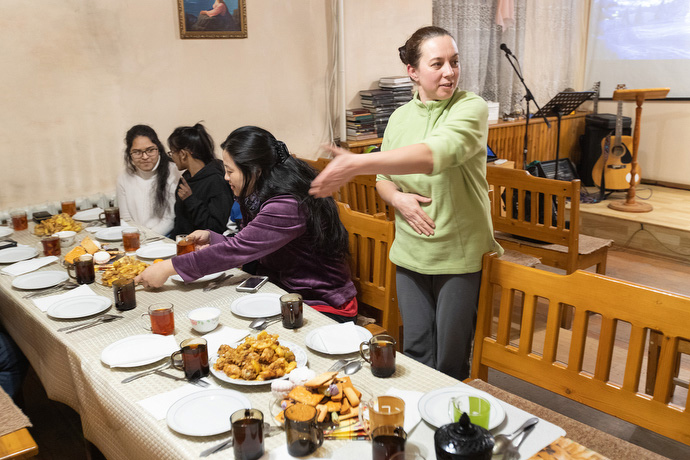 Shakirova describes the community of Indian and Pakistanis as "God's doing."
"I know there's big conflict between Pakistan and India, but here it's no problem," she says. Here there is unity.
Korish Malik is a medical student from Punjab, Pakistan, studying at the International University of Kyrgyzstan. He began attending Bishkek United Methodist Church at the invitation of friends. He enjoys the sermons and the singing, and he says the translations offered at the church are good.
"[We] may have political conflict, but when we are in other countries, we are all the same. We are all like brothers and sisters," he says.
Kyrgyzstan is largely Muslim, and Christian churches are not common in Bishkek. He eventually connected with people from Pakistan who are Christian, and through those friends as well as Google research, he was able to visit local congregations and found Bishkek UMC.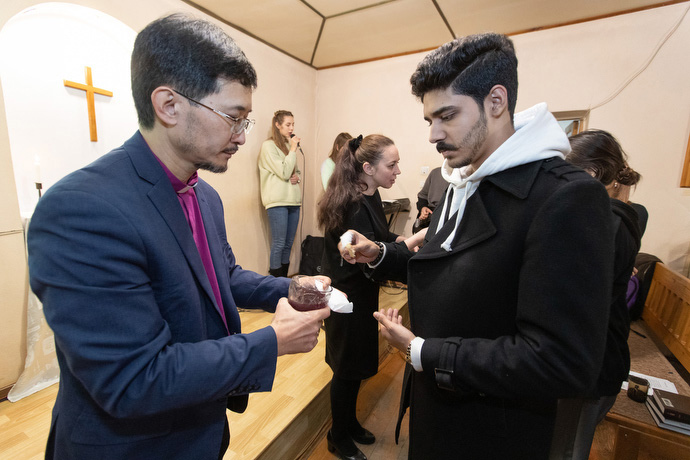 Since last year, the Pakistani students have been meeting for an Urdu Bible service every Saturday at Bishkek United Methodist Church. The service, organized by Muslam Hanif, draws about 14 students. Hanif is a student at the International Medical University of Kyrgyzstan and also an evangelist with a vision for helping young people.
"It's special because Pastor Nellya cooperates with me and gave me this opportunity for Urdu service and worship," Hanif says. "It's (a) big blessing for me and also this is (a) call for me."
Dream brought comfort amid warning of invasion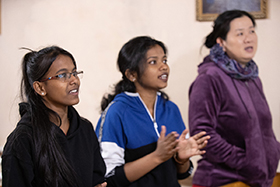 Marshaline Anand had been studying in Ukraine as a medical student when she had a strange dream in January 2022.
She was standing in one place, and everything around her was being destroyed. Trees were burning, buildings were collapsing. She felt afraid. A giant hand reached down and lifted her up to a high place. From there, she could see the continuing destruction.
She began speaking with the hand, weeping and crying. Suddenly she heard a voice. "Why are you afraid? Don't worry. I will always be with you" …
The church also is a blessing for the Pakistani youth because changes are coming into their lives and they are learning about God and sharing testimonies, he says.
Being together as Indians and Pakistanis is not a problem, the men say.
They appreciate the religious atmosphere in Bishkek compared with parts of Pakistan, where being a Christian can be difficult, they say.
"In Kyrgyzstan, there is freedom," says Samwal Shabir. "We can easily come to church." Shabir is a medical student who plans to go into evangelism work with Hanif.
Another student, Prince Javaid, adds that during prayers, they are free from terrorism.
Shabir, who is from a Catholic family, was baptized in 2021 in a Methodist church in Pakistan. Life has changed since then, with his move to Kyrgyzstan and now attending the Urdu services.
"This year, God has changed my life," he says. He is praying three and four times a day, fasting and studying the Bible.
"If spiritual life is good, everything is good," he says, "because if we have Jesus, we have everything."
Shabir says they have visited other local churches, but at Bishkek United Methodist Church, they feel relaxed and respected.
For Sagar, Bishkek United Methodist Church is "like a home."
"It's like a fellowship," she says. "We … experience God here, we have the love of God, and we are going to carry it on."
Tanton is chief news officer of United Methodist Communications and director of UM News.
News contact: Tim Tanton at (615) 742-5470 or [email protected]. To read more United Methodist news, subscribe to the free Daily or Friday (weekly) Digests.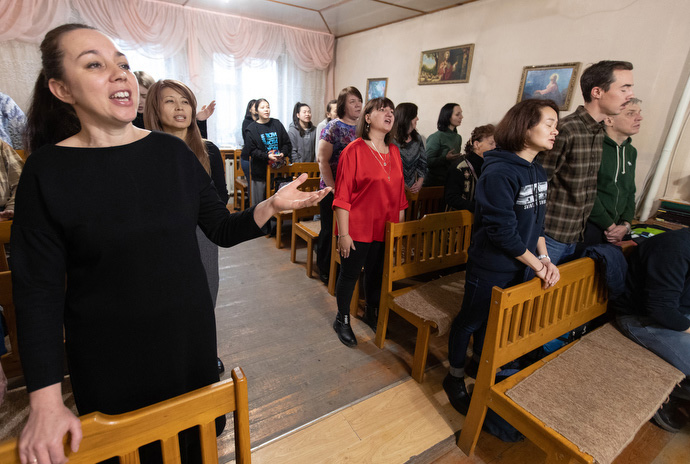 ---
Like what you're reading? Support the ministry of UM News! Your support ensures the latest denominational news, dynamic stories and informative articles will continue to connect our global community. Make a tax-deductible donation at ResourceUMC.org/GiveUMCom.