The Wesley Foundation at the University of Tennessee in Knoxville is much more than a convenient place to grab a free Wi-Fi signal, watch Netflix or enjoy a hot cappuccino. "What I've heard students say is it's become a home away from home for them," said the Rev. Tim Kobler, campus minister.
Thousands of students are finding "a home away from home" this fall at 520 United Methodist collegiate ministries across the United States. "Through our United Methodist education connection, students like those at UTK are finding support and guidance at a critical time in their lives," said Gerald D. Lord, an executive of the Division of Higher Education, United Methodist Board of Higher Education and Ministry.
Filled with difficult transitions, college can be a challenging time for even the most prepared students. United Methodist college ministers counsel students through tough situations, including homesickness, choosing a major and navigating confusing spiritual questions.
"I know students who have stayed in college because of their involvement with campus ministry," said the Rev. Ashlee Alley, campus minister at Southwestern College in Winfield, Kan. "The community sustains them when they are struggling."
Friends are the family you choose
When you feel like an island, it is hard to remember that a sea of thousands are fighting the same feelings of solitude. Collegiate ministry provides a safe space where students can connect on the common ground of faith.
"I came to the Wesley Foundation because I was looking for a community of people that would love and accept me," said Claire Dodson, junior at UTK. "I stayed because I found a family that was hilarious and fun and challenging in the best ways. Going to Wesley has been one of the best decisions I've made in college."
Fostering new relationships and setting healthy boundaries for communicating with family and friends back home will help fight homesickness. Leaving room on the calendar for calls, texts and video chats with loved ones helps, too.
"Technology is a wonderful thing, but we do have some issues where parents make too much contact - especially throughout class and several times a day," cautioned Kobler.
"It's so different from when I was in college 15 years ago," added Alley. "You have your cell phone, so it's easy to text Mom. They're still so present even if they're hours away. I encourage you to wean yourself off of some of the constant communication."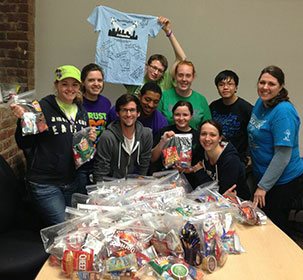 'What's your major?'
It's one of the most common questions an undergrad will hear, but finding the answer isn't always easy. Crack the code with a little research and a lot of soul searching.
"Listen to who you are and the unique ways God has put you together with your interests, gifts and spiritual gifts, as well," Alley suggested. "Try something. Do an internship or participate in a summer ministry. If you have an experience that blows your mind, listen to that, and God will continue to give you opportunities like that. Experimentation is something I highly encourage when thinking about vocation."
Some collegiate ministries, like the UTK Wesley Foundation, host small-group studies in which students can discover God's calling for their lives through spiritual exercises.
Navigating faith
"Campus ministry is also wonderful because it helps students feel connected to God when they are in an awkward stage between youth and adulthood," said Lindsey Graber, a sophomore at Southwestern College.
Daniel Reffner, in his first year at Southwestern College, said, "One of the main reasons I got involved in campus ministry was.... I knew it would offer me a community of people that I could intentionally surround myself with and be encouraged and strengthened in my faith."
With weekly chapel sessions, dinners, prayer groups and Bible studies, collegiate ministry provides plenty of opportunities to ask questions that help students grow in faith.
"It's really fun for me to see them come in as freshmen and see them explore and bring in their questions, and then as they graduate, they really mature into someone who knows more about who they are," said Kobler. "They own their faith more fully, and are really able to step up and take the lead."
The Division of Higher Education supports more than 1,200 collegiate ministries around the world. Find your place in the higher education ministries of The United Methodist Church or search for a-related college or university.
*Bannon is a public relations specialist at United Methodist Communications, Nashville, Tenn.
News media contact: Joey Butler, Nashville, Tenn., (615) 742-5470 or [email protected].
---
Like what you're reading? Support the ministry of UM News! Your support ensures the latest denominational news, dynamic stories and informative articles will continue to connect our global community. Make a tax-deductible donation at ResourceUMC.org/GiveUMCom.