Sixteen-month-old Joshua Floris clings to his father while a nurse takes his temperature.
Every once in awhile, a deep cough breaks free from his little, congested chest. He is at United Methodist Mary Johnston Hospital because he has tuberculosis.
Carmen Angeles, 68, patiently waits for a follow-up exam. She recently was hospitalized three days for hypertension and heart disease.
Both Joshua and Angeles are typical patients waiting for free treatment in the hospital's dispensary, an on-campus clinic. The small hot room is filled to overflowing, and two nurses work fiercely to make sure everyone is seen.
"Most of our patients are pediatric," said Dr. Myrna P. Velasquez, medical director of the hospital. "The highest incidences have respiratory infection problems both upper and lower. For the elderly it is usually hypertension and diabetes."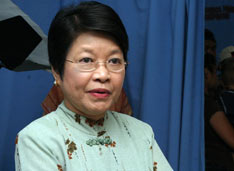 A century of health care
Mary Johnston Hospital was started as a small clinic in 1906 in Tondo, Manila, by Dr. Rebecca Parish, a Methodist missionary. At that time, typhoid fever and cholera raged throughout the urban slum.
The clinic is now a general hospital and a training center for doctors, nurses and other medical professionals.
"Mary Johnston Hospital has always been in financial need," said Velasquez. "We are the only Methodist hospital in the whole country. We know that we could do more if we had more."
The hospital provides free medical care for Tondo, one of Manila's largest impoverished communities. The community is known for violence and gangs. Squatters live between train tracks, and shacks line both sides of the roads.
The dispensary, located at the front gates of the hospital, is where the poor come for medical care. Patients are screened by a social worker and given the same care as private patients.
"Mary Johnston accepts all patients regardless of race, creed, beliefs or social standing," said Velasquez. "We do not discriminate against any patient. If they come to Mary Johnston, they get to be treated regardless of whether they can pay."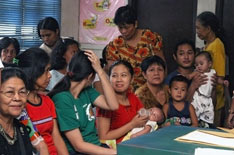 Community outreach
The dispensary also offers healthcare education to the community through a diabetic club, immunizations for children and projects for hypertension.
In 2001, the hospital started to adopt neighborhood communities. The first was Barangay 38. The staff focused on livelihood education, health, cleanliness and morality formation.
To help care for undernourished children, the hospital provides a milk-feeding program, and it conducts semimonthly clinics to administer immunization shots. Health professionals conduct lectures, and all programs include Christian education and Bible study.
The hospital has partnered with Parola United Methodist Church to offer programs for youth. The partner organizations offer seminars and workshops and conduct vacation church school training.
"We just want people to know that overtures and suggestions have been made that Mary Johnston transfer to a more affluent site where there will be paying patients," Velasquez said. "But because the mission work is here, right here in Tondo, Mary Johnston Hospital has decided to stay in this part of the city."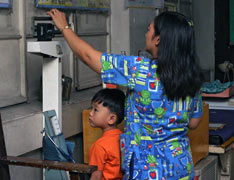 Pressing needs
The Rev. R. Randy Day, then-top staff executive of the United Methodist Board of Global Ministries, and Rebecca C. Asedillo, also on staff with the board and a native of the Philippines, made a July visit to the hospital.
Since the visit, the New York-based board has received a request for funds to upgrade the pipes in the hospital's water system and to purchase a new elevator.
"It is so important for us to remain in partnership with the only United Methodist hospital in the Philippines," said Asedillo.
"The water system of the hospital dates back to its construction in1949," Velasquez wrote in a letter seeking financial assistance. Leaks are causing huge water bills but are difficult to locate because the pipes are embedded in concrete walls.
"While measures have been tried to correct the leakages and decrease the hospital's water bill, the problem remains. The only real solution is to re-pipe the water system," she wrote.
The hospital has one functioning elevator. The other elevator, which was used to transport patients to the emergency room, is too old and no longer operating. Technicians have advised the hospital to purchase a new elevator because spare parts are no longer available.
"While the hospital has the ability to sustain its medical services, major maintenance and capital expenses have to be funded by outside donors," Velasquez wrote.
The challenges are all part of Mary Johnston's daily fight to help the people in its community. The hospital's determination to stay in Tondo — where its services are most needed — also threatens its very existence, according to Velasquez.
"But if we left the community, who would care for the poor?" she asked.
*Gilbert is a United Methodist News Service news writer based in Nashville, Tenn. She compiled this series based on her visit to the Philippines in July.
News media contact: Kathy L. Gilbert, Nashville, Tenn., (615) 742-5470 or [email protected].
Resources
United Methodist Board of Global Ministries
United Methodist Committee on Relief
---
Like what you're reading? Support the ministry of UM News! Your support ensures the latest denominational news, dynamic stories and informative articles will continue to connect our global community. Make a tax-deductible donation at ResourceUMC.org/GiveUMCom.