It's nearly noon. More than 100 hungry children struggle to stay still in their small, green plastic chairs.
It is safe here. Everyone who walks in is a friend. For an afternoon, the harsh realities of life on the streets are forgotten as the children eat, sing, draw, play and learn about Jesus Christ.When someone walks within range, they pop up and race for a hug, grab a hand and press it to their foreheads or do elaborate jigs to gain attention.
Pag-aruga (which means "to care" in the Filipino language of Tagalog) is a ministry for street families run by The United Methodist Church in the Philippines. The ministry takes place in the back parking lot of the church's conference office. Bishop Solito Toquero can hear the children laughing from his upstairs office.
Representatives from the United Methodist Board of Global Ministries and United Methodist Communications traveled to Manila last July to visit ministries that care for street children and the poor.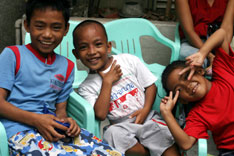 Lunch and skill training
On Wednesdays, Thursday and Fridays, Pag-aruga serves lunch to street families. Most of the diners are children. However, parents who attend can learn skills to help them obtain a sustainable livelihood. A micro-lending program also allows them to borrow money to start or expand a small business such as selling candy or other small items.
All the families involved in Pag-aruga are homeless. They make their living by begging. Some make a few pesos by coaxing pedestrians to hop on a jeepney, the Philippines' cheapest taxi service, or by scavenging for recyclable items. At night they sleep under trees, in doorways or any available space.
Angelito B. Meneses gets an especially warm welcome when the children see him. In a matter of seconds he is surrounded by laughing, squirming children. They know love when they see it.
Meneses is the director of the Asuncion A. Perez Memorial Center, the social service arm of The United Methodist Church in the Philippines, which includes Pag-uaruga.
"I am here because personally this is my passion — a passion to serve the least of my brothers and sisters," he explains. "So I am here actually not here for work. I am here for responsibility and accountability serving these people - these marginalized people."
Begun by United Methodist Women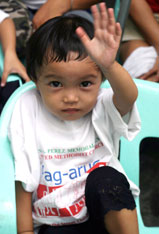 The Asuncion A. Perez Memorial Center was started in 1969 by United Methodist Women. It was formally organized as a center in 1970 and was incorporated as a nonprofit charitable organization in 1972. The center was named after a renowned United Methodist social worker.
Asuncion A. Perez was the first social service worker to be appointed to the Philippines cabinet in 1948 under President Elpidio Quirino. Perez went on to serve four Filipino presidents. She was known for her unselfish devotion to others.
In addition to the program for street families, the center offers disaster response training; a comprehensive health project; women, youth and children's ministry; women's empowerment; and KaBahagika, a youth ministry.
Each of the programs is designed to teach participants that they are children who are loved by God, according to Meneses. He says his Christian faith challenged him to do something for the families living on the streets.
"It took spiritual courage to identify myself with the kind of misery they are experiencing," he adds. "It took a righteous courage to accept them without prejudiced judgment and distrust."
Children are able to attend both formal and informal classes. Most of the more than 100 street children learn basic skills such as cooking, hygiene and grooming, as well as study the Bible. The 53 children attending formal classes are taught skills that will help them get into a school.
Seven children from the program have been referred to the Gilead Center, another United Methodist ministry that houses children from 7 to 13 years of age. The center also pays for their primary education in area schools.
"They want to finish schooling and someday they want to get their family out of the streets," Meneses says.
"They have taught me to love life, to live love and to celebrate hope."
*Gilbert is a United Methodist News Service news writer based in Nashville, Tenn. She compiled this series based on her visit to the Philippines in July 2007.
News media contact: Kathy L. Gilbert, Nashville, Tenn., (615) 742-5470 or [email protected].
Resources:
United Methodist Board of Global Ministries
United Methodist Committee on Relief
---
Like what you're reading? Support the ministry of UM News! Your support ensures the latest denominational news, dynamic stories and informative articles will continue to connect our global community. Make a tax-deductible donation at ResourceUMC.org/GiveUMCom.