Deep in the heart of the Pentagon, warriors are warming up for several rounds of fierce volleyball competition.
The gym is an assault on the ears: dozens of volleyballs hitting the hardwood floor, deep baritone shouting of teammates pumping up teammates, shrill whistles.
This is the second annual Wounded Warriors seated volleyball tournament, and it includes all branches of the military pitted against each other — and each team is in it to win.
Many of the men and women on the floor today are missing arms or legs or have scars across their heads and bodies.
Everyone competing in this tournament is wounded, ill or injured. Most are young men with shaved heads, but there are a few women competing or on the coaching teams. The Special Operations Forces stand out because many have long hair and beards.
An announcer points out before each round that the rules of the game for seated volleyball are the same as regular volleyball except for three things: The net is lower, size of the court is slightly smaller, and some part of the player's torso must maintain contact with the floor at all times or a "butt lift" will be called.
Cpl. Dylan Kelley, 22, of the Marine Corps is participating for the first time today.
"It's very motivating, especially to see double amputees, other people fighting cancer, just coming out here and giving it their all, you know, putting their whole heart and soul into the game," he said. "You know, just everybody comes away winners, all the time."
Some injuries are "in-your-face" apparent but for others like Kelley, the wounds are not visible.
Invisible wounds are hard to mend and anyone who has gone to war is wounded, says the Rev. Laura Bender, a United Methodist Navy chaplain who serves at the United States Marine Corps Wounded Warriors Regiment in Quantico, Va.
"War changes everyone ... some of us are better able to manage the changes in our lives. But some have physical ways in which they are not able to manage as well."
Scarred by war
Invisible wounds can include traumatic brain injury, post-traumatic stress disorder or a serious illness such as cancer. Sports competitions like this seated volleyball game are part of the treatment for these service members.
Bender describes it as a pathway or transition to another stage in their lives and a way to stay connected to other veterans. She is in a three-year assignment as the regimental chaplain for Wounded Warriors, a Marine unit charged with the administrative and non-medical care for all wounded, ill and injured Marines.
She is here today, cheering on two teams of Marines. Bender spends a lot of time at events like this. She also goes to cowboy challenges, cycling races, wheelchair basketball and ice hockey.
These games are a chance to build camaraderie, teamwork and to enliven their spirits, she said.
Many times warriors with invisible wounds begin to self-medicate, or they engage in thrill-seeking behavior, or look for an opportunity to return to combat - all ways to keep them from feeling that pain, she said.
"But there comes a point for most people when coping mechanisms that they have been using are not sufficient any longer. And at that point then they need to seek some assistance."
Soul wounds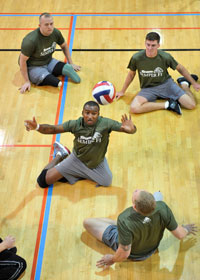 "When you talk about wounds that are invisible, I think one of the greatest wounds is the soul wound," Bender said.
She gave an example. Recently she was riding bicycles with some of the wounded warriors in an athletic-conditioning program. One man started lagging behind until he was alone with the chaplain.
"He looked over at me and he said, 'You know chaplain, I … I killed a child.'"
Medication, new prosthetic legs and mental health treatment had given him almost normal movement and helped with his depression, but he still had that issue — he had killed a child, she said.
"Those kinds of issues would make a person come to the door of a church and say, 'Am I really welcome here? I know these people have called me a hero, but am I really?'"
Those harsh memories make someone wonder if God still hears their prayers, makes them ask, "Am I still loved by God?
"I think addressing soul wounds is one of the major areas that the church needs to figure ways to get at, and certainly it is something that I, as a chaplain, spend a good deal of time working with service members about."
Sitting on the front row with Bender are other staff members of the regiment. She also spends a lot of time caring for them.
"It's very stressful to hear stories of family pain, individual's wounds and not be affected by it," she said. "So I spend a good deal of time actually assisting the staff members so that they are better able to do the jobs that God has called them to do."
Finding faith again
Jenny Sullivan, program manager for the Warrior Athlete Reconditioning Program for the Marine Corps, helped organize this event as part of Warrior Care Month, which is in November.
She is a lifelong United Methodist and proud to be one. She has a picture of her home church, First United Methodist Church at Isle of Palms, S.C., on her iPhone. She knows the important role chaplains play.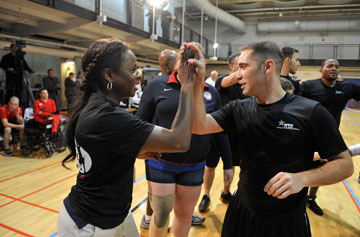 "A lot of the time, especially with the wounded service members, their spirit is down and faith gets questioned," she said. "They question why something bad happened to them. It takes time for the chaplain to help them find their faith again."
Sullivan worked for the Army for six years in the recreation department. She was deployed to Iraq for six months where she was in an accident and had to be flown out. During her own recovery, she realized there was a lot that could be done for wounded service members through recreation.
"To be a Marine you have to want to join the Marine Corps and you are probably a different kind of guy or girl," she said. "To come back and need to be taken care of ... it's heartbreaking for some of them."
Events like today give them an opportunity to be competitive, to have people cheering them on, to have something to take their minds off their injuries, she said.
"They probably won't sleep well tonight. They may ice up some body parts. But they'll be on an emotional and spiritual high for the next few weeks," she said.
First line of defense
People of faith — churches — can be instrumental in helping someone heal from soul wounds and traumatic body wounds.
"Everyone out here has been wounded in some way, shape or form. I believe in the power of prayer. And that's what got me through a lot of things," said Staff Sgt. Nestor Cruz. "The church is our first line of defense ... at least that's what I believe." Cruz has cancer and he said competing in this game was "phenomenal."
"That support back home is ... it's the biggest thing we all need."
Bender, 53, remembers when she heard God's call to military chaplaincy. It was during the first Gulf War as she was watching CNN and hearing the reports about what was happening.
"I was a civilian pastor and yet I stood there staring at the TV, saying, 'Who's providing pastoral care for these people?' and 'I bet the ones who are doing the hardest jobs are the youngest, who cares for them?' I had absolutely no idea that seven or eight years later I would end up in the military."
Get Involved
She has spent a lot of time working with congregations and many of The United Methodist Church agencies to provide resource material on welcoming home the warrior.
Military members and their families are not projects to be fixed. That is the first thing congregations need to remember, Bender said.
Sullivan added, don't forget about a wounded warrior.
"They need that support. And it needs to continue 'cause they're not gonna grow their limb back and they're not gonna always recover from an injury 100 percent and so they're always gonna need the support. I just don't want people to forget about 'em."
Retired Chief Warrant Officer Shawn Dunn, competing on a veteran Marines team, was winded after several tough rounds. He said it is great to see people with all kinds of wounds playing so hard.
He understands what they are going through and how much more they will need on their way to recovery.
"You know you have succeeded when they stop defining themselves by their injuries."
*Gilbert is a multimedia reporter for the young adult content team at United Methodist Communications, Nashville, Tenn.
News media contact: Kathy L. Gilbert, Nashville, Tenn., (615) 742-5470 or [email protected].
---
Like what you're reading? Support the ministry of UM News! Your support ensures the latest denominational news, dynamic stories and informative articles will continue to connect our global community. Make a tax-deductible donation at ResourceUMC.org/GiveUMCom.